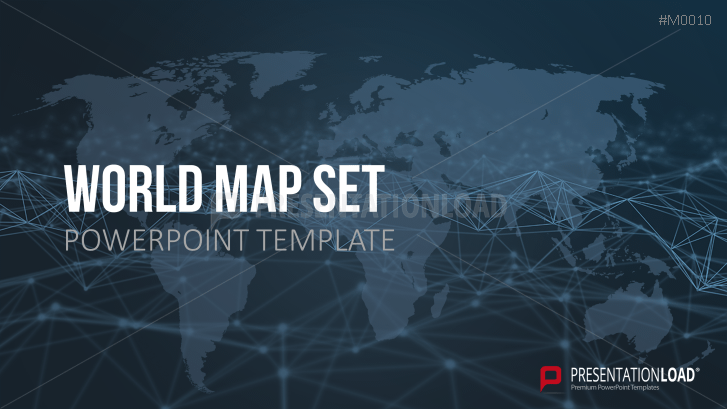 With our World Maps PowerPoint set whatever world map you need, global infographics and professional design are instantly available to support your presentation.
World Maps in Presentations
World maps are a very popular element in presentations. They help your audience with orientation, loosen up the presentation and stimulate spatial imagination. Whether you want to illustrate global political developments and contexts, economic expansion plans, potential company locations or the advantages of a particular region, a world map can solidly support your presentation.
Editable Maps
So you can't find the region or place you need to present highlighted on any of the maps? Many of the maps in the Countries and Cities section can be freely edited and adapted to your requirements. Use the practical selection list in PowerPoint for this. Detailed instructions are included at the end of the set. The template also contains a large selection of markers, arrows and placeholder texts for your descriptions and comments.
All the World Maps You Need in One Set
As well as a large selection of world maps with different countries, cities and regions, this set contains a wide variety of world map design templates. Network maps, 3D maps, brilliantly creative world maps in different styles – there's something for every situation where you need a world map in your presentation!
With Our World Map PowerPoint Set You Can:
accurately represent every country, region and place you need to
utilize a comprehensive selection of world maps covering a wide variety of topics
use our practical world infographics to efficently present your key figures or results in a global context
This PowerPoint Template Contains:
World maps annotated with country, region and city names
World maps which can be edited to highlight individual regions or places
Maps of individual regions
Focus maps of individual countries
Various examples of designs which can highlight those figures you need to stand out
Templates of diagrams in world maps
A wide selection of markers and arrows to present places or movements
Network world maps
3D world maps
Creative world maps in various designs, covering a variety of themes
Infographics integrating the world map and globe
Silhouettes of famous cities
Introduction to using the PowerPoint selection list to adapt editable maps without any fuss