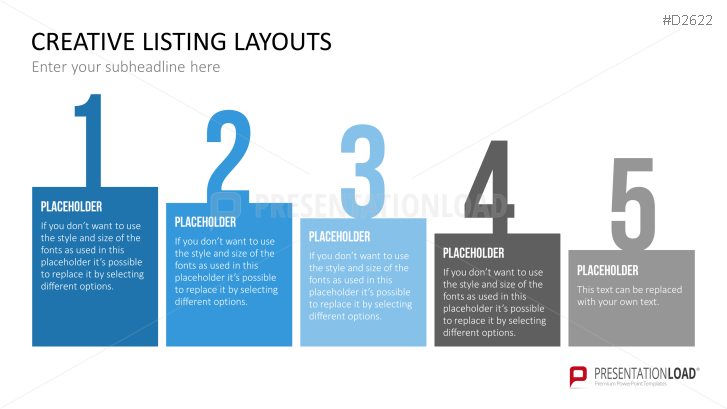 The Creative Lists template set includes lists and tables with innovative designs differently arranged to create data and process overviews.
Establish and Present Well-Structured Overviews
Lists collect data and information and enable users to sort and order the respective content. Companies list products, services and facts to gather overviews on stock, offers, work and production flows. With the help of creative graphics, you will professionally present your data and create memorable presentations.
Lists with Creative Layouts
The set incorporates a big collection of lists and provides a variety of graphics such as footsteps (which signify process steps) and numbers to rank your content. The templates include predefined slides which serve to list a varying number of items and provide text placeholders to insert individual content.
The Creative listing layout templates for PowerPoint…
include innovative listing designs for all fields of application

create well-structured data overviews

aseptically present information and content

PowerPoint Templates Include
numerous list variations

creative list designs (including numbers, footsteps, etc.)

vector-based business graphics

collection of number graphics