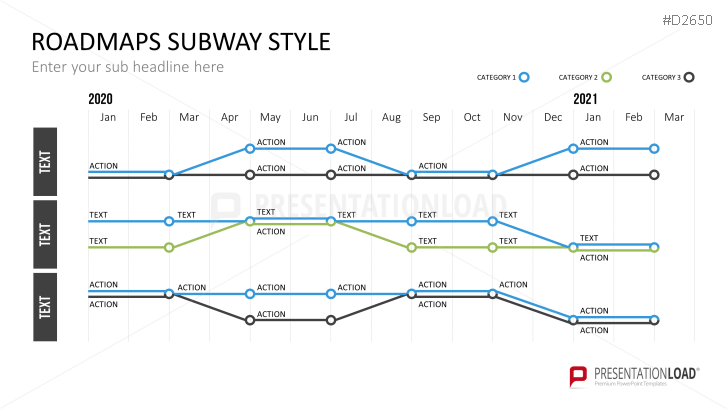 This PowerPoint set includes a number of schedule designs, timelines and other templates to manage time and work tables.
Let Timetables Be Your Guide
It's worth taking a look at a timetable of a foreign city in order to find one's way. It is a helpful tool that shows in which direction one has to travel, which stops are in between and which stops one has to change in order to reach the desired destination.
Not just for passenger services, but also in project management such timetables are necessary in order to implement the project successfully. By using the Roadmaps Subway Style templates for PowerPoint, you can schedule all steps of a project such as defining its objectives, state specific periods, allocate different policies as well as planning, and show how teamwork in these various areas can achieve their goals.
Goals, Milestones, Overlaps
Simply fill in your project schedule by an elaborately designed PowerPoint template that allows a large number of planning stages and options. Take advantage of using the slides to represent project milestones and to determine whether teamwork is necessary for individual project groups in order to achieve the project goal.
You can use images of the timetable layouts, respectively a driving line, to demonstrate different turns of direction in a project along with its possible outcomes.
You not only benefit from the timetable design, but also from the symbolic path of the general layout. Slides with escalators and subways symbolize the necessity in having several possible ways of achieving the overall objective.
A special highlight of the PowerPoint templates is the ability to modify and customize them, as is shown by the number of placeholders, the adaptability in shape and color and the recognized toolboxes which provide you with different design options that are available in a variety of ways.
The Roadmaps Subway Style Templates Collection Includes:
multifaceted designs

toolboxes to create your own roadmaps

various scheduling options and proposals

PowerPoint Templates Include
schedule lines for planning of project objectives

schedule lines laying down policies

schedule lines for planning teamwork of various groups

schedule lines to illustrate possible project outputs

schedule lines for a more detailed discussion of project stages

toolboxes