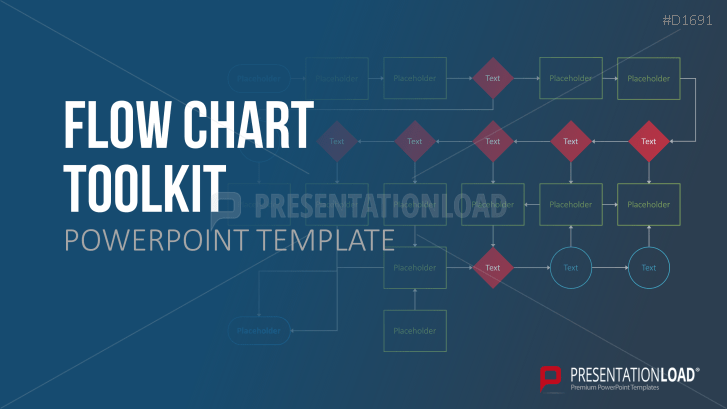 Flowcharts in PowerPoint
Flowcharts are ideal for clearly presenting processes and workflows. In PowerPoint, they become the perfect tool for any company that wants to present its business processes and workflows to stakeholders.
A fast and efficient way to process information
Most professions that use information processing use flowcharts to clarify and communicate their work processes to third parties. Algorithms, workflows and processes are converted into flowcharts and are used to analyze, document and manage programs and work areas.
To make the diagrams quicker and easier to understand, the relevant DIN and ISO standards can be used to assign a fixed meaning to certain symbols. Examples of this are:
Circle/oval/rounded rectangle: start and end
Arrow/line: connection and sequence
Rectangle: operation and activity
Use flowcharts in PowerPoint to show relationships
With the help of flowcharts, you can represent both very general facts and specific correlations. Particularly in the financial sector and in IT and data processing, flowcharts are widely used and well-known for their informative value. You and your employees can also take advantage of this and convey professional know-how in a way that is both clear and easy for everyone to understand.
Achieve a quick result with the Flowchart Toolbox for PowerPoint
Creating individual diagrams in PowerPoint or Word is often time-consuming and tedious. Use our comprehensive Flowchart Toolbox to create diagrams quickly and easily. You'll find elements in different shapes with different meanings to illustrate specific functions and connections. Arrows, for example, indicate the direction of progress and illustrate any dependencies.

For very specific work assignments, e.g., creating diagrams with the IDEF0 model or designing DIN- or ISO-compliant flowcharts: this set contains everything you need and can be used for a wide variety of purposes.
With the Flowchart Toolbox for PowerPoint, you can
Simplify communication and documentation within your work network
Reduce misunderstandings and clarify correlations
Improve employee training and data analysis
This PowerPoint template includes:
Flowcharts in different designs variations

Symbols and their meanings in several colors
Editable flowchart templates
Grids and swimlane diagrams