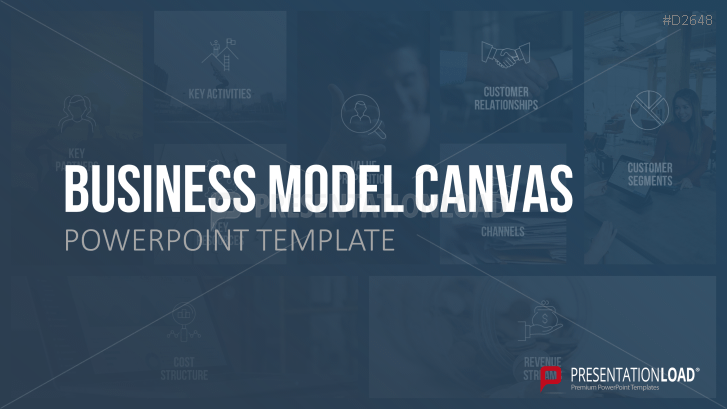 Explore our Business Model Canvas Template
The slides of this PowerPoint template help you to visualize the building blocks of your business model on a clear page, which is supported graphically in different variations with 3D optics or icons.
9 Building Blocks of this Business Model Canvas Template
Developed by Alexander Osterwalder, the management tool, Business Model Canvas is a business model composed of the following modules: customer segment, value and user propositions, communication and distribution channels, customer relationships, stream of revenue, key resources, key activities, key partners and cost structure. These 9 factors are displayed on a "canvas" as an overview. This is then used to create new business models and to compare them.
Invent, Compare, and Develop Business Models
With the Business Model Canvas, startups with business models not yet fully mature can compare different options for finding their orientation. But even for established companies, it presents an opportunity to develop their existing model or inspires new ideas to create future visions. These comparisons and development ideas can be conveyed clearly and are easy to comprehend by third parties, due to the model's combination of all 9 business units on one page.
Presenting with the Business Model Canvas Template
The Business Model Canvas collection contains templates in various designs for a professional presentation of your business model. Whether with 2D or 3D versions, with or without icons, they have an extensive selection of slides with placeholders that you can fill quickly and easily with content and information regarding your model.
With the Business Model Canvas Templates for PowerPoint, You Can
quickly and easily create your business model
have Business Model Canvas slides in professional designs
visualize your entire business model clearly on one page
PowerPoint Templates Include
Business Model Canvas templates in different styles (3D, with icons, photo background, etc.)
text placeholders to insert your content