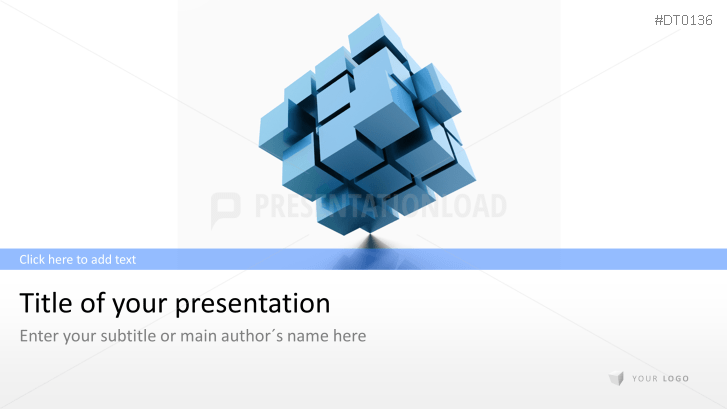 Use the 3D Cube 1 PowerPoint templates for your professional business presentation.
Business Presentation in Cube Design
Based on the design of a Rubik's cube, the 3D Cube 1 templates offer a way for your business to shed light on all sides and thus be able to create a comprehensive business presentation.
In order to run a business properly, it is necessary to have successful coordination in all sectors. The templates allow you to highlight the company's aspects that are of concern by using various tools, such as charts and tables.
Detailed Presentation of Company-Specific Aspects
Benefit from the design tools provided in this PowerPoint set (line, pie, bar graph, etc.) and clarify the structure, the development and the goals of your company to your audience.
With the presentation, you can list both volumes and sales, compare the profits of various business sectors and show developments, as well as present your customers and their testimonials. For this, you have slides with the customer logo and placeholders for customer comments.
In addition, you can link your business presentation to your company's social networking sites by using the included social media icons.
Furthermore, these icons provide you with a table toolbox containing a collection of basic icons to further your design possibilities.
With the 3D Cube 1 PowerPoint Templates, You Get
a variety of design options (icons, toolbox)
a modern layout in flat design
a wide presentation spectrum with different chart types
This PowerPoint Template Includes:

agenda slides
slides for presenting organizations
slides with panoramic images
timelines
line graphs
pie charts
rectangle charts
bar charts
table
table toolbox
customer logo
placeholder for customer testimonials
icons linking to social media
standard icons