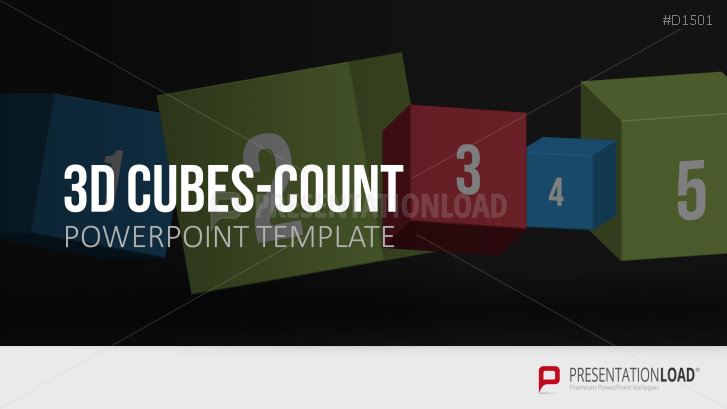 The 3D Cubes - Count collection contains various cube depictions which represent certain topics by means of illustrative aids.
Cube Numbers
Cubes are characterized by having different numbers. Nevertheless the cube numbers are part of a whole, and are often used to divide content into different content items, e.g. in a protocol carrying out scientific work in or around the outline of a lecture.
Cubes into Structured Content
Take advantage of using the 3D Cube - Count PowerPoint templates to structure individual content items or build an overall structure with your team, e.g. by bringing a product line closer but also illuminating individual stages of a process. Gain access to each matching design (e.g. process: series of cubes or building a whole structure: the cube of each cube.)
Benefit from the layout of the template and highlight the individual cubes in color, perspective and size which allows the focus of your audience be on the specific aspect that seems important to you. On a particular note, the slides can contain silhouettes that draw small, colored cubes from a large cube.
The 3D Cube - Count Templates for PowerPoint Guarantee
a modern, minimalist design
the option of highlighting individual cubes by various techniques
the possibility of detailed labeling

PowerPoint Templates Include
cubes in row-like chains
cubes embedded in blocks
individual cubes for individual processing