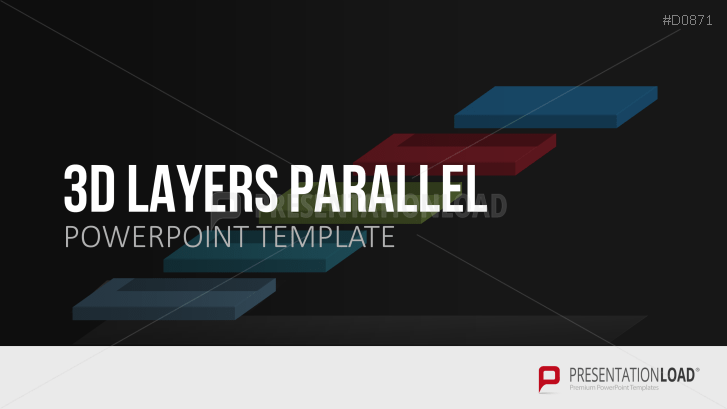 Incorporate the 3D Layers - Parallel PowerPoint templates for mapping contexts, hierarchies and processes.
Focusing on Individual Elements
Take advantage of these templates by using them to illuminate individual components of a larger whole. Such components may be, for example, individual departments of a company, products of a product line, materials for a product, stages of a project or individual branch offices of a company.
These templates are suitable for putting the focus on these individual elements and inform your audience.
Optical Highlighting
Benefit from using the 3D Layer-Parallel PowerPoint templates to skillfully visualize the content of your presentation. Help yourself to a variety of different 3D layers which highlight individual elements that achieve your goal. Choose from a variety of templates which allow you to select the right design depending on the project (data hierarchies, relationships or processes.)
In addition to highlighting by means of color, perspective, arrows etc., these templates offer the possibility to label each item individually. There is also the option to move all levels both horizontally and vertically.
With the 3D Layers - Parallel PowerPoint Templates, You Can
have the possibility of different contents or priorities
customize detailed labels
create versatile 3D Layers (color, shape, perspective)