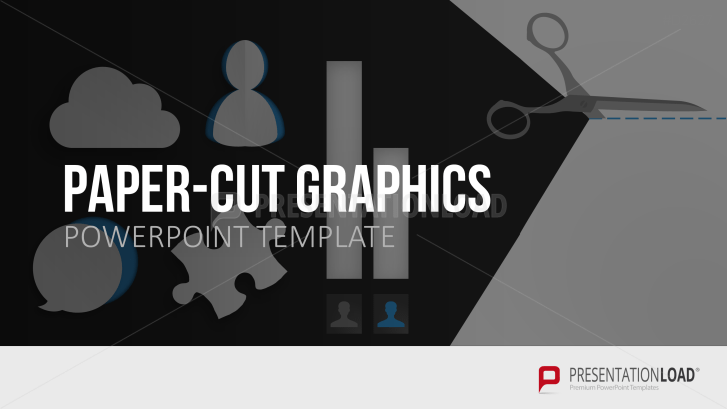 Give Your Presentation Cutting-Edge Style.
Turn the Old into Something New
Paper cutting is a centuries-old technique in which artists cut patterns or shapes into folded or flat paper to create works of art. Originating in China, this technique is now popular throughout the world. Digitizing paper art opens new creative doors, especially in digital presentations. Using a "paper cut" graphic in your presentation jazzes up the conventional, two-dimensional effect of a PowerPoint slide.
Combine Creativity with Innovation
The paper-cut effect is enhanced by clever shading for a more realistic appearance. Speech bubbles, arrows, symbols or fruit in silhouette are just a few examples of the visual diversity of this set. This inventiveness is enhanced by functional, individual graphic elements. In addition to visually appealing symbols, there are also functional diagrams, graphs and silhouette maps to add statistics and other content to your presentation.

Visualize strategies with arrows and puzzle pieces, show expansion plans with maps of Germany, Europe, the USA and the world, and highlight your current company results with our paper-cut bar charts.


With This Set You Can
give your presentation a unique paper-cut look
visually accentuate content-rich information
use a wide selection of digitized handcrafted art
This Set Includes:
2D graphics: airplanes, (rain) clouds, speech bubbles, a light bulb, cogwheels, etc.
3D graphics: speech bubbles, paper fruit, umbrella, airplane, clouds, etc.
silhouette maps: Germany, Europe, USA, the world
pie, bar and area charts, etc.
background images with a page-opening effect