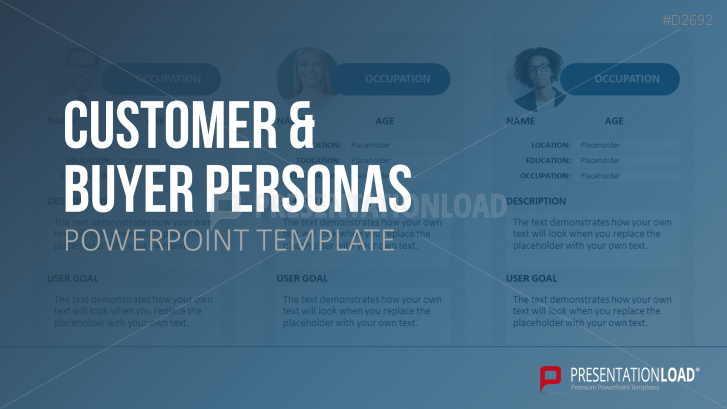 Customer & Buyer Persona Template for PowerPoint
Incorporate the Customer & Buyer Personas Set for PowerPoint with definitions, profile templates, examples and graphics to create a fictitious ideal image of your customer types.


The Typical Customer
Buyer personas describe the typical representative of your target customer group and are used in content marketing. They will help you better understand your customers and make it easier to tailor content to their needs, interests and behavior. In contrast, the negative personas represent those people who do not belong to your target audience and are not considered when creating content and promotional activities.
Detailed Customer Information
You can get a buyer persona based on market research and insights into your current customer base, for example through surveys and interviews. The data can be broken down into categories such as income, place of residence, relationship status, occupation, daily routine, lifestyle, hobbies, behavior on the web, etc. and determines the everyday problems and needs of customers. Buyer Persona templates for PowerPoint will help you gather the information quickly and clearly in order to create an insightful image of your typical customer.
Buyer Persona Templates with Examples and Image Collection
Our set includes a wide selection of templates with examples for creating any number of buyer personas. These can be provided with high-quality people images and modern flat design graphics. Explanations and definitions also help you introduce the topic to your staff in the area of content marketing.
With Buyer Personas Templates for PowerPoint, You Can
have professionally designed personas provided by samples
design your buyer persona with matching graphics and photos
convey the challenges and implementation of buyer personas
This PowerPoint Template Includes:
Buyer Persona templates in various types

explanations and definitions
sample personas with sample text
customer profile images as photos and flat design graphics