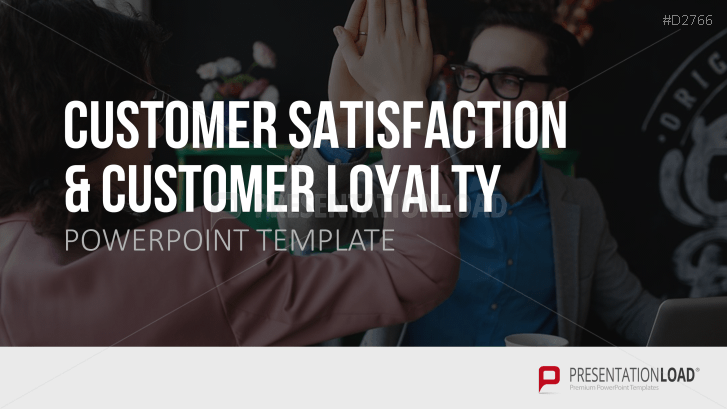 From the first contact with the company to long-term customer loyalty - our PowerPoint template offers various resources to improve customer satisfaction.
Regular Customers Multiply Corporate Success
Customer satisfaction is an important factor for business success, because through referrals, your regular clientele can affect your reputation significantly. Your central customer base is distinguished through its buying intention and loyalty.
Quality Features
Satisfaction or even customer enthusiasm goes hand-in-hand with customer loyalty. On the contrary, however, it can be difficult to achieve long-term customer loyalty without satisfaction with a product or service. Analyzing your customers' personal experiences with your products and services is necessary to bring any weaknesses to light. An extensive list of factors that are related to customer enthusiasm can be found in this PowerPoint Set.
Achieving customer satisfaction can be described in the context of various systematic models. We have distinctly put some of them together in this package. This includes the Kano model, which examines the relationship between individual product characteristics and the resulting customer satisfaction. For implementing these models, similar tools are used just like in marketing applications. Therefore, we have arranged these slides to illustrate the individual tools of customer loyalty by the marketing mix.
Our Template Customer Satisfaction & Customer Loyalty Will Help You
increase the quality of your products and services

maintain your customer base, thereby ensuring long-term customer relationships

improve the customer experience

This PowerPoint Template Includes:
the definition of customer satisfaction

related customer experience and customer loyalty

degrees of customer satisfaction (poor to excellent)

factors of customer enthusiasm

the Kano model for analyzing customer requests

the House of Quality model for quality assurance

measures for improving customer satisfaction

regular customers from an economic perspective

tools of customer loyalty explained by the marketing mix

a template and instructions for a customer survey