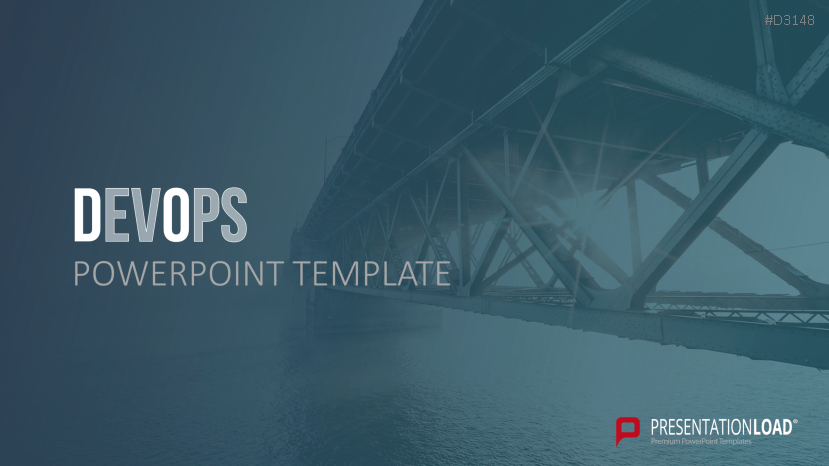 What is the DevOps method?
A portmanteau of development and operations, DevOps views the entire product lifecycle as an ongoing process in which a cross-functional team works together to constantly improve the product. Although DevOps originated in software development, the approach is becoming increasingly popular in other industries.
Drive agility with the DevOps PowerPoint template
Digital giants, such as Amazon and Netflix, understand the advantages of DevOps. They use cloud computing for scalable development and operating environments to flexibly adapt to their service capacity requirements. Its automation capabilities make the cloud particularly in demand in DevOps to outsource tedious operations and create more time for innovation.

As the successor to agile methods, DevOps follows the strategy of continuous product improvement through iterative and ongoing processes. Through individual scalability, the cloud facilitates automation and provides digital flexibility. The DevOps approach, and its associated cloud, is how Amazon and Netflix have reached their current size.
Present the requisite corporate philosophy with the DevOps PowerPoint template
The DevOps methodology is rooted in corporate culture. For DevOps to be successful, there must be a fundamental shift in the perspectives of management and employees. The DevOps PowerPoint templates presents this drive for change. Using charts and graphs, conveying the DevOps approach is easy and effective. A DevOps presentation is the first step to becoming a networked enterprise.

Discover the advantages of DevOps and leverage them with the right tools
These DevOps PowerPoint slides will support you in your company's cultural transformation. Along with the advantages of the DevOps method, the slides present the principles for implementing DevOps and provide an overview of various DevOps tools.

The DevOps presentation slides also include key technologies – such as microservices and cloud computing – and DevSecOps for security, an aspect often neglected in agile methods. Finally, the DevOps PowerPoint slides provide you with customizable charts to adapt your DevOps presentation to your company.
With the DevOps PowerPoint template, you can
lay the foundation for sustainable business change
communicate the advantages and principles DevOps
use diagrams and infographics to present the various possibilities of the DevOps method
This PowerPoint template includes:
Definition of DevOps

DevOps quote

Origin of the DevOps method

Development from Agile to DevOps

Advantages and value-added trends

3 basic elements of DevOps

CALMS framework

DevOps value stream

DevOps roles

3 steps to DevOps

DevOps loop

DevOps sweet spot

Microservices

Cloud computing service models

Using the cloud for DevOps

DevOps tools: main categories and examples

DevSecOps

Templates for a development pipeline, cross-functional teams and the DevOps cycle