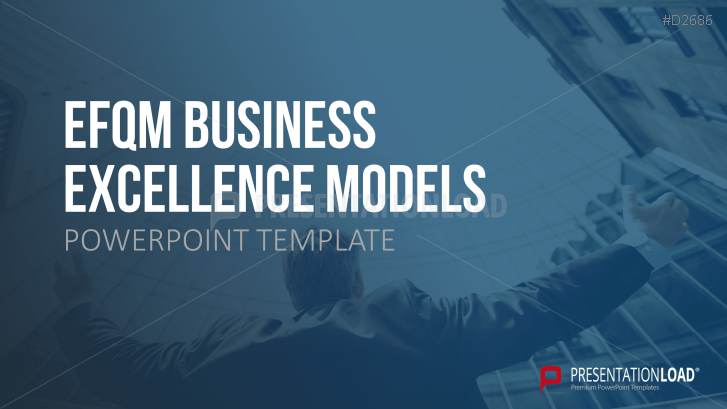 Align your quality management to business excellence requirements and prepare for the EFQM certification process with the Business Excellence Model (EFQM) PowerPoint template.
Outstanding Organizations
The EFQM model of the European Foundation for Business
The EFQM supports companies in establishing and continuously improving sustainable management systems. The EFQM model is a framework that provides companies with both guidelines and evaluation criteria. It forms the basis for the EFQM certification process that assesses how well an organization implements quality management. It is also used within the framework of total quality management, which aims to optimize an organization at all levels.
Quality Management Certification
A company must first perform a self-assessment to achieve "excellence" status and obtain the corresponding certification. This is carried out using a predetermined list of questions associated with the EFQM model. The results can be used to participate in the three-stage EFQM award programme.
Pave the Way to Business Excellence
An organization can achieve outstanding performance and sustainable results by following the basic principles of the EFQM model, as well as RADAR logic and Baldrige framework requirements. The Business Excellence Model (EFQM) template contains graphics to illustrate these models and the EFQM model criteria, which form the basis for the EFQM certification self-assessment questionnaire. Use this PowerPoint template to introduce your employees to proven business excellence methods and ideas, and systematically prepare your company for the EFQM certification process.
With the Business Excellence (EFQM) Model PowerPoint Template, You Can …
present EFQM principles and criteria
introduce and implement the self-assessment process
streamline your presentation of a concrete business excellence improvement plan
This PowerPoint Template Includes:
Various EFQM model graphics (including 3D)
Principles of business excellence graphics
EFQM model values
Radar logic
Baldrige model
General business excellence model (until 2019)
Excellence and business performance: principles
Template: business excellence plan