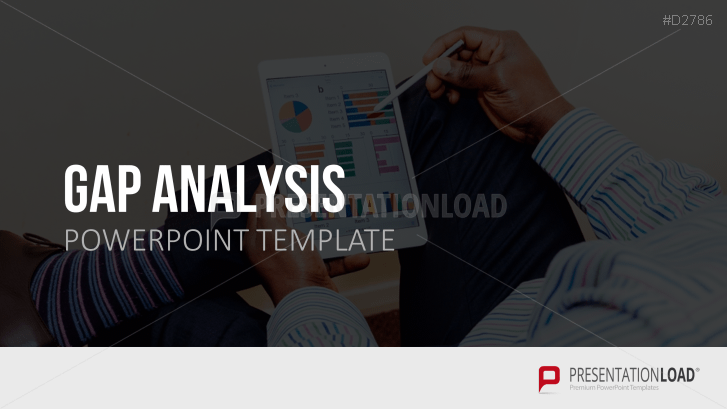 The template for gap analysis explained with diagrams, definitions and information, the method for the identification of strategic and operational gaps.
The Concept of Gap Analysis
Gap analysis is a standard controlling tool of strategic planning in business. Strategic and operational gaps are identified by analyzing the space between specific targets and the expected development of the company. You should always start from the current state of the business and consider what you want to achieve in the future.
Achievement of Business Goals and Better Quality of Service
Gap analysis is not a one-time system, but a continuous process that is needed to improve a company's lasting success. Part of this is an approached known as the Servqual model. It is used to improve the service quality of a company by focusing on eliminating discrepancies (gaps) between target and actual values of customer recognition.
Our PowerPoint Template helps you to carry out a gap analysis step-by-step with appealing graphics paying particular attention to the Servqual model.
The Gap Analysis Template, You Can
demonstrate strategic and operational gaps in your company

use the Servqual model to optimize your service quality

visualize the actions to bridge the gaps

This PowerPoint Template Includes:
gap analysis basics

several graphical representations

explanations on operational and strategic gaps

advantages and disadvantages of the gap analysis

courses of action for gaps

strategic planning and procedures for a gap analysis

information about the Servqual model

different Servqual models types

tips for analyzing service quality