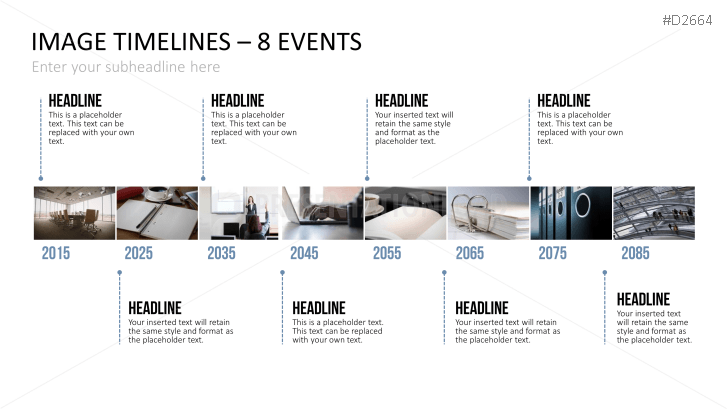 Use Image Timelines to illustrate processes and event planning as well as goal setting.
Timeline for Improved Clarity
Timelines display a sequence of events that allows quick insight of temporal contexts. The "imprinting effect" is particularly effective when the image timeline is visualized.
Developments, Procedures, Objectives
Use Image Timelines PowerPoint templates to determine goals for the future with your team in order to optimally plan processes and establish areas of responsibility accordingly.
Take advantage of the templates not only to plan major projects, but also to schedule and discuss weekly meetings and quarterly meetings. With your team, use evaluations of past developments to optimize future processes.
Take advantage of the variety of pictures, captions and placeholders, which allow quick insight of what is said and thus promotes successful cooperation of all stakeholders.
With the Image Timelines PowerPoint templates, You Can
create image-based design for better insight

have the possibility of a custom design (i.e. through placeholders)

have diversity of time bars (small steps, big steps)

PowerPoint Templates Include
44 different time bars in different designs (small steps, big steps, diversity of images, several numbers of events)