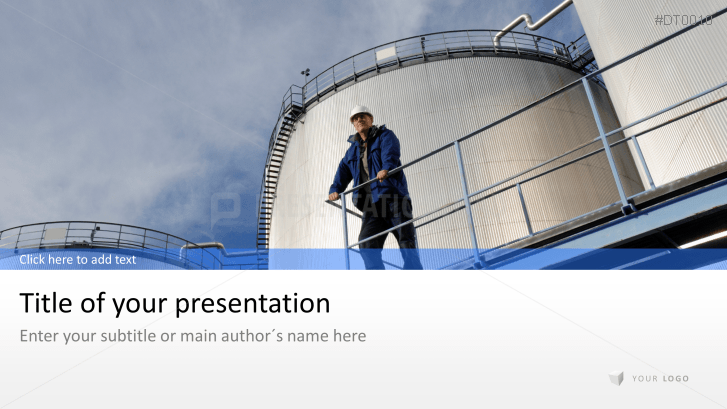 PowerPoint Template Industry Sector-Specifically Customized
The presentation set consists of 48 slides, can be edited according to any professional purposes and is immediately available after the download. It is customized particularly for the manufacturing and industry sector. The presentation set provides you with images of a man leaning on a balustrade in front of silos, gearwheels or smoking chimneys. All images can be arranged individually, adjusted and substituted with one's own pictures.
Special slides with placeholders and four text columns offer enough space to present your content. Other slides include charts, diagrams and bar graphs to illustrate important numbers and figures of your company. The PowerPoint presentation set helps you to introduce your firm adequately and professionally. Display advantages and disadvantages, compare and contrast different products with each other and conclude your results. On separate slides you can present business partners and customers of your company. One slide can be filled with customer logos to illustrate your network of business which simplifies your performance.
Compatibility note: This product is optimized for PowerPoint versions 2007/2010 and 2013. In older versions of PowerPoint and in Mac Versions the usage of this product is limited. To open the PPT file in PowerPoint 2003 the "Microsoft Office Compatibility Pack" is required. It can be downloaded for free from the Microsoft website.