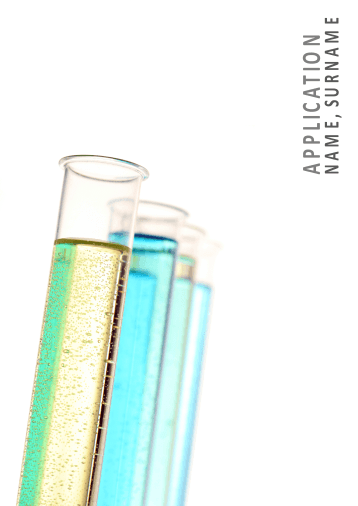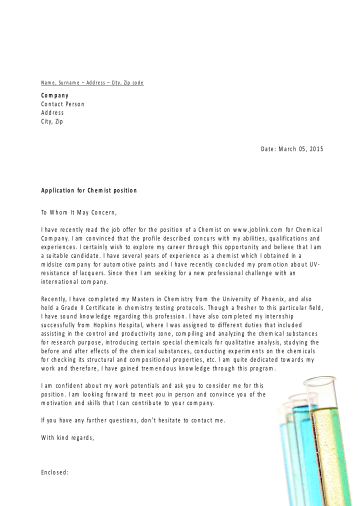 Apply for the chemistry profession with cover letter, resume and cover page templates as well as receive valuable tips on the entire application process; from the first contact to the interview.
Convincing Application Documents and the Chemistry Profession Appearance
In order to make your application stand out amongst the others for the position of a chemist or a lab assistant, we advise you to refer to the professionally designed field layouts for your documents. For example, make a striking impression with staff managers by incorporating chemistry-related graphics on your cover page that will set you apart from the mass of applications, greatly increasing your chances to be invited for an interview.
In addition to a compelling and professionally designed cover letter, the communication behavior between the applicant and potential employer also has great significance. At the last stage during the interview, you will meet each other in person and will need to convince the employer of your qualifications for the job. Therefore, you should internalize the right behavior for such situations in the additional tips provided.
Layout Templates with Sample Texts and Career Advice
This set contains a professionally designed cover letter, resume and cover page templates, optimized and printable in A4 format. Suitable for work in the laboratory, the documents are designed with test tube graphics and chemical liquids. The slides are also provided with sample texts and images that can be replaced or supplemented with your own content. 6 slides with tips on the entire application process helps complete this valuable product.
With the Application Templates for the Chemistry Profession, you can
complete an application designed for the chemistry profession
help orient yourself with cover letters by incorporating the provided sample texts
receive valuable behavioral and communication advice for the entire application process
PowerPoint Templates Include
suitable layouts, content and graphics (test tube, chemical liquid) for the chemistry profession