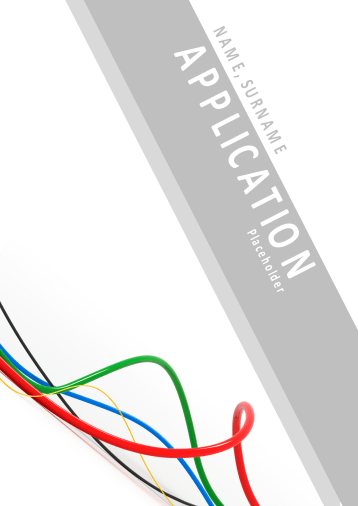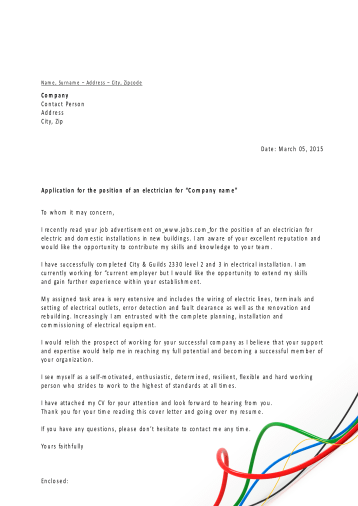 Apply with professionally designed documents for the electrical profession with the help of cover letters, resume and cover page templates for PowerPoint with corresponding graphics of its field.
A Convincing Application Letter and Interview
Whether for telecommunications, electronic exposure or working with equipment, companies depend on electricity. Electronics is a respectively important and future-promising profession. To get an apprenticeship or job in this area, the candidate must convince his potential employer in his cover letter and the job interview.
The qualifications of the candidate, such as strong technical knowledge and previous work experience, should be listed in the letter's concise CV and conveyed to the Human Resources manager. This construction of the documents with corresponding graphics can make your application stand out from the mass and leave a positive impression. The chances of being invited to an interview increases enormously, so you should prepare in advance.
Templates and Tips for Applying for the Electrical Profession
This set includes cover letter, resume and cover page templates that are designed with the electrical profession corresponding graphics and optimized for printing in A4 format. The sample texts and images can be exchanged with your own content. Furthermore, slides with professional tips offer advice on every step of the application process, from initial contact with the potential employer all the way to the interview.
With the Application Templates for the Electrical Profession for PowerPoint, you can
create application documents with corresponding electrical profession graphics
receive valuable tips on being successful with your application
put together a quick cover letter, resume and cover page with your data
PowerPoint Templates Include
templates of letters, resumes and cover pages in A4-print format
graphics of electric cables
sample text and graphics that can be replaced with your own content
6 slides with important tips on the application process