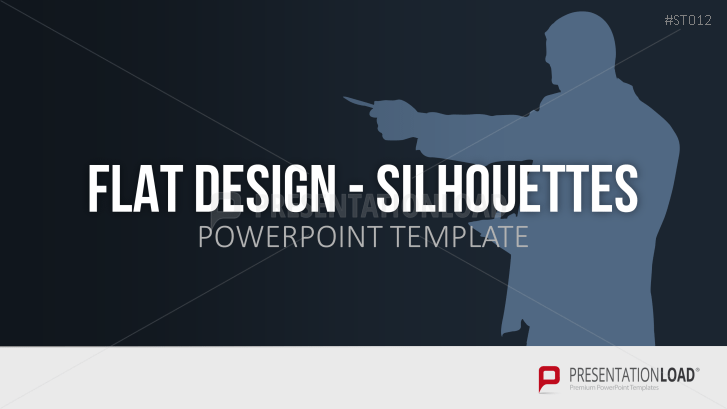 With the Flat Design Silhouettes templates you can provide results, projects and characteristics of your company through graphics of different embedded silhouettes of human activities.
Silhouettes in Flat Design
People silhouettes can be used to express different activities and emotions. They can portray actions like cheering, questioning or working. The minimalist look ensures that the statements and content the graphics convey are the primary focus. The design style deliberately avoids the use of decorating and texture elements in order to prevent unnecessary distraction
Different Poses for Different Topics
In presentations, people silhouettes help to describe the objectives, conditions or characteristics of your business. For example, the collection of thoughts about strategy can be graphically supported by a figure in a thoughtful pose, or the figure of a person leaping for joy can promote positive corporate balance.
Customize Your Figures
This set contains a wide range of presentation templates with contours of male and female business people, athletes and groups of people in different poses. The design possibilities are endless. You can set individual figures in the center and fill them with distinctive colors or illustrate relationships between people by putting together different silhouettes
With the Flat Design Silhouettes templates, You Can
have a large collection of silhouettes in different poses
support business content with themed pictures of gesturing people
set up reduced flat designs that focus on essential statements
PowerPoint Template Include:
44 flat designs with people silhouettes in different poses:
sport drifting
cheering
communicating
thinking, etc.
silhouettes with the long shadow effect