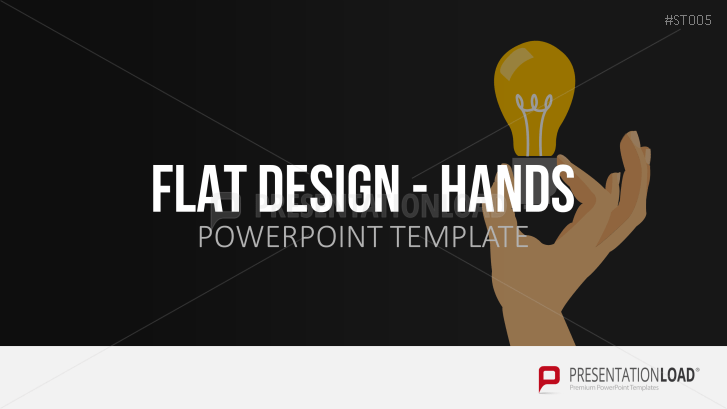 The Flat Design Hands Set for PowerPoint contains many graphics in a minimalist display of hands in different gestures and interactions with everyday devices for the creative design of your presentations.
Communication and Work Resources
Hands are an important communication tool used in and out of the workplace. This design set can connect appropriate situations and gestures through graphic representation.
Working Hands-On
Whether signaling positive feedback with a thumbs-up, connecting several hands as an expression of teamwork or showing a handshake as a sign of cooperation, these hand graphics have many uses in both: the professional and the everyday world.
Handmade in Flat Design
These templates enable the visualization of your data and statements by graphically inserting the posted pictures on the placeholder with the support of motioning and interacting hands. Due to the minimalist flat design with rich colors in a puristic background, these templates give your presentation a creative modern look.
With Flat Design Hands templates, You Can
offer a wide range of gesture and interaction graphics with hands
give feedback, statements, and facts more creatively
make your presentation visually appealing by graphic simplicity
PowerPoint Templates Include:
hands with credit cards
pointing hands
hands with tools
hands typing on a keyboard
hands holding a megaphone
hands holding a tablet
hands holding a smartphone
hand with a stopwatch
hands with a business card
hands in different poses (open, victory gestures, thumbs-up)
interacting hands with book, pen, phone or computer mouse
pre-placed text placeholders for numbers, facts and figures