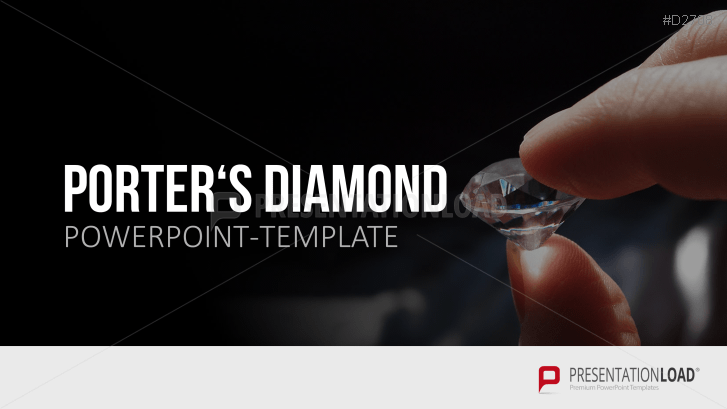 This PowerPoint set includes the diamond model to analyze competitive conditions with many templates including design examples, definitions and many other helpful tools.
Analyze Your International Competition
The diamond model is used to evaluate the competitive position of states regarding particular branches and sectors and to examine competitive conditions which differ for international companies in regard to local (national) conditions. This approach answers the question why some countries prefer particular companies within particular branches so that the competitive position is defined by a company's opportunity to gain higher profits than its competitors.
The Four Main Criteria's
Porter's model considers four key elements: the factor conditions (such as the availability of resources, qualified staff, capital and expertise), the related supporting industries (this factor evaluates the local distance to and communication facilities with industries at the same location), the demand conditions (which means individual customer demands at national markets) and the firm strategy (in regard to local competitors).
All four factors relate with each other and form their visual illustration in the shape of a diamond. This includes their reciprocal relation and considers two more aspects which exist independently: the coincidence and the government. The coincidence summarizes all factors which cannot be influenced, whereas the government factor includes the stimulation and support initiated by the national government.
Predefined PowerPoint Illustrations
The set includes additional tools such as Porter's Five Forces analysis which exemplifies the market attractiveness by outlining the market structure. When the structure is changed, the attractiveness of the market is also altered. Find a collection of the described models as well as definitions, design variations and many more helpful tools included in this PowerPoint set.
The Diamond Model Enables You to
analyze the market conditions

make international comparisons

evaluate the structure and the condition of your branch

PowerPoint Templates Include
diamond model definition

various designs of the four factors

detailed analysis templates of each criteria

coincidence and government templates

Five Forces analysis templates

diamond toolbox