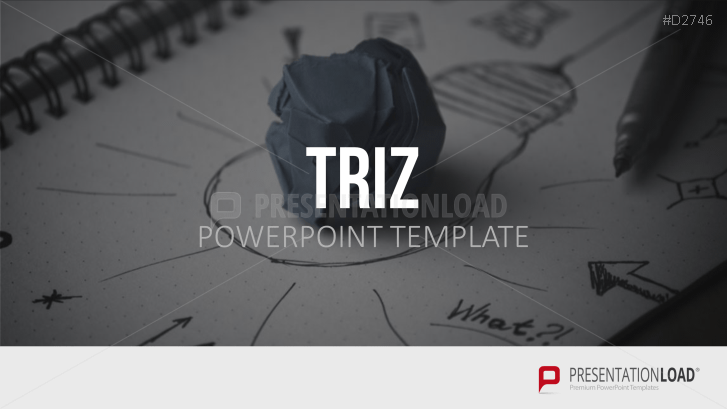 By using the TRIZ method in your PowerPoint presentation, you can relay theoretical fundamentals and give explanations of classic and new tools as well as the ARIZ method by using a versatile set of design tools.

Theory of Inventive Problem Solving

The Theory of Inventive Problem Solving (TRIZ) is a concept that was developed by the Russian patent officer, Genrich Altshuller Saulowich, in the former USSR in the 50s. The aim of this method was to systematically analyze technical issues, find innovative solutions as well as resolve technical and physical inconsistencies.

For this purpose, experience and knowledge levels are determined through successful innovations, from which forty innovation principles were derived, which form the core of the concept in addition to other methodological tools. These and other tools are used to analyze the problem and to abstract it, to develop ideas, implement them and evaluate in the final step.

Comprehensive Presentation of TRIZ Method

Take advantage of the TRIZ PowerPoint template versatility, which is reflected by a high level of information. This can also be implemented by a wide range of graphical presentation tools. By selecting from a variety such as pyramids, radial clusters, matrices, tables, lists, mind maps, graphs and cycles, (which are often linked to Excel spreadsheets and can be customized,) you can inform your audience about all TRIZ factors concerned.

The templates initially offer overviews of theoretical foundations (including the area of application for the method, user types, invention level, and approach), which can provide the first step of understanding the basic idea for listeners.

Based on this, an overview of the TRIZ hierarchy is carried out, presenting and explaining in details the tools and their interactions, applications, etc., including classical tools (such as resources, system elements, Nine Windows, physical and technical contradictions, 40 innovative basic principles, substance-field analysis, S-bend, Smart Little People model.)

In addition, the presentation includes slides for the ARIZ method, the last of Altshuller's verified version, and the explanation. The presentation of the new tools is placed beside the classical ones. The slides also include matching tools in graph form, such as hierarchy lists and tables, information on the topics, innovation checklist, problem definition, function analysis, trimming and anticipating error detection.

With the TRIZ PowerPoint Templates You Receive

130 sheets for the comprehensive presentation of the TRIZ method
a multifaceted, modern layout
a variety of design tools for improving information exchange
PowerPoint Templates Include

quotes
slides with theoretical foundations (definition, systematic innovation solution, solution space)
slides with application areas, user types, and five innovation levels
infographics
a table for the TRIZ hierarchy
overviews of tools, their interactions, future innovation probabilities, possible applications and procedure examples