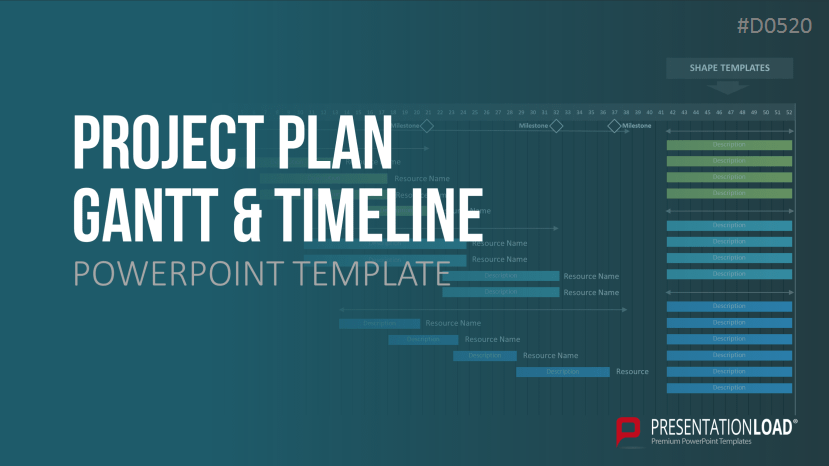 Work Smart: Present Your Project Timeline in PowerPoint
We offer a massive range of easily customizable PowerPoint timelines and Gantt charts, professionally designed, so that you can concentrate on getting your projects reliably to the finishing line.
Seeing the Bigger Picture on Your Project Timeline in PowerPoint
The bigger a project is, the more essential it is to be able to see the whole picture and not just parts. A Gantt chart with several parallel timelines can be indispensable here. It instantly shows which phase of the project a particular team is in, and when important intermediate stages or the final deadline need to be met. The things which negatively affect the quality of your product the most are stress and inaccuracy. Save yourself the trouble with our project planning and timeline template for PowerPoint. Gantt charts and timelines are a brilliant means to build your team spirit and get concrete results.
Set and Arrange Goals on Your Project Timeline in PowerPoint
Our template package offers you a wide range of professionally designed Gantt charts. They cover time periods from weeks to several years, already calibrated for 2022 and onwards. Our PowerPoint slides help you to clearly display projects running in parallel, and practical traffic-light graphics mean you can warn your team members of any risks or bottlenecks. Optimal project management without the hassle!
Timelines and Gantt Charts Provide…
the possibility to coordinate your team efficiently
templates which cover different periods of time
an organized way to arrange duties
PowerPoint Templates Include:
individually designed Gantt Charts
templates to display parallel projects
graphics of traffic lights
circular diagram
world maps as possible backgrounds