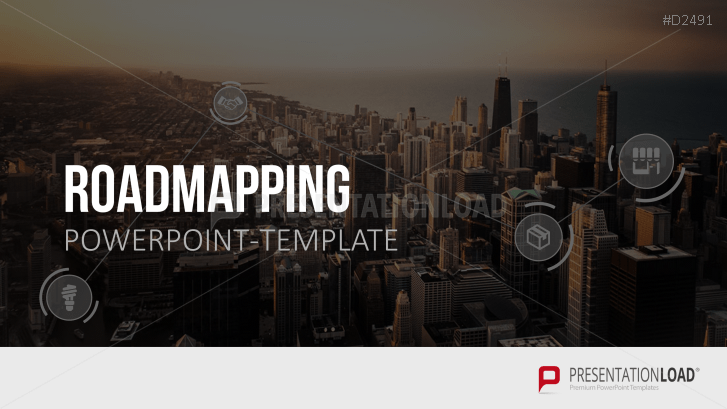 The template Roadmapping is a great tool to use for the development of new products or for the core of your product strategy.
Project Planning Made Easy
Effectively utilizing the Road Maps template set can take substantial work off your hands when developing a new product. It can serve as medium of communication as well as provide an overview of how a product is evolving in a certain period of time. Milestones and important dates are visible here at a glance.
Realize Your Vision
A good project needs a fine idea. Roadmapping templates are able to visualize your ideas and to subdivide the production process in a few simple steps. Thereby, road maps integrate not only the vision, but also the strategy concerning a new product.
In order to display this thought adequately, our set of templates contain a selection of individually designed road maps. They include graphics of streets and geographical maps to which you can add arrows, flags and pictures with comments. In addition, our templates include a portfolio of Gantt charts and timelines as well as a toolbox with graphic modules.
Roadmapping Templates Enable You to…
display your vision vividly and to subdivide it into smaller steps

keep an eye on milestones and important dates

unify your strategy and vision

PowerPoint Templates Include:
a selection of individual Product Road Maps

Gantt charts and timelines

timelines including image placeholders

flowcharts, progression charts

org charts

templates with placeholders for pictures

toolboxes containing graphical elements