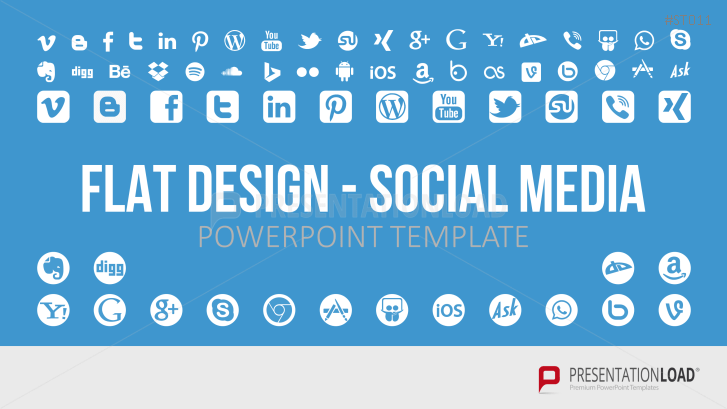 The Flat Design Social Media templates for PowerPoint include a wide range of social media icons in the modern flat design for creating presentations on social platforms which have impacted your business.
Social Media for Marketing and Recruiting
Whether with B2B or B2C, the interaction through social networking sites like Facebook or Twitter and Co. is an integral part of a company's PR nowadays. With a well thought out social media strategy, you address your target group directly by collecting important information about their consumption habits through social monitoring, and increasing the reputation of your company. In addition, platforms such as Xing and LinkedIn are used for recruiting new employees.
Icons for Social Media Presentations
Icons of social media providers are ideally suited for presentations on specific campaigns or for the basic social media concept of your company. You can view your activities and strategies on each platform in detail, develop different strategies for different networks or determine the pros and cons of individual providers.
Comprehensive Set in Flat Design
This set features a variety of social media icons in a minimalist flat style. Well-known social network logos are included in different, reduced design options and 3D optics in combination with the long shadow effect in which the logos are supported by a disproportionately large shadow.
With the Flat Design Social Media templates , you can
have icons of all known social media platforms
present your social media activities and plans in a modern flat design
enhance your content on social media by matching symbols with creative long shadow effect
PowerPoint Templates Include:
36 icons in minimalist flat design in different varieties of known social media vendors like Facebook, YouTube, Twitter, Instagram, Google, etc.
graphics of individual social networks with long shadow effect
templates with placeholders to insert their own content in addition to the social media logos