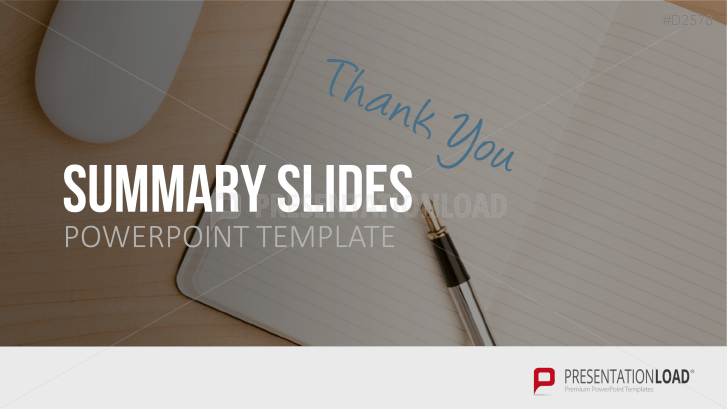 With the Summary Slides set, you get a wide range of final slides such content summary or a contact information index to complete your presentation.
Successful Ending to a Successful Presentation
A successful PowerPoint presentation ends with a summary of relevant content, which offers a question and answer session or discussion, acknowledgement for the attention or the contact details of the speakers and/or other contact person.
The Summary Slides are relevant for briefly recapping what has been said, clarifying open questions or offering the opportunity for viewers to get more information on the referenced subject or object. These applications can lead to possible outcomes such as customer loyalty in product presentations or act as care facilities for staff training.
Large Selection of Summary Slides
This set includes templates for summaries, question/answer, thank you graphics and contact information slides in different variations. All graphics are vector-based and can thus be adapted to the size, shape and color of one's choosing. In addition, the pre-text placeholders allow for slides to be rapidly filled with data.
With the Summary Slides templates for PowerPoint, you can
create informative statement slides for your presentation
clearly convey contact opportunities and question offers to your audience
choose from several options to complete your presentation professionally
PowerPoint Templates Include
a large collection of summary slides with vector-based graphics in different designs
summary templates
question / answer graphics
"thank you for your attention" graphics
contact information templates
text placeholders to insert your data and content