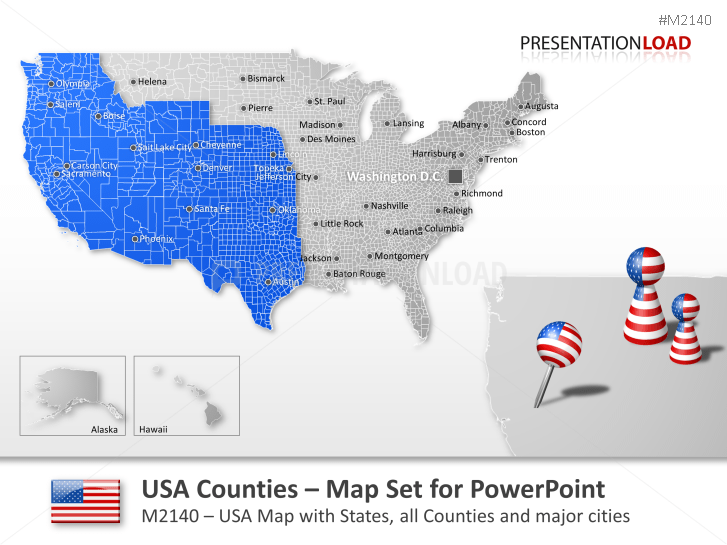 USA Map with states, counties and major cities for PowerPoint presentations
Display locations, regional features and sales areas with this USA-County map. All maps are already designed in a PowerPoint- Template and optimized for your business- or marketing presentation. All map parts and separate county-boarders are drawn in great detail and consist of separately editable vectors which can be easily adjusted and colored to your requirements. Text and location description can be edited or deleted directly in PowerPoint. Every single state is drawn with their county borders and descriptions.
This set contains the county boundaries of the following U.S. States: Alabama, Alaska, Arizona, Arkansas, California, Colorado, Connecticut, Delaware, Florida, Georgia, Hawaii, Idaho, Illinois, Indiana, Iowa, Kansas, Kentucky, Louisiana, Maine, Maryland, Massachusetts, Michigan, Minnesota, Mississippi, Missouri, Montana, Nebraska, Nevada, New Hampshire, New Jersey , New Mexico, New York, North Carolina, North Dakota, Ohio, Oklahoma, Oregon, Pennsylvania, Rhode Island, South Carolina, South Dakota, Tennessee, Texas, Utah, Vermont, Virginia, Washington, West Virginia, Wisconsin und Wyoming.