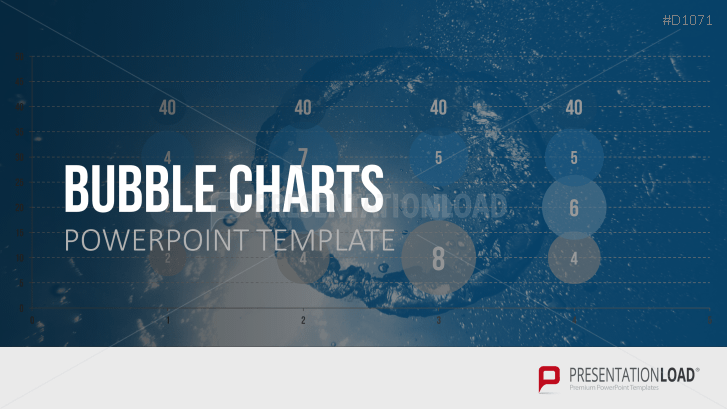 The Bubble Charts for PowerPoint help facilitate the competitive, growth and market share analyses by providing a quick view of different values (up to three) by means of differently sized bubbles in XY-axis charts.
The Bigger the Bubble, the Bigger the Value
In addition, these charts provide an opportunity for the classical orientation of the X and Y-axis to represent a third value greater than the size of the bubble. The design of bubbles in 3D can also put visual emphasis on the individual values.
A Clear Look at Complex Relationships
Companies use these charts for displaying relationships between various financial data, e.g., in the context of strategic management in the visualization of the BCG matrix. An example of a bubble chart is to create a market share overview where the level of revenue and product numbers are represented on the X and Y axes, while the market share is shown by the different sizes of the bubbles.
Numerous Bubble Chart Variants
The Bubble Charts contain a wide range of data-driven bubble charts, which adapt the size and position of the bubbles automatically to the input table values. The three-dimensional bubbles spread over shaded XY-axis charts. The chart can be explained by supplementing additional information in the pre-text placeholders.
By Using Bubble Charts, You Can
receive numerous bubble chart variations in appealing 3D optics
illustrate complex economic relationships in a graphical manner
visualize your values by efficiently inputting data in vivid bubble charts

PowerPoint Templates Include
various bubble charts in 3D
bubble chart templates on topics such as product ranking, business growth, costs/commissions, competitive analysis, product comparison
BCG matrix template
combined slides with two different bubble charts
combined slides with bubble chart and text placeholder