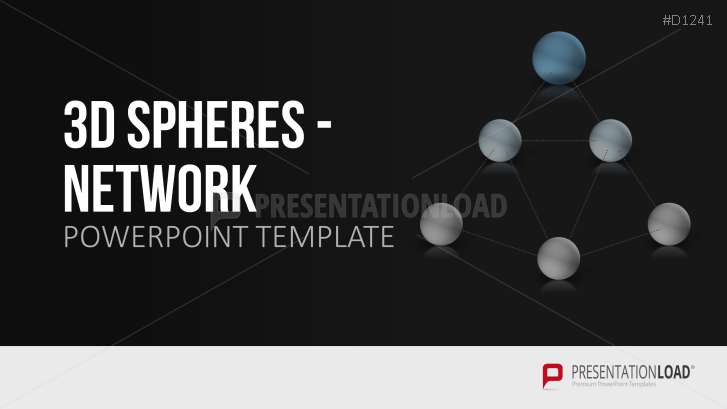 The 3D Spheres - Network templates can be used to visualize your business procedures and relationships through networks of spheres represented in various configurations and designs.
Compounds of Several Elements
Networks are systems consisting of several objects (nodes) and their compounds (edges). The structuring can be as an output node to which all other nodes are ordered and connected, or as a chain net with sequentially ranked nodes that enable process descriptions, information paths and relationships.
Management Tool
Networking is an important management tool for companies. Whether for jurisdiction assignments and resource distributions or the establishment of rules and its resulting decision-making processes, this model provides a quick and comprehensible overview for all employees.
Networks with 3D Spheres
In this collection, the network nodes are available as 3D spheres with the central node in color and highlighted in size. Prefabricated text placeholders enable the rapid input of individual object descriptions and their relationships.
With the 3D Spheres-Network Templates for PowerPoint, You Can
clearly visualize processes and relationships in your company

feature network models in professional designs

input data quickly and easily in network nodes and edges

PowerPoint Templates Include:
a variety of 3D Spheres-Network variations with up to 15 spheres

placeholders to insert your content