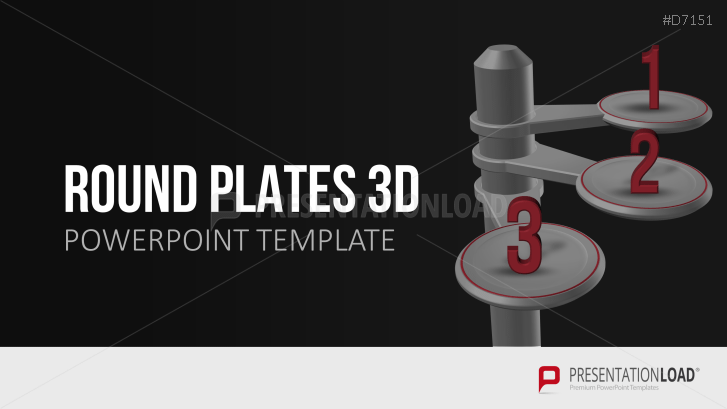 Use this varied set of 28 round plates for diverse application.
3D Round Plates as a Versatile Means of Representation
Round plate graphics are appropriate for mapping hierarchies that represent the relationship between individual elements or highlight certain aspects. In this sense, Round 3D-Plates serve to represent the organizational structure of a company but also highlight and recognize individual elements, such as specific location, staff, performance or a specific product of importance.
PowerPoint 3D Round Plates to Emphasize and Present Relationships
Take advantage of the 3D Round Plates in order to bring your listeners closer to organizational contexts (e.g. the organization of a company in different departments, locations, groups of people such as a board, council, etc.) You can incorporate this set to resemble hierarchies in which issues that seem important are emphasized (No.1) and other, less important factors are ordered below (Nos. 2-6).
With the plates, take advantage of being able to emphasize individual aspects such as honoring the importance of a particular employee, a product or service for the entire company.
With the 3D Round Plates PowerPoint templates, You Have
a detailed, image-based design to support your project
versatile application
a variety of 3D round plates

PowerPoint Templates Include
28 different 3D round plates with the possibility of different accentuation (data hierarchies, organizations, individual elements highlights)