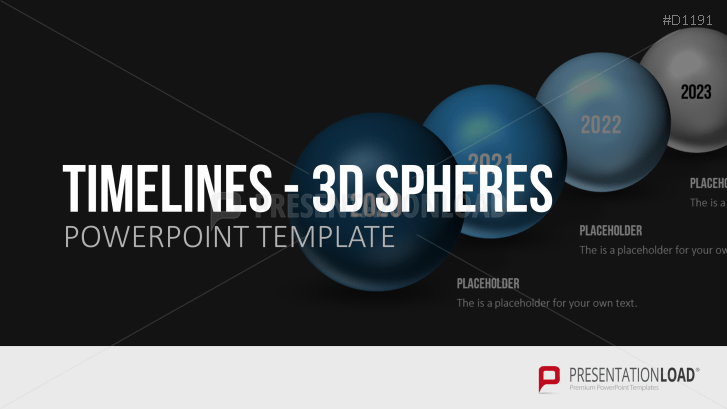 3D spheres to represent temporal sequences and to break down any total structures in single and substeps.

Part of an Overall Structure

Appearing visually like molecular spheres, these PowerPoint sphere graphics offer the option to present the whole entity with its individual components explained in full detail. This can then be useful, for example, if you want to represent individual process steps in an overall process or if you want to clarify how things are organized.

Spheres for Structuring Complex Issues

Use the Timelines - 3D Spheres PowerPoint templates to graphically demonstrate complex issues to your listeners by showing the structure of their individual elements. Represent temporal processes and break down any complete processes into their individual components by labeling the 3D spheres with annual figures. These spheres can either be connected by arrows or displayed in staggered structure.

Sphere Timelines in PowerPoint

Benefit from the option of using the spheres as dividing elements of a whole structure to better clarify of which departments your company is composed or which product line represents the percentage of total sales. Use these spheres to present arithmetic signs or percentages.

Timelines - 3D Spheres PowerPoint templates offer

a vivid outline option
a modern design
different uses
PowerPoint Templates Include

a representation of an equation using 3D spheres
a process diagram
different timeline formats
different graphics of 3D spheres