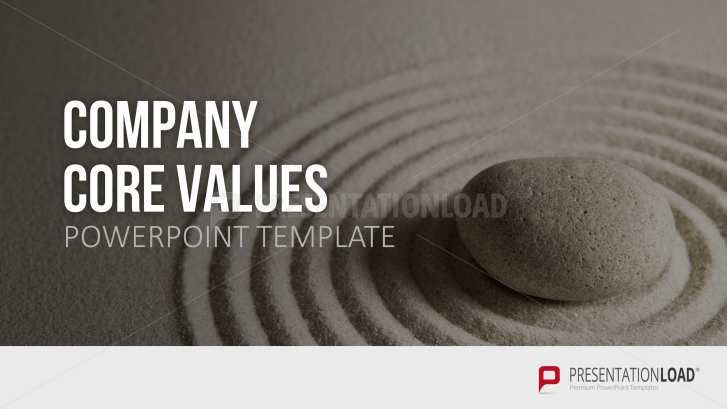 Visualize Your Company's Core Values, Mission and Vision.
Know What You Stand For
Every company exists to create added value for its customers. To build a company, you need to answer not just the question "What?", but also "How?". It's in your company's best interest to have a strong mission statement in place. This is grounded in how your company sees itself and where its priorities lie. What is your vision? How do you want to reach your customers and why should they choose you? What are your values and what strategy will help you achieve your goals? A practical framework, guiding the meaning and purpose of your day-to-day operations, will only emerge when these questions have been answered.
Perfect Your Corporate Mission Statement
We have created a bundle containing thought-provoking ideas as well as presentation options for a wide range of corporate values to help you clarify your company's core values and mission and vision statements. With the extensive set of icons, you can visualize individual core values, or present your vision using colorful and creative graphics. In addition, this template allows you to present important company statements with tables or graphics, helps you explain your corporate mission and provides useful and relevant quotes to support your corporate vision.
With This Bundle You Can
define and present core values
set out your statements in a clear and professional way
present your business strategies effectively
This PowerPoint Template Contains:
D2716 Corporate Mission / Core Values
Creative symbols, working aids, text boxes and image templates to optimally present core values and corporate mission statements
D2718 Vision & Mission Statements
Convey commitment and professionalism by including vision and mission statements in your presentation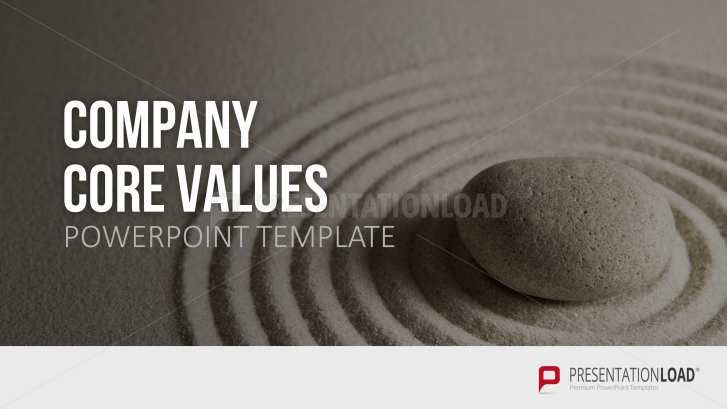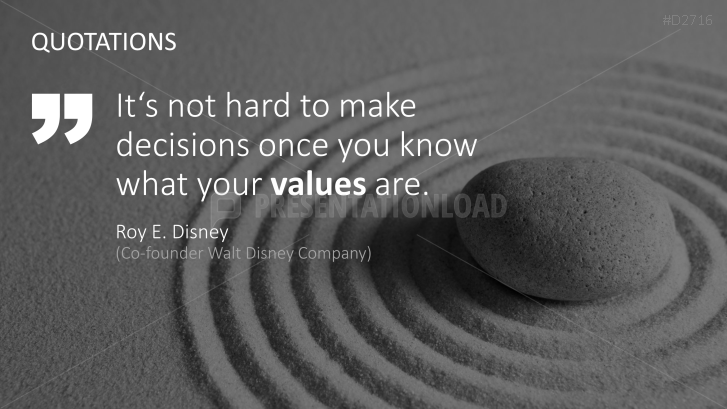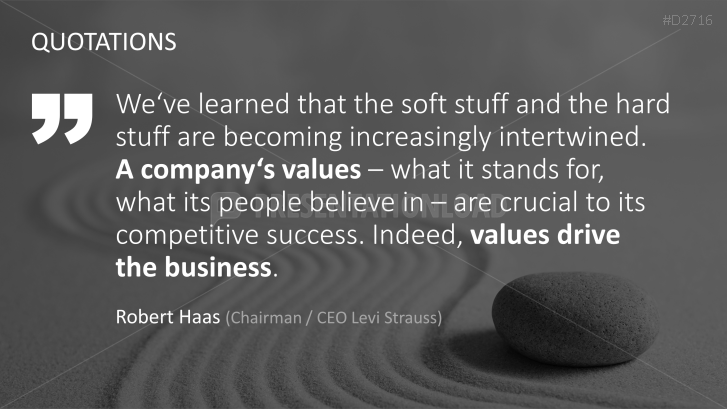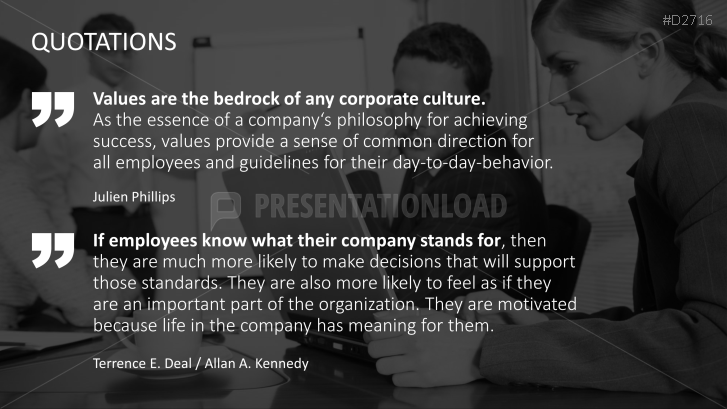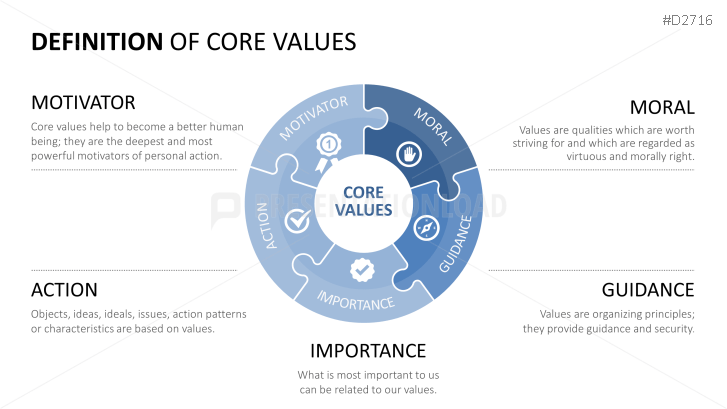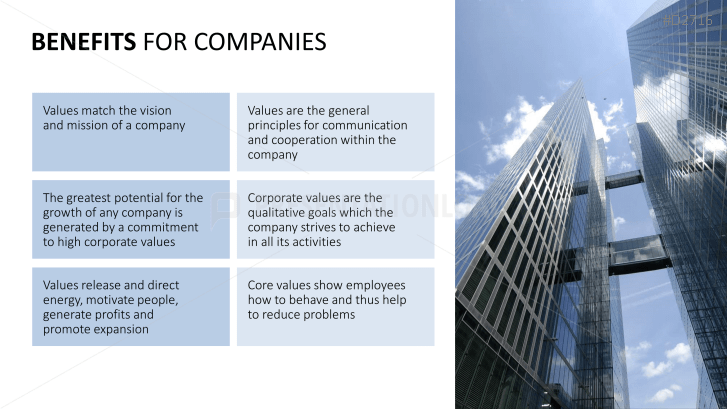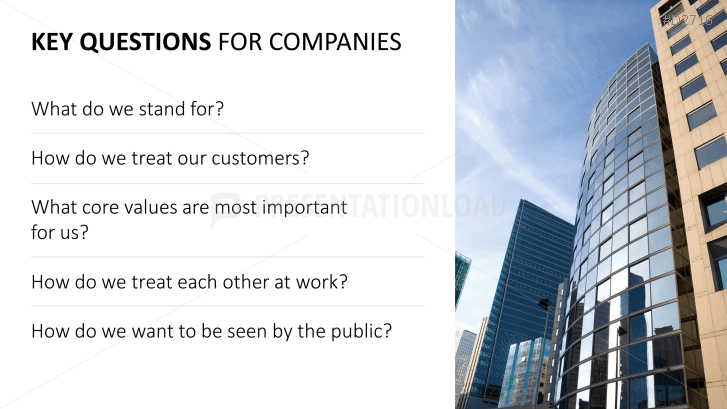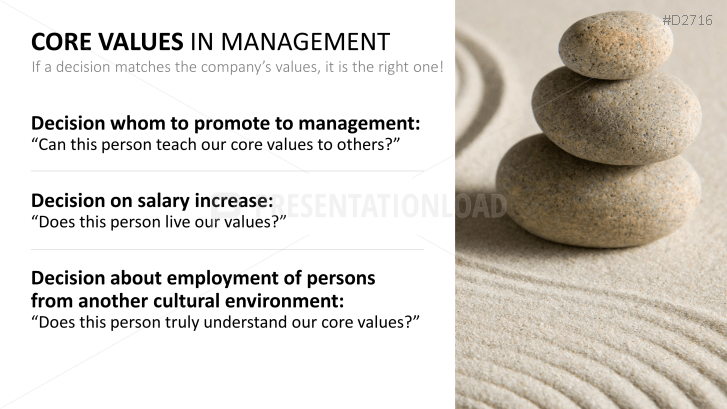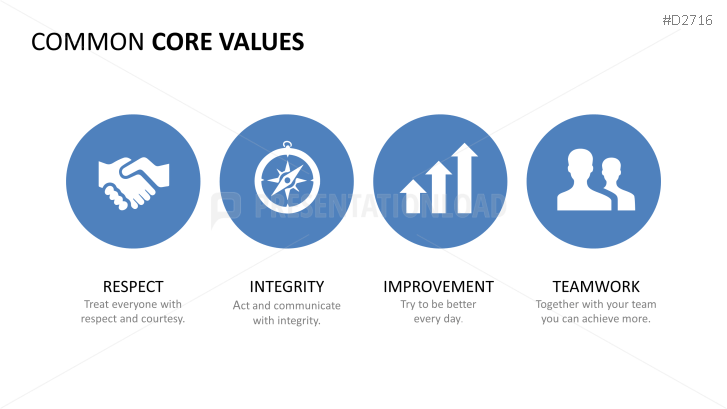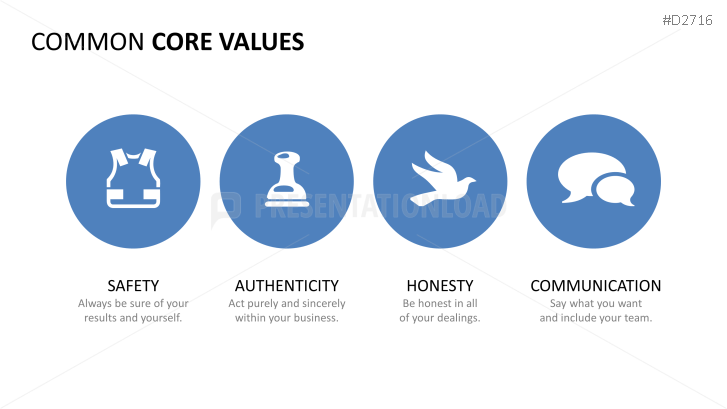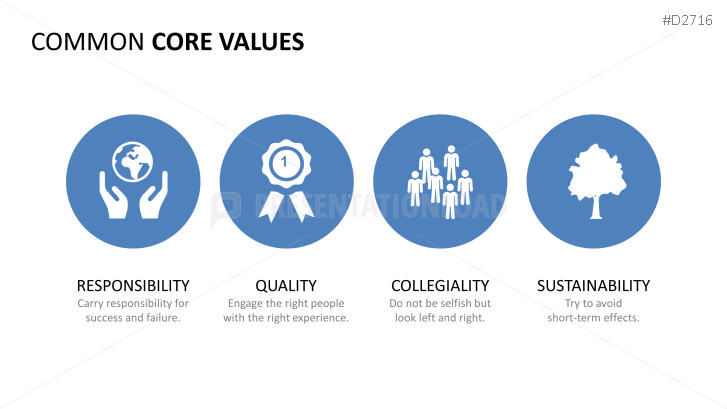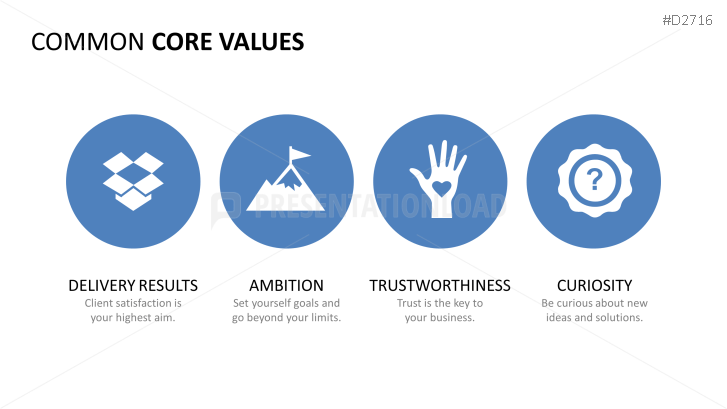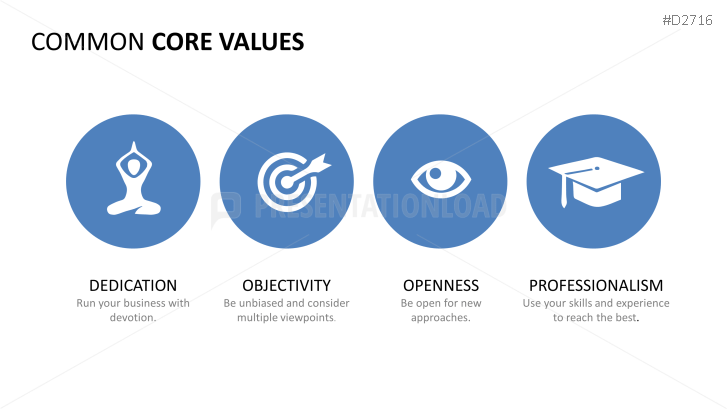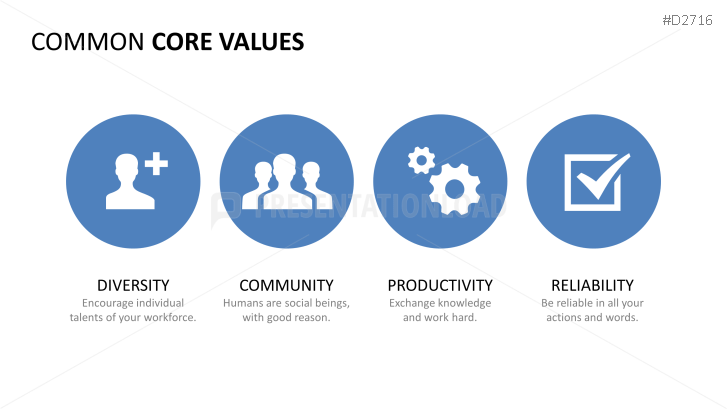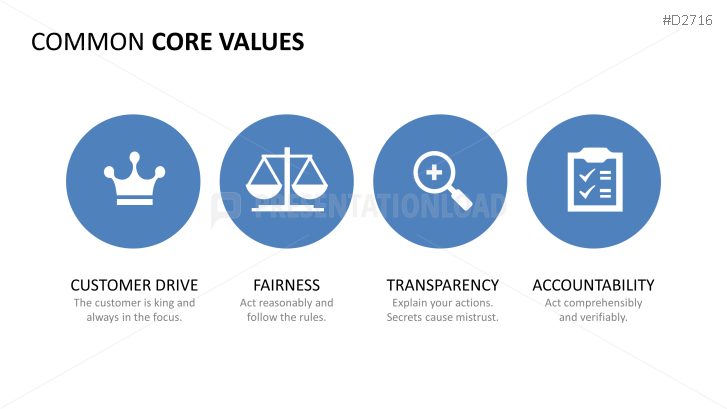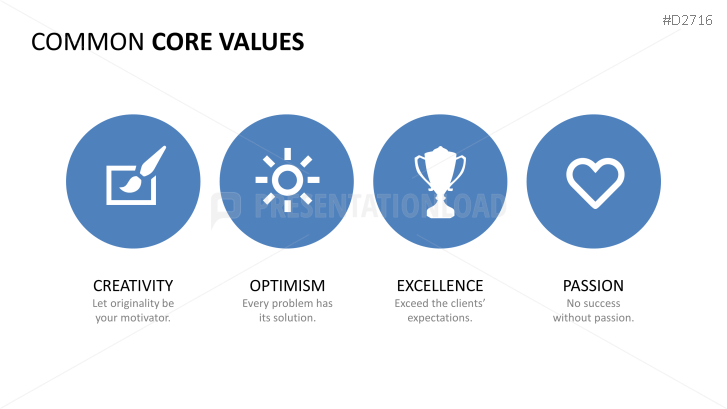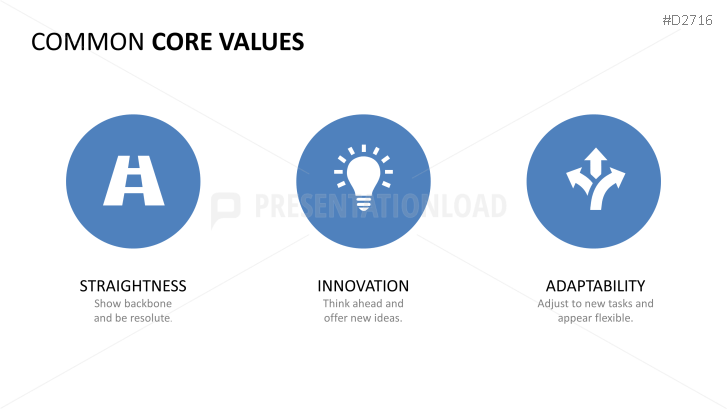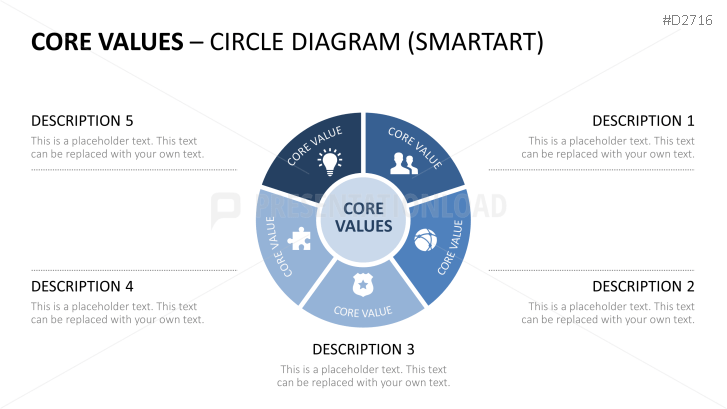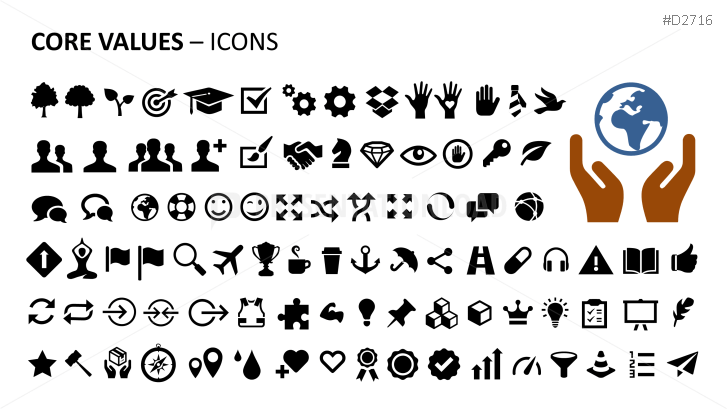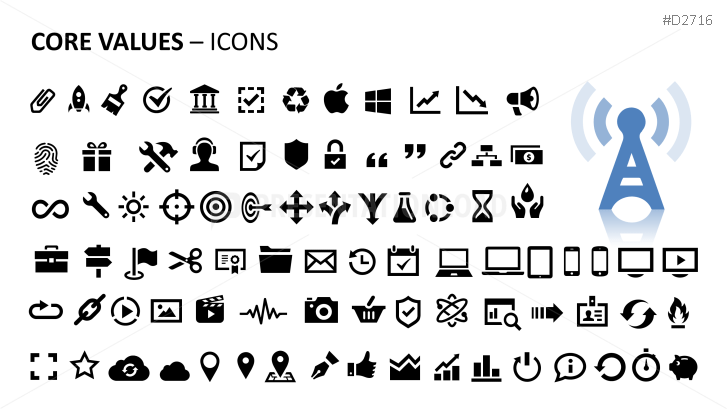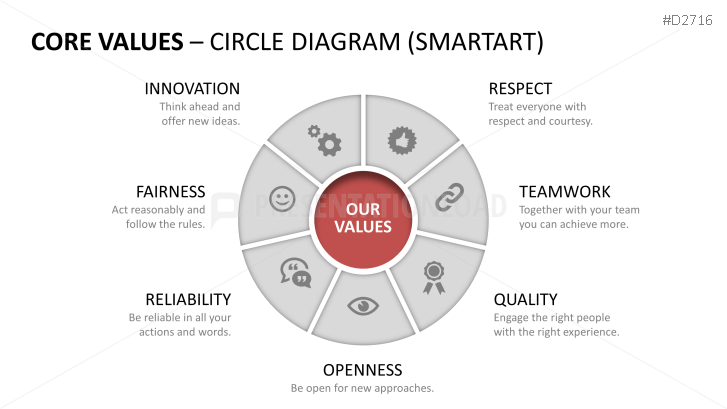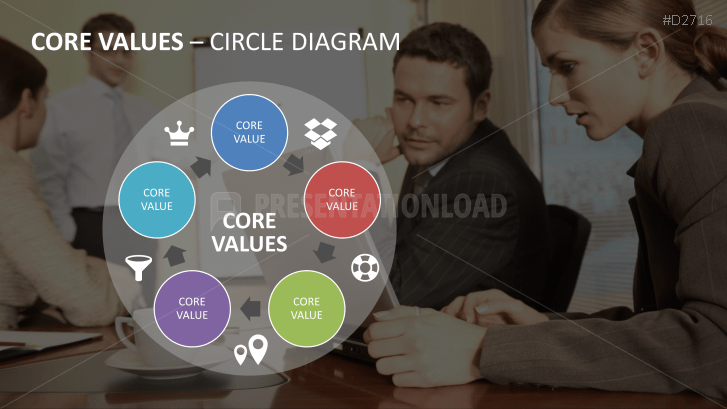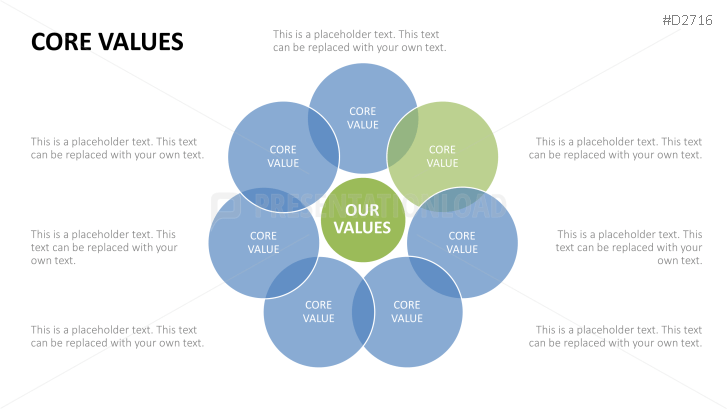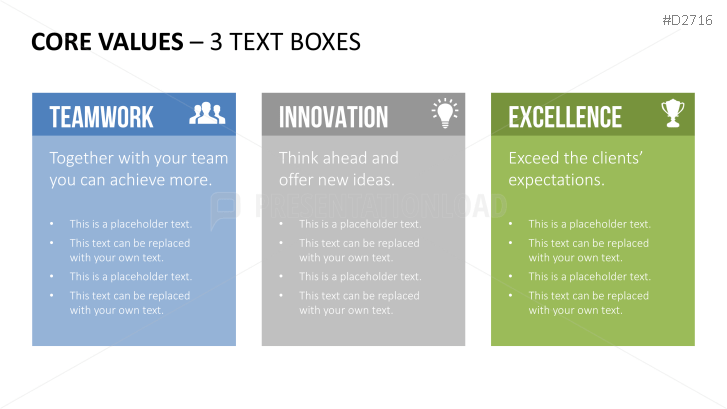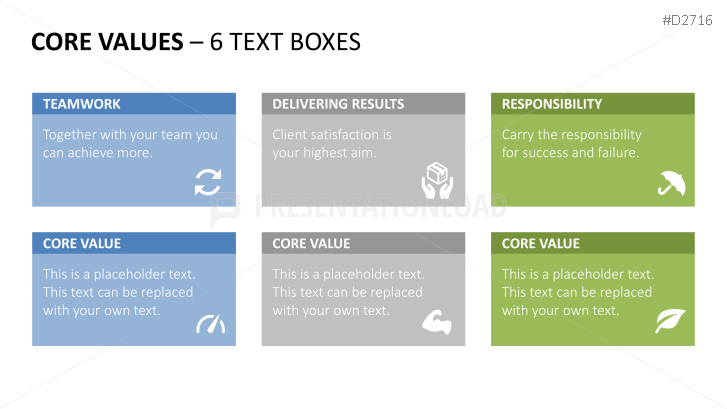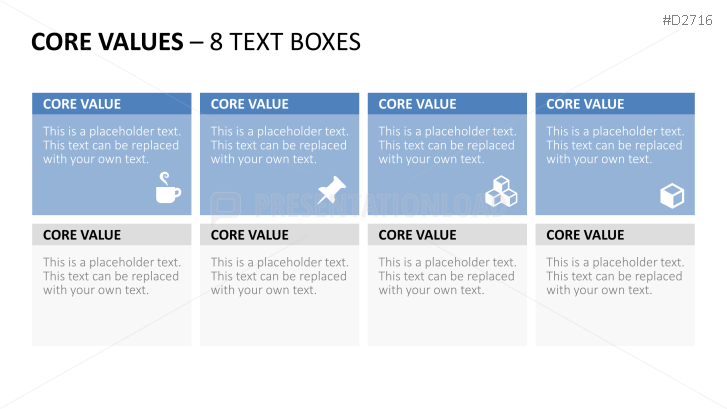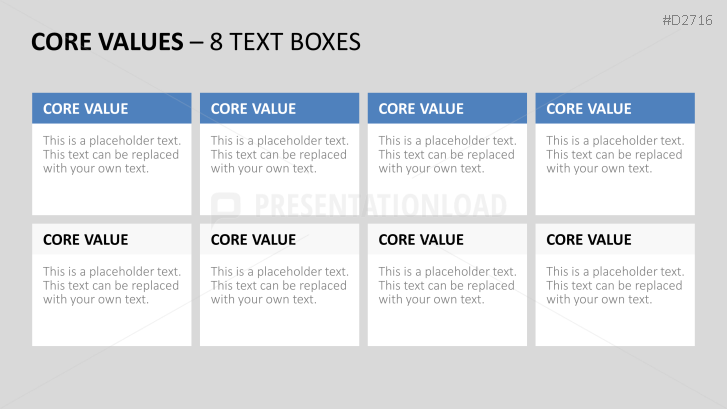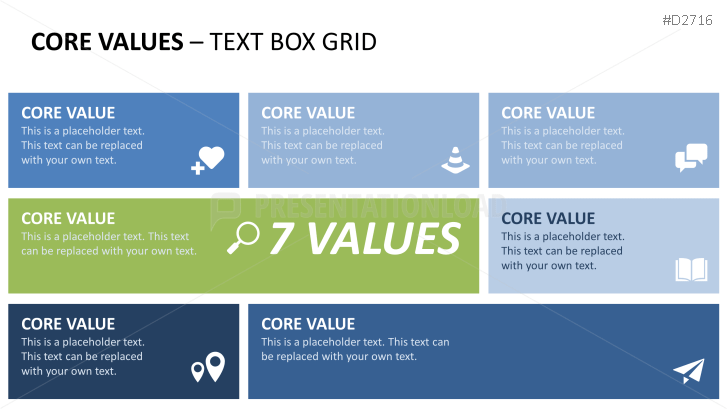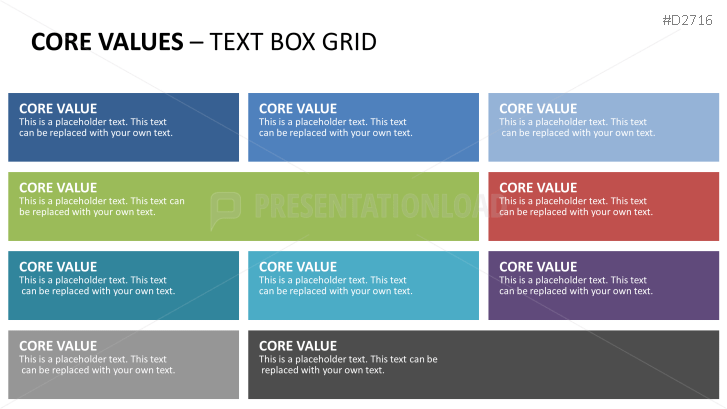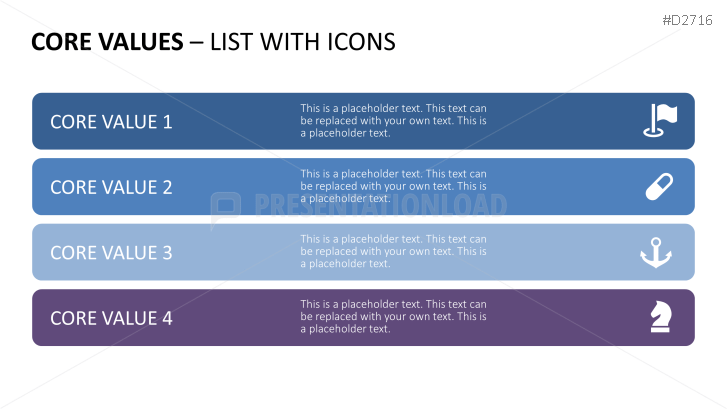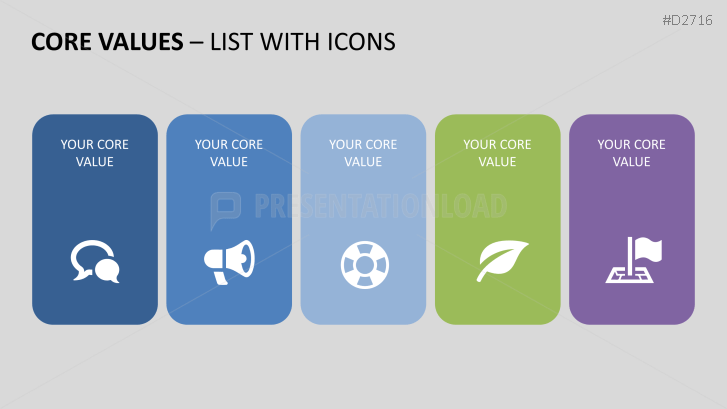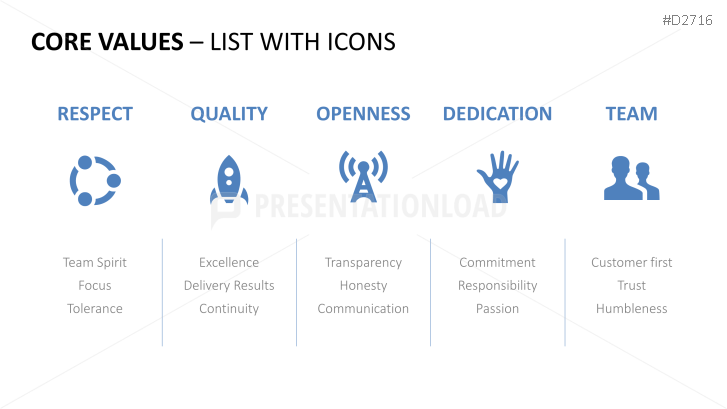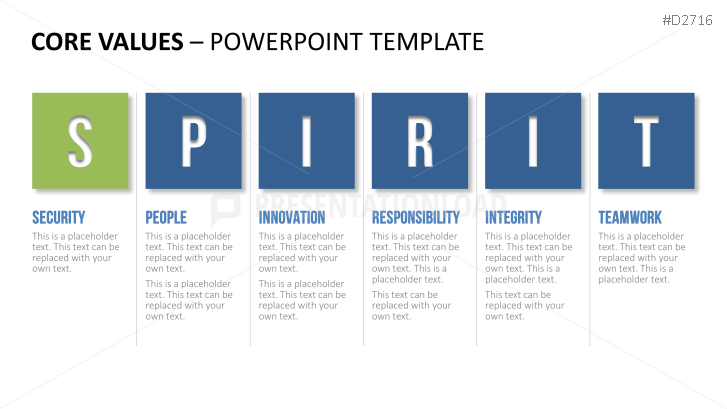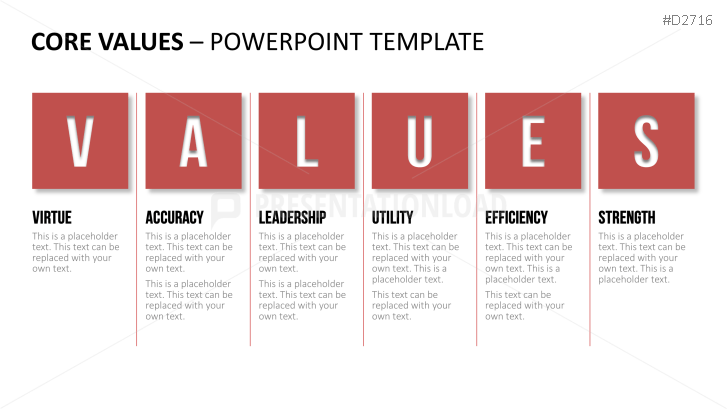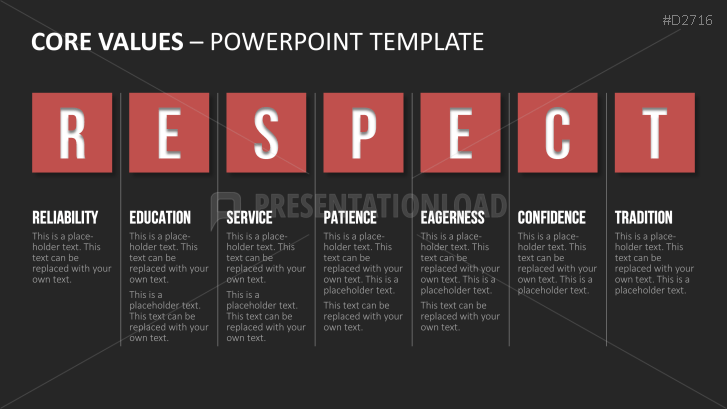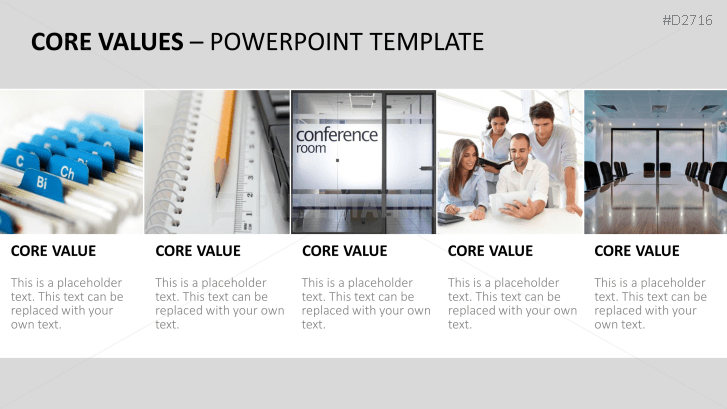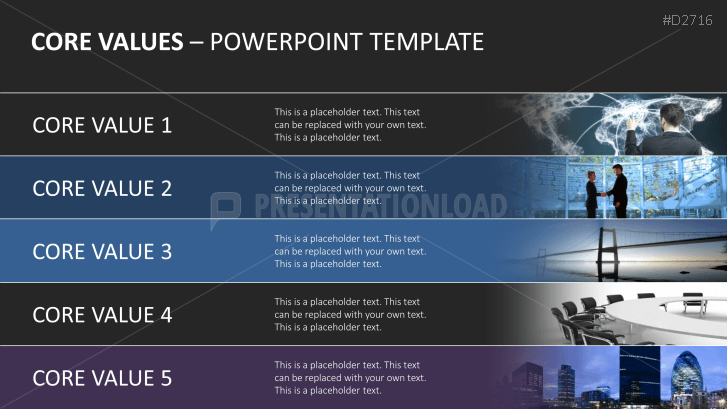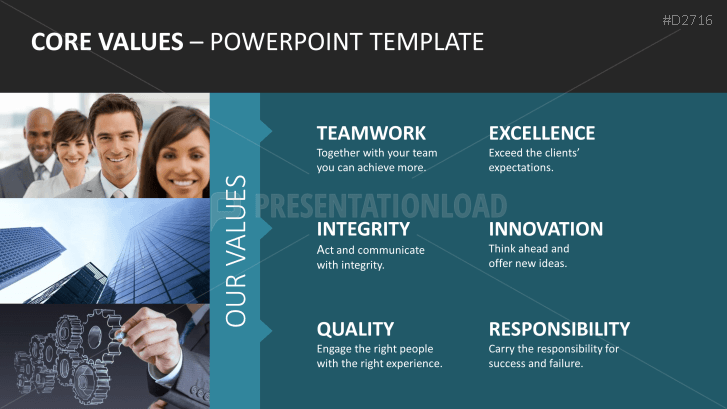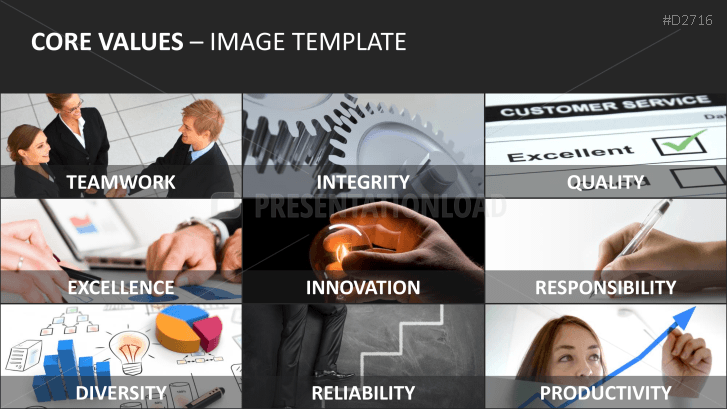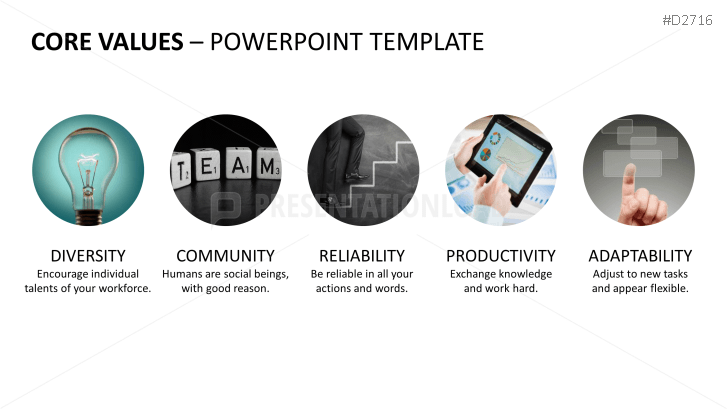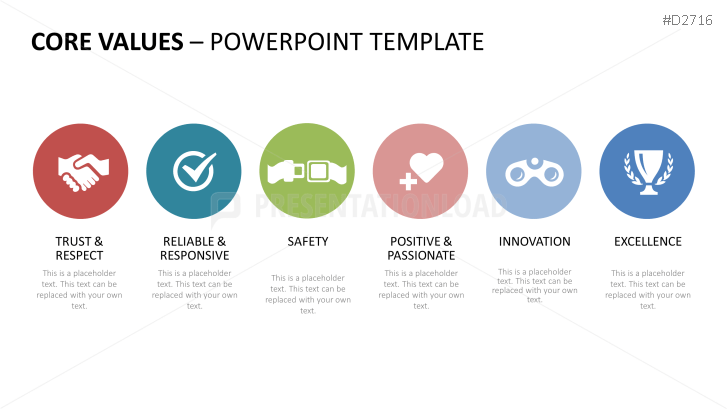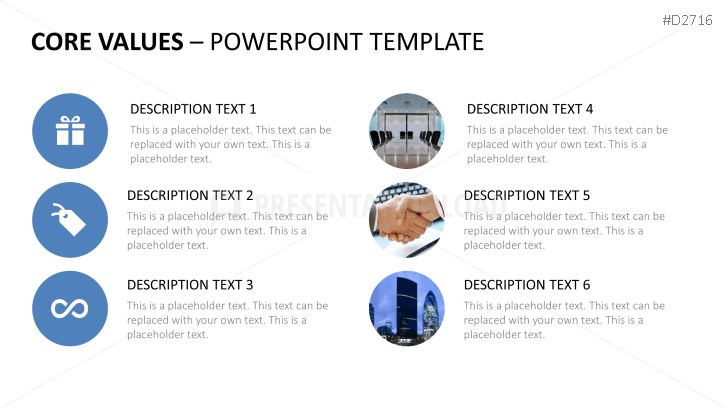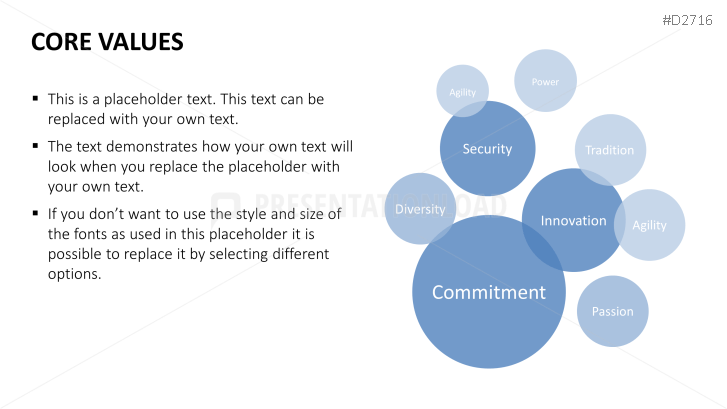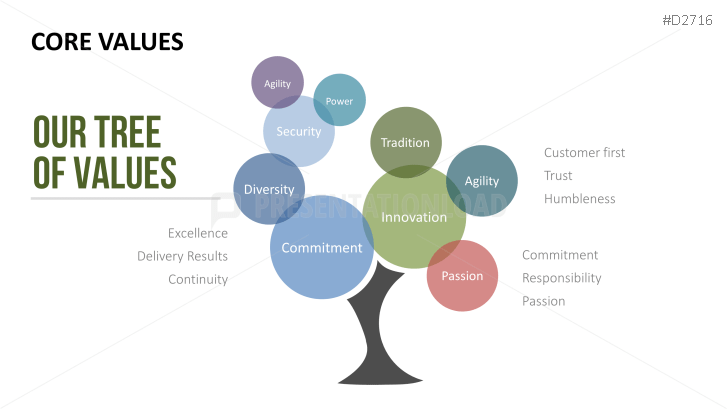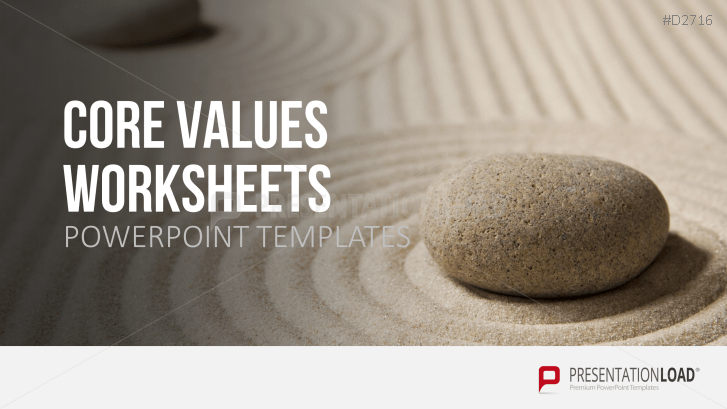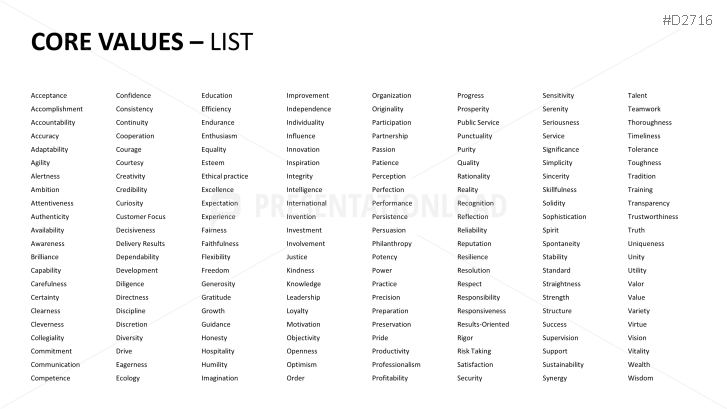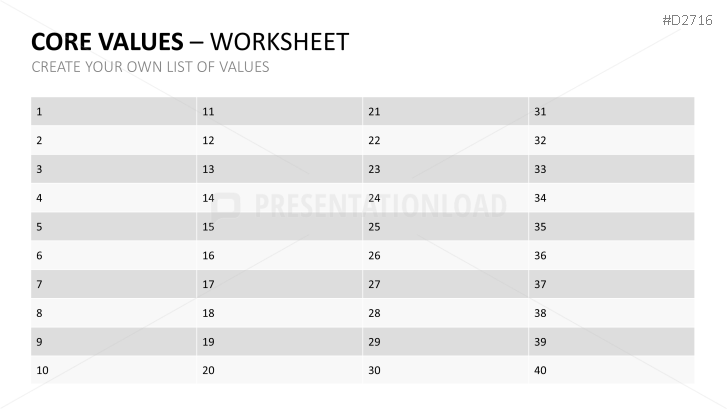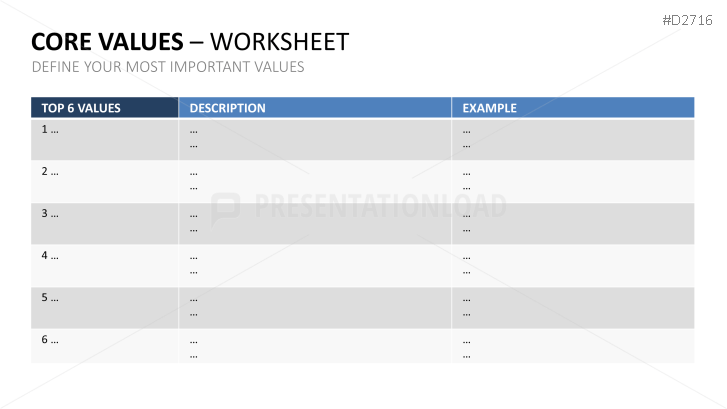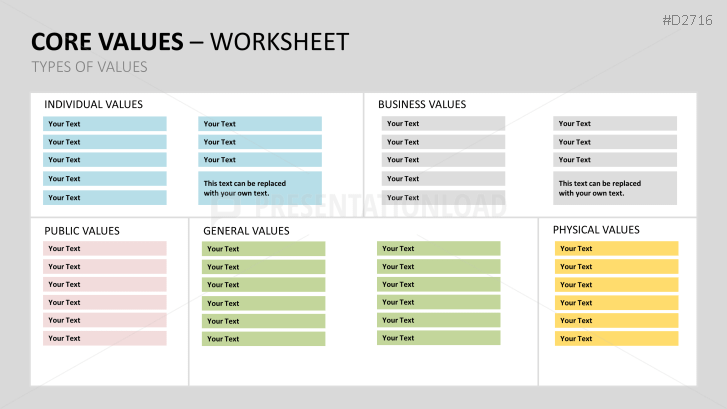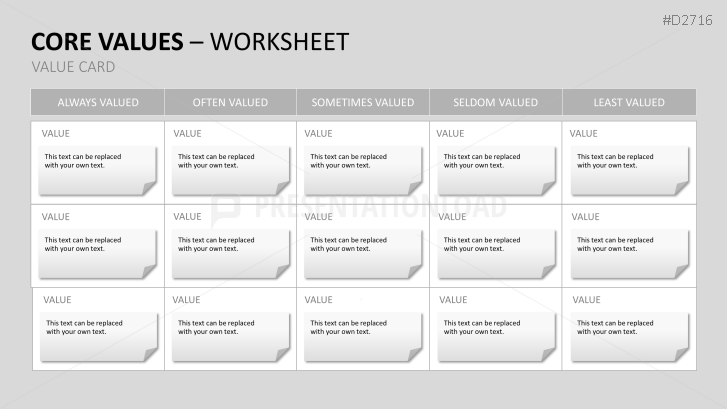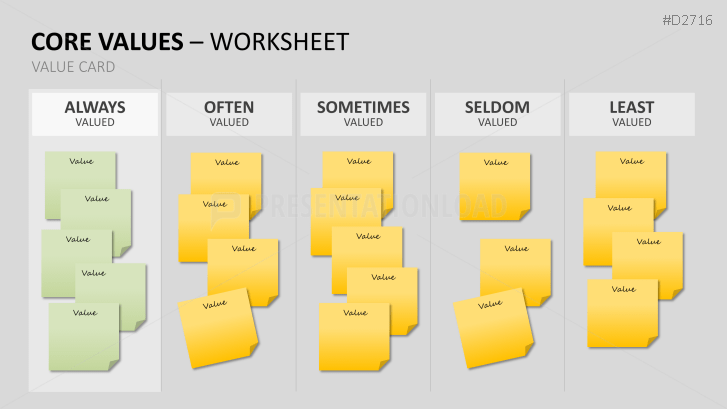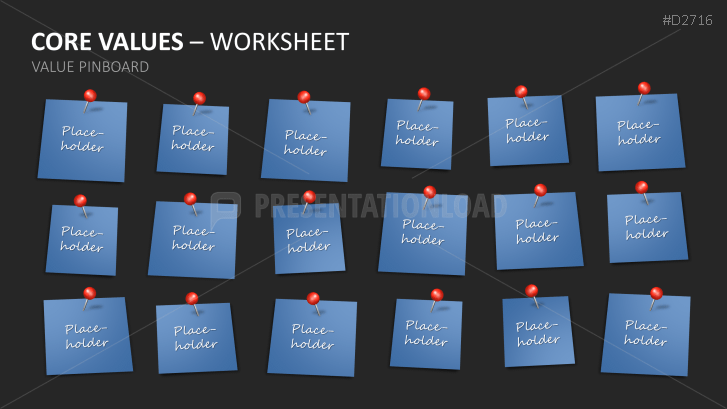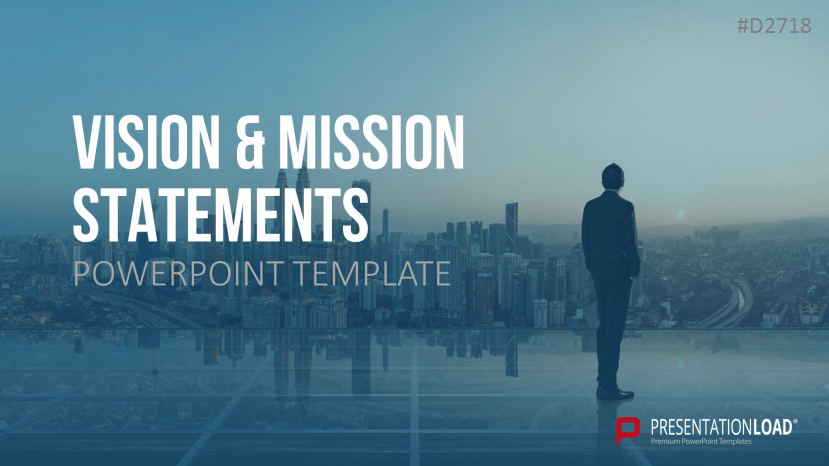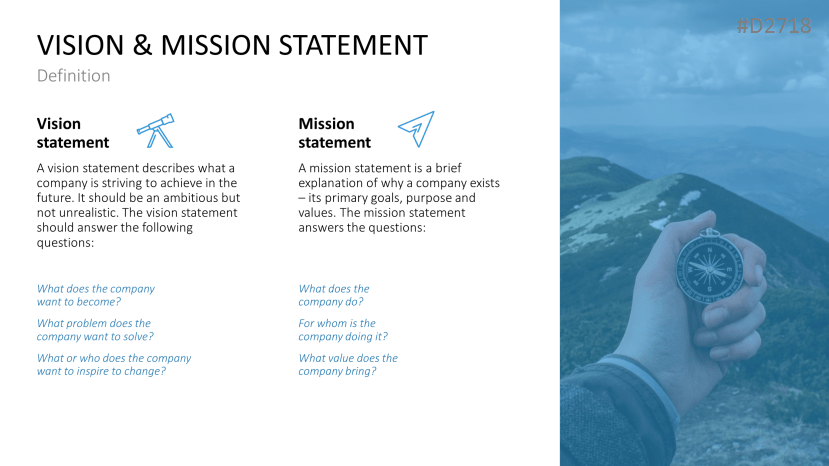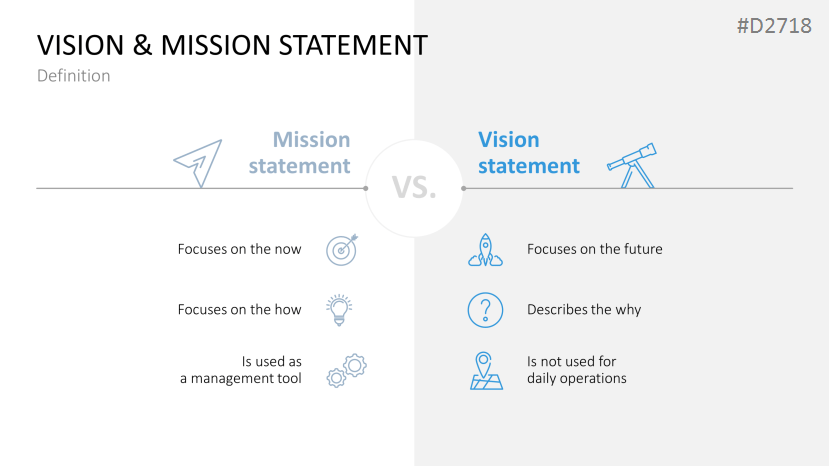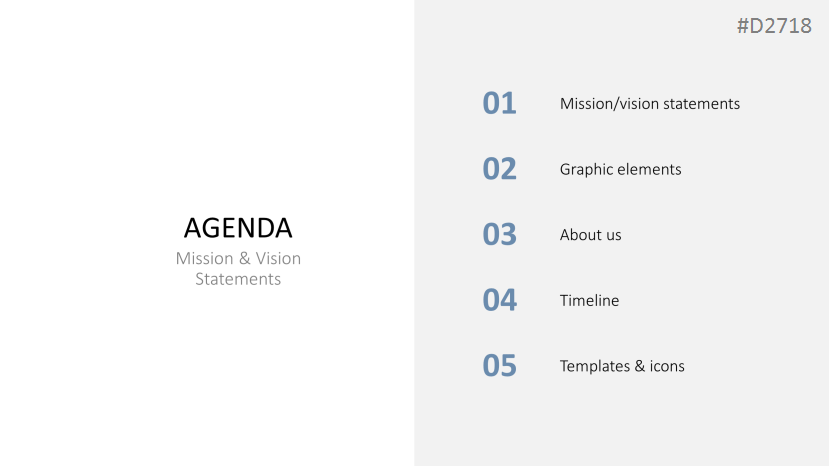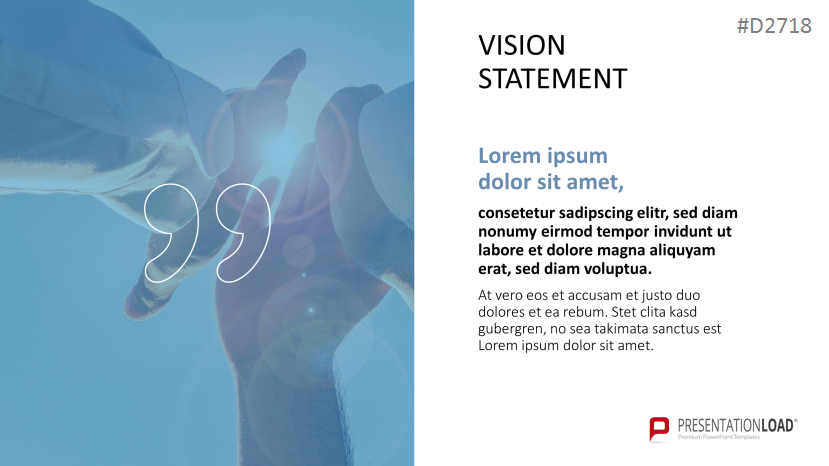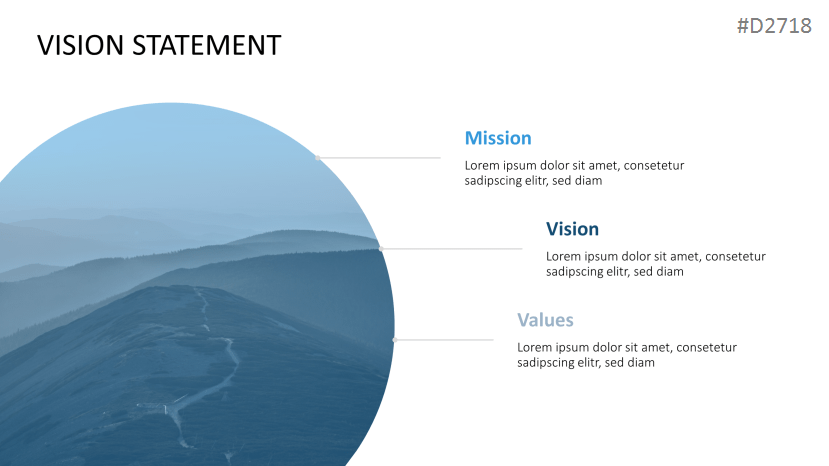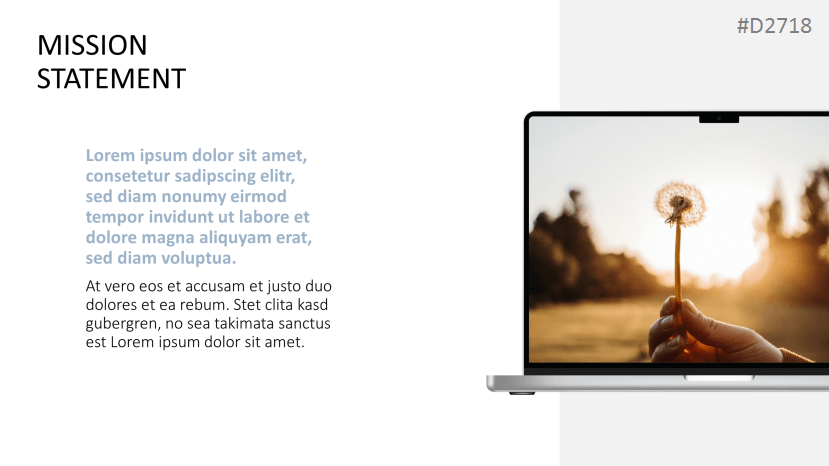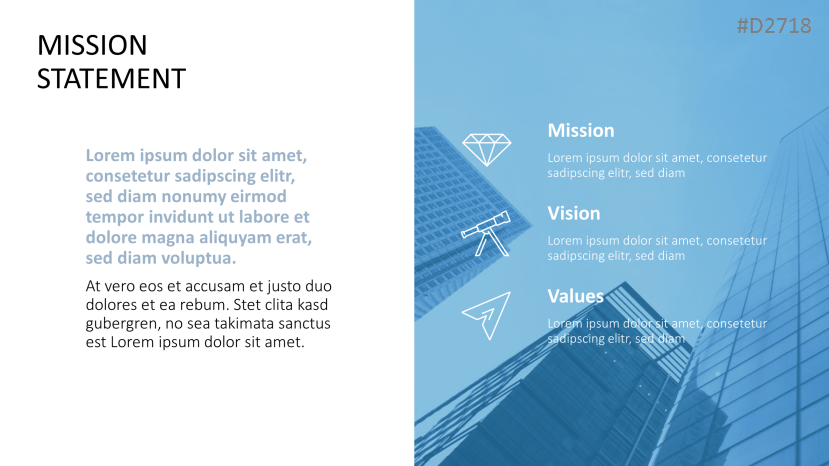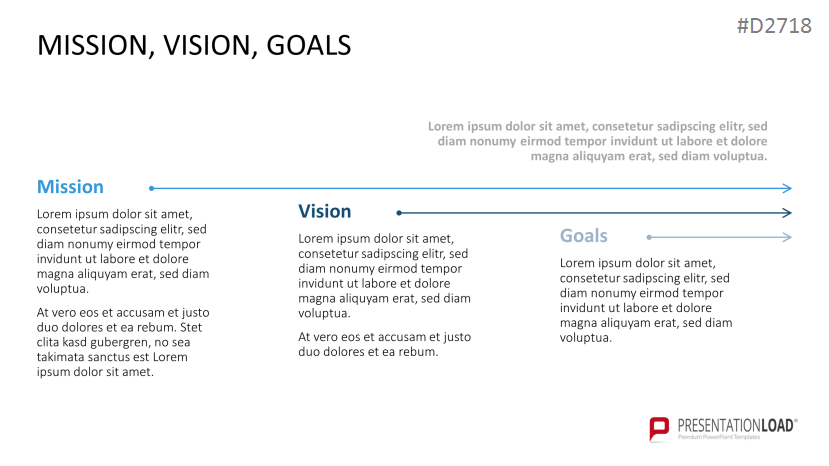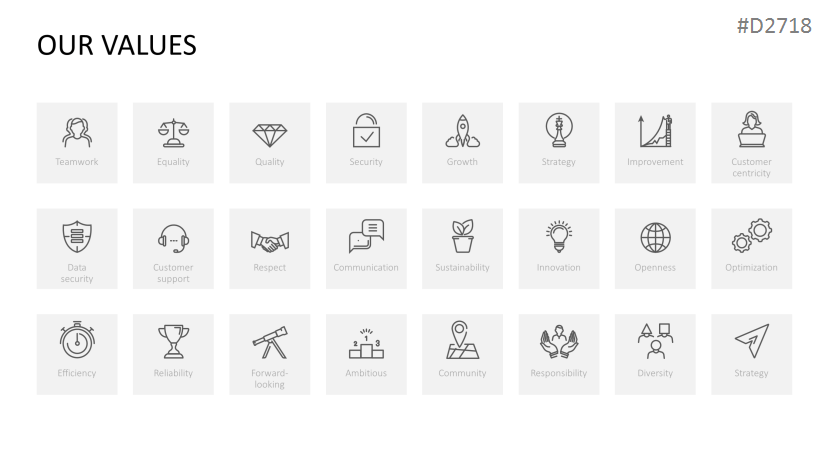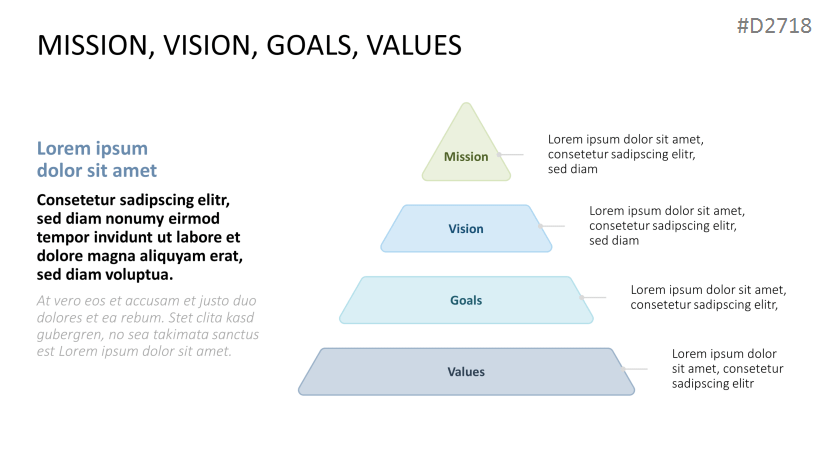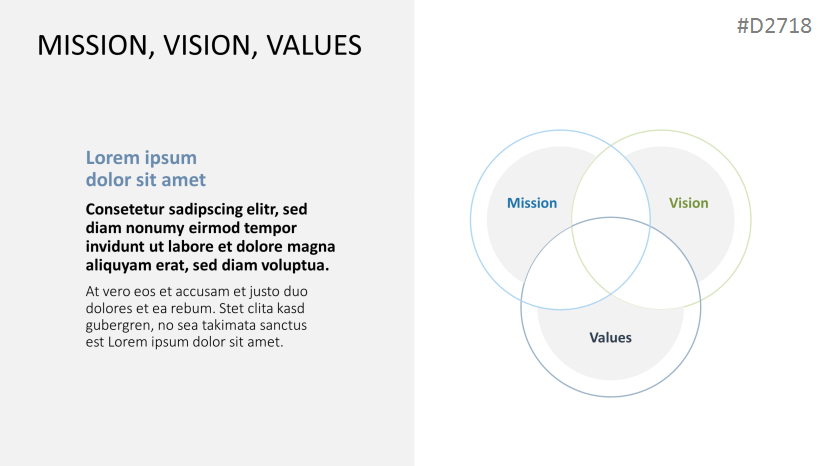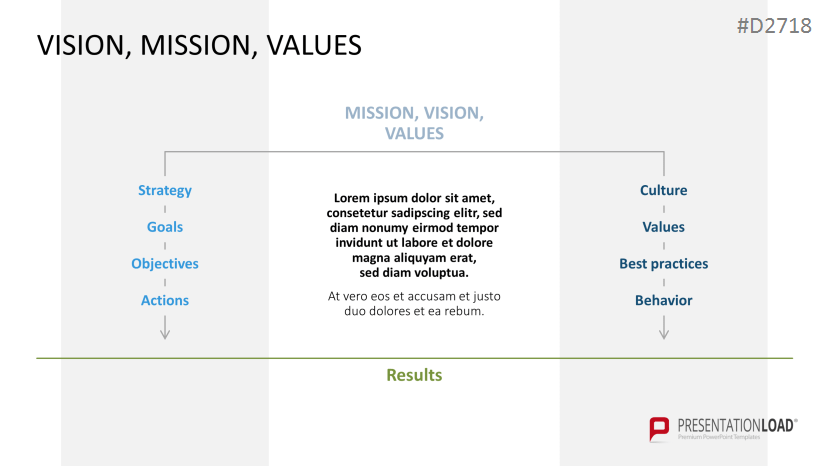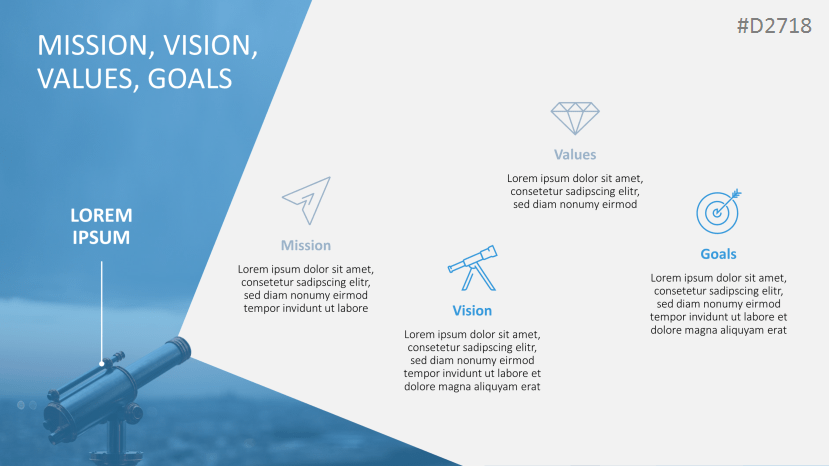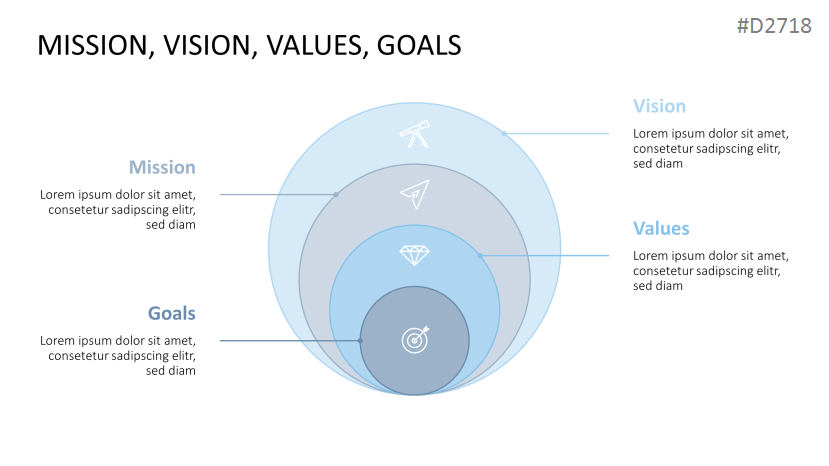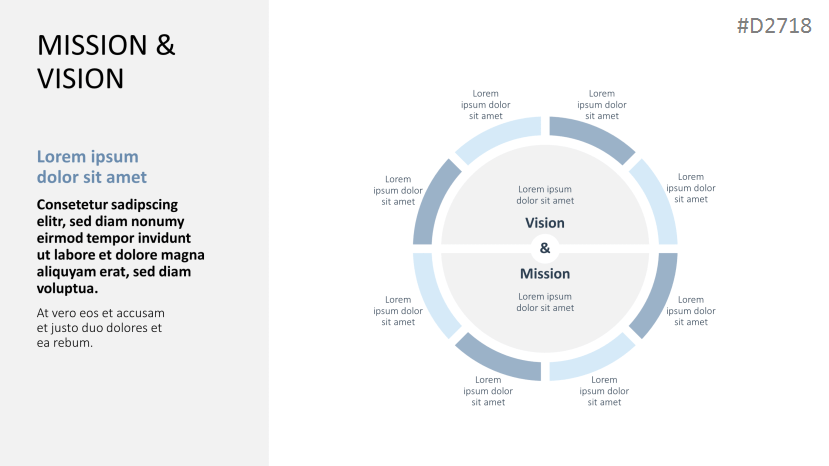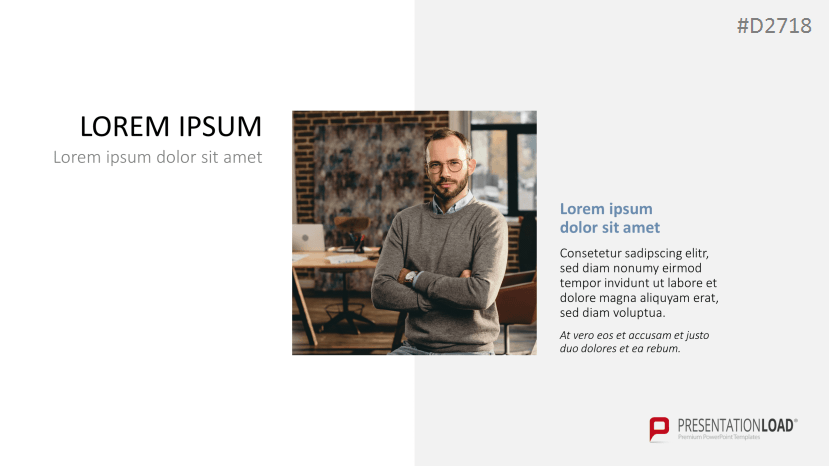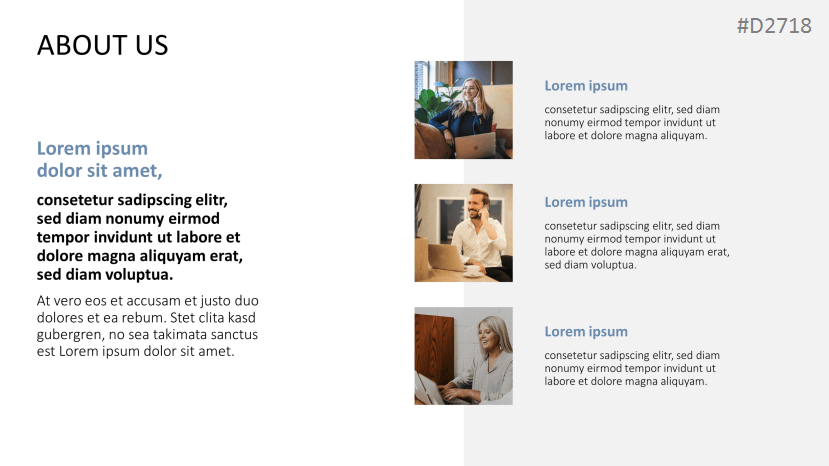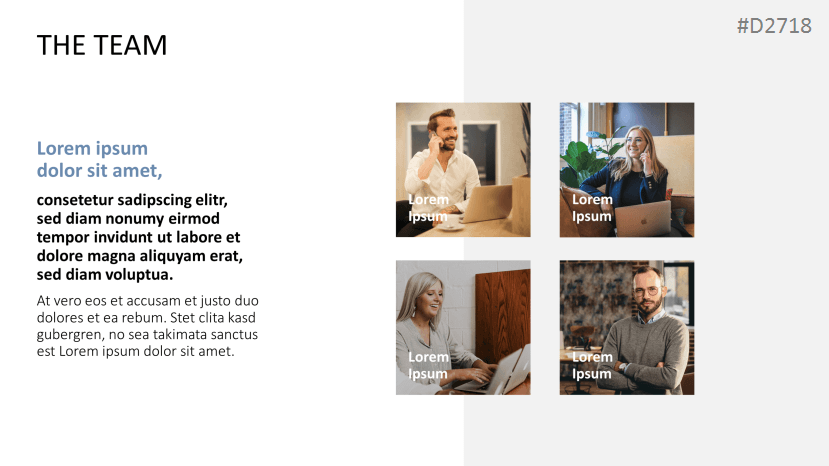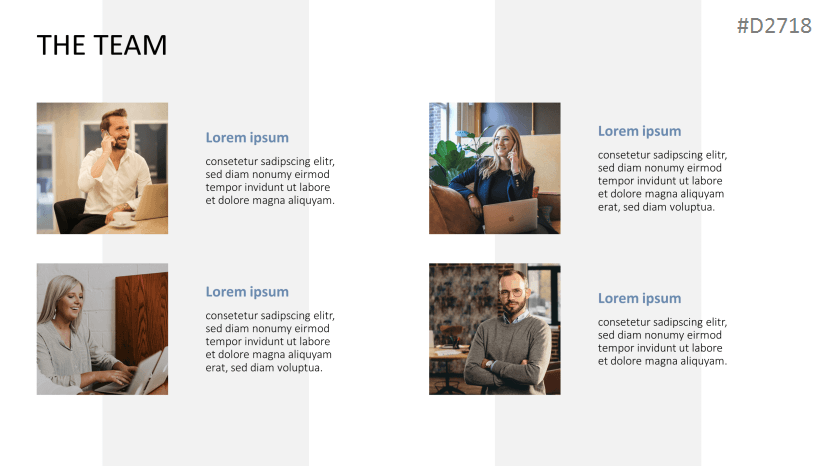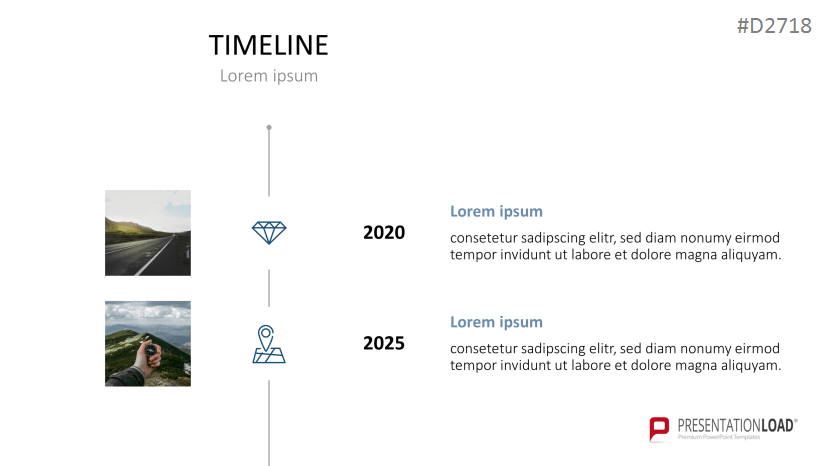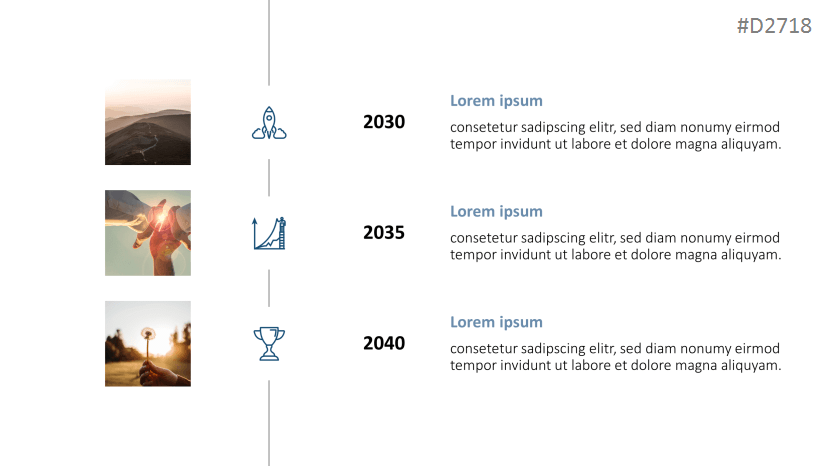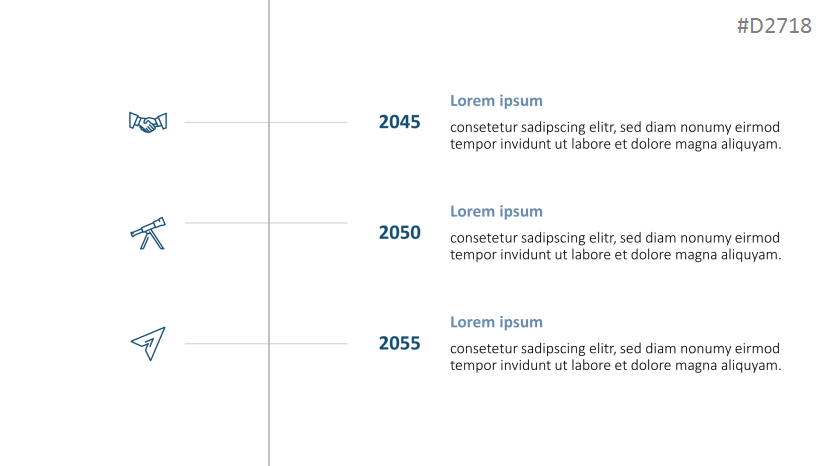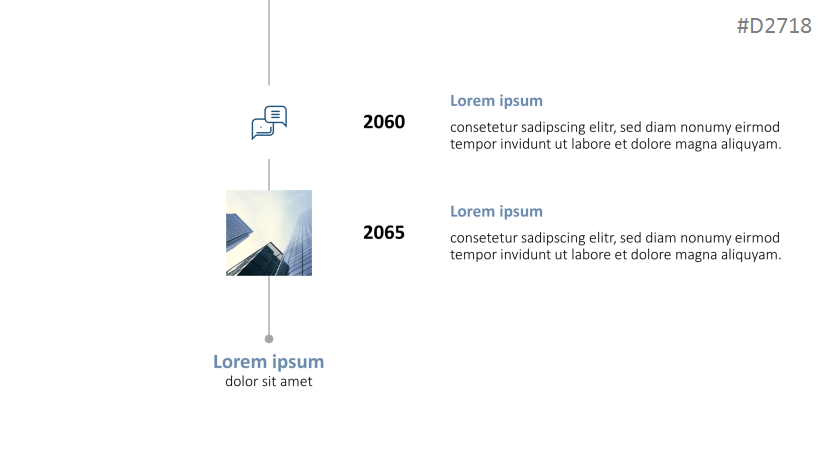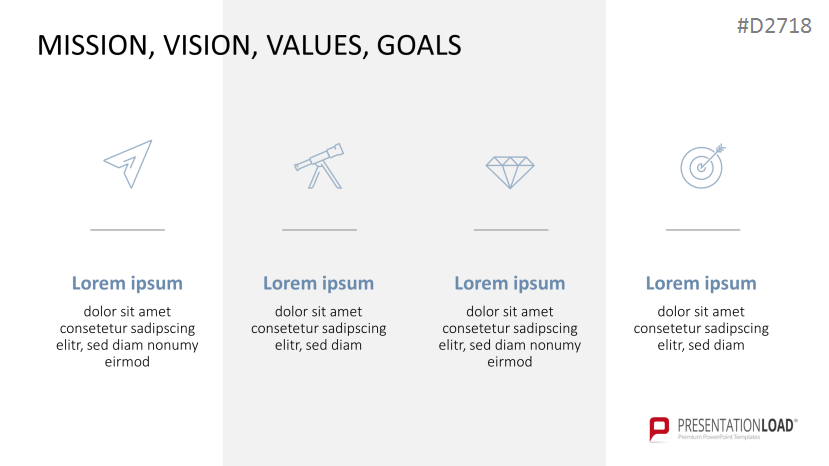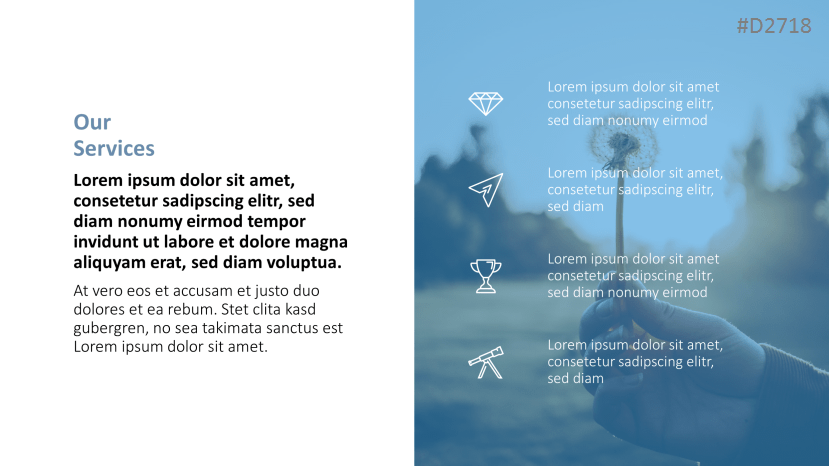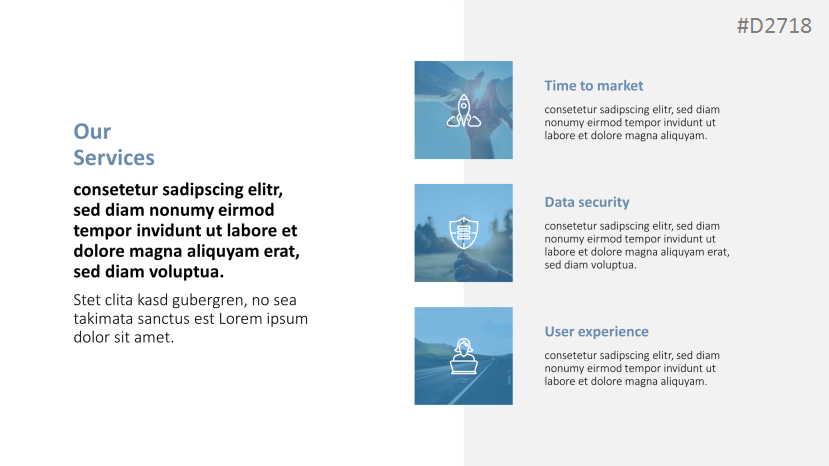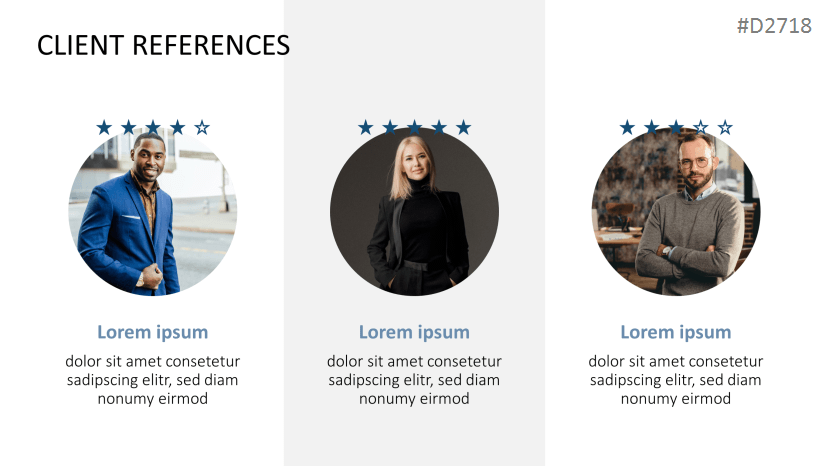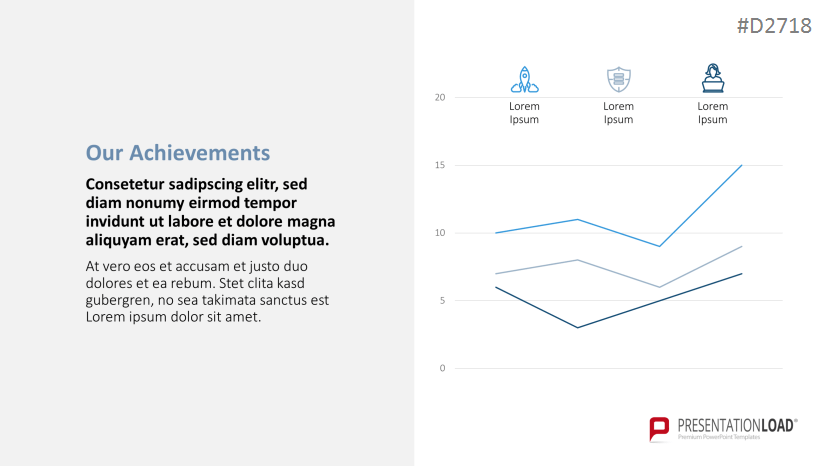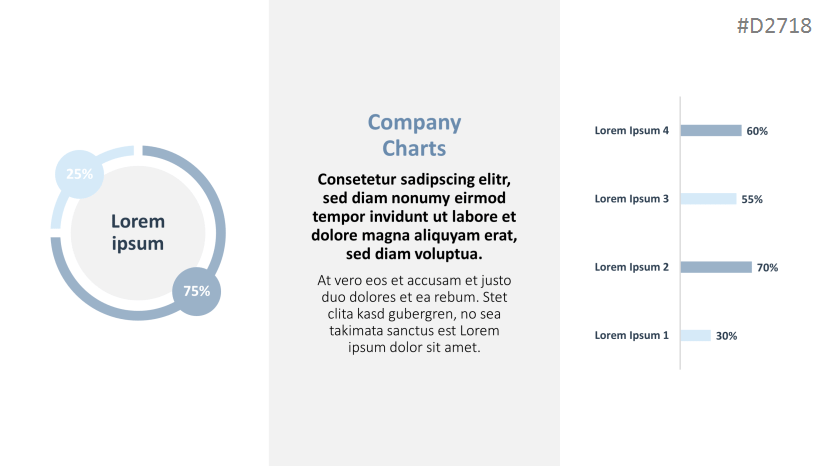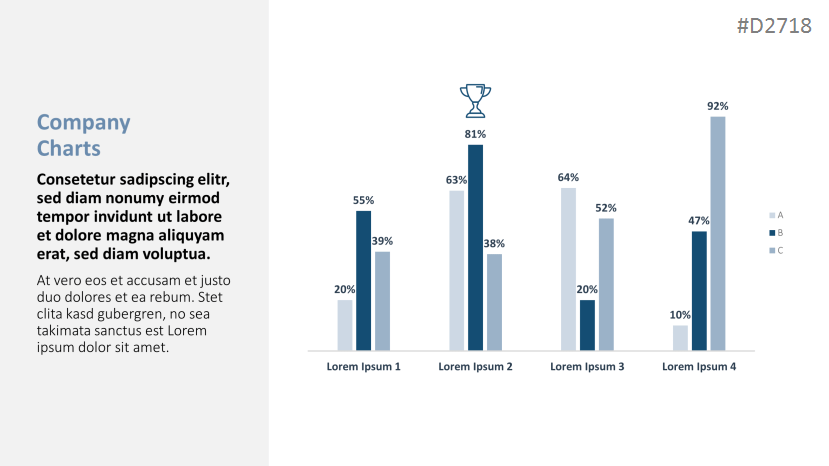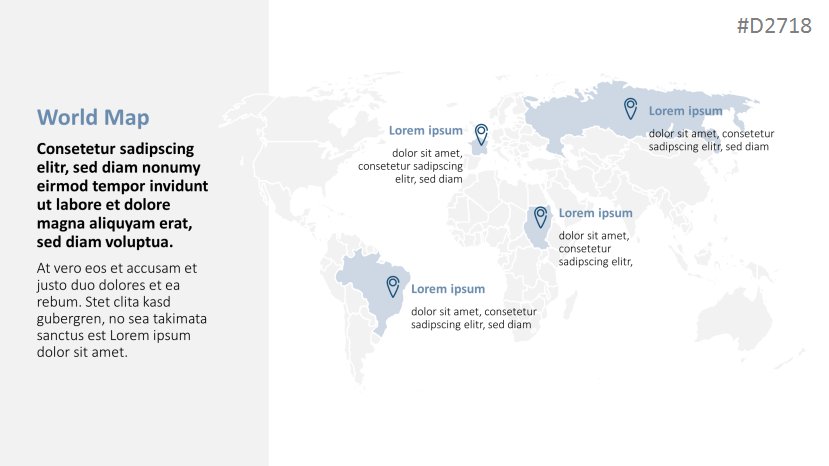 D2716 Company Core Values (52 Slides)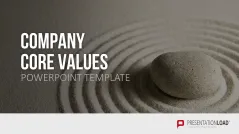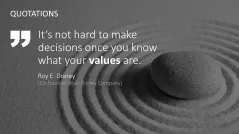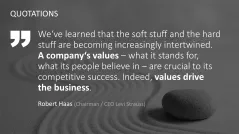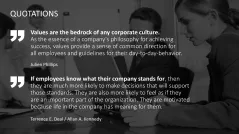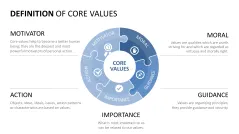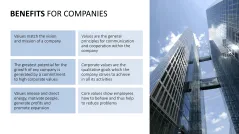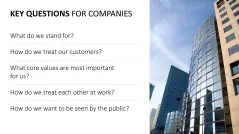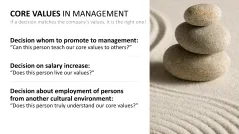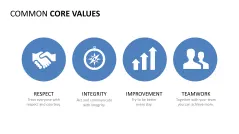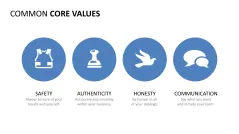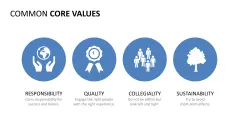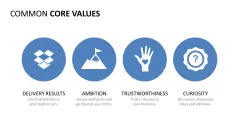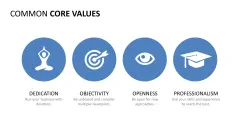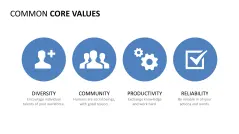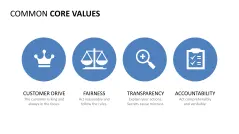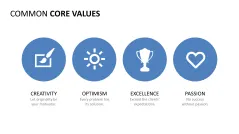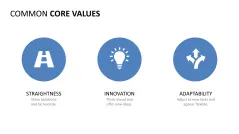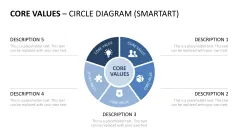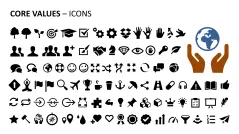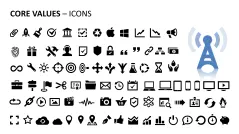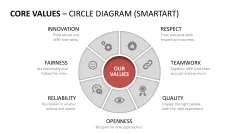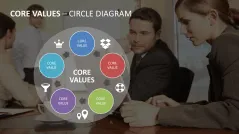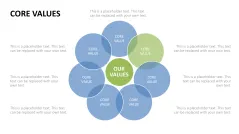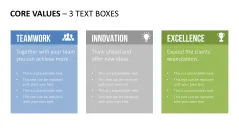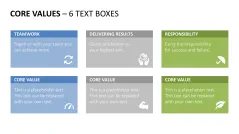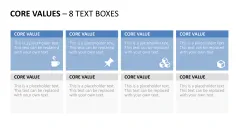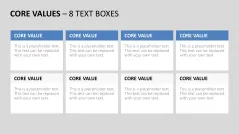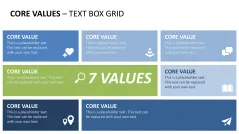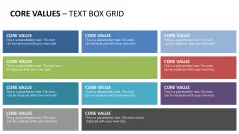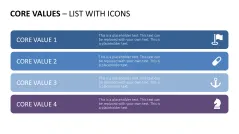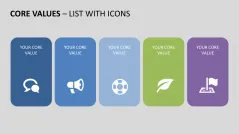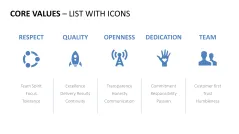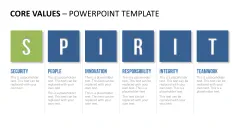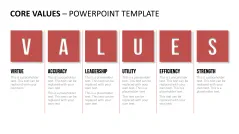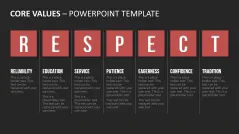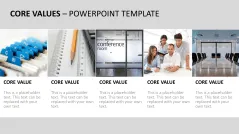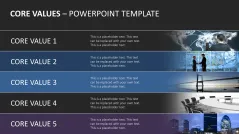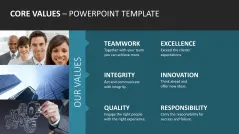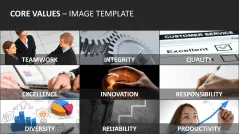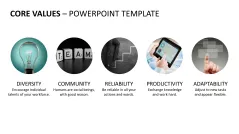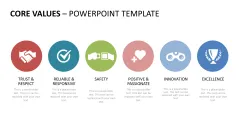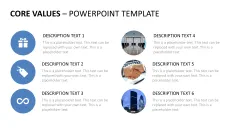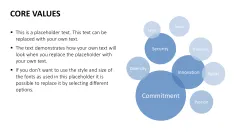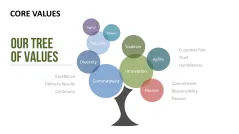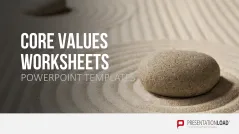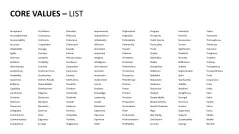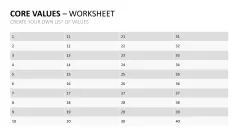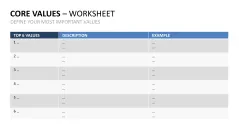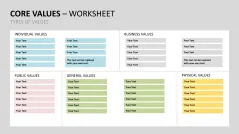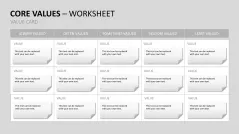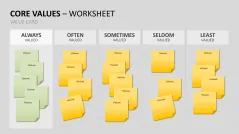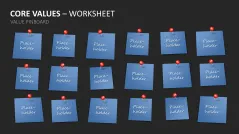 D2718 Vision & Mission Statements (32 Slides)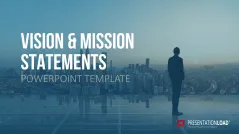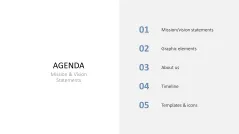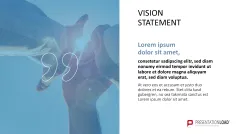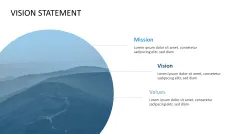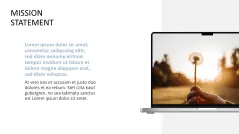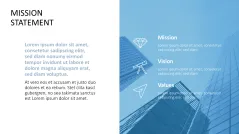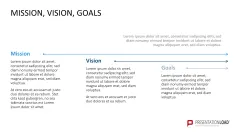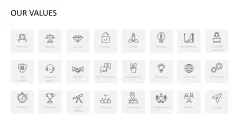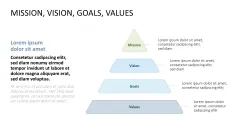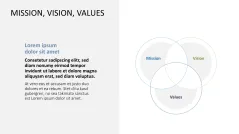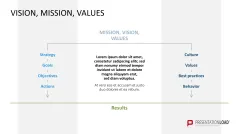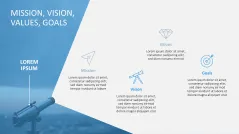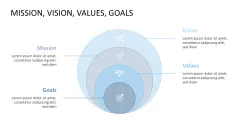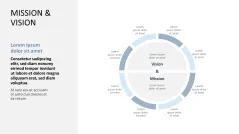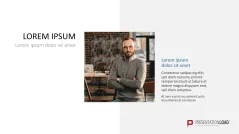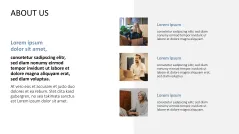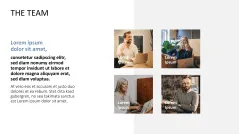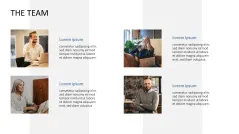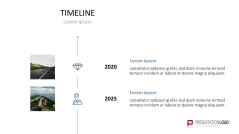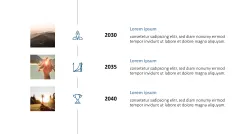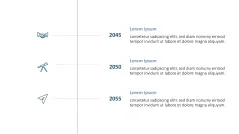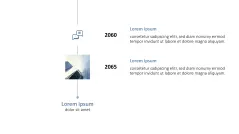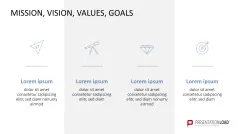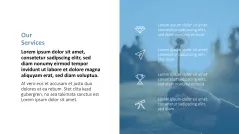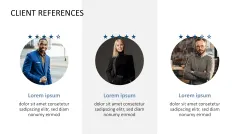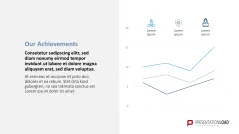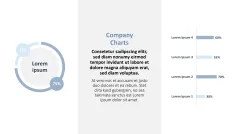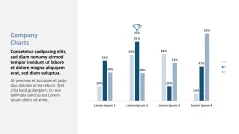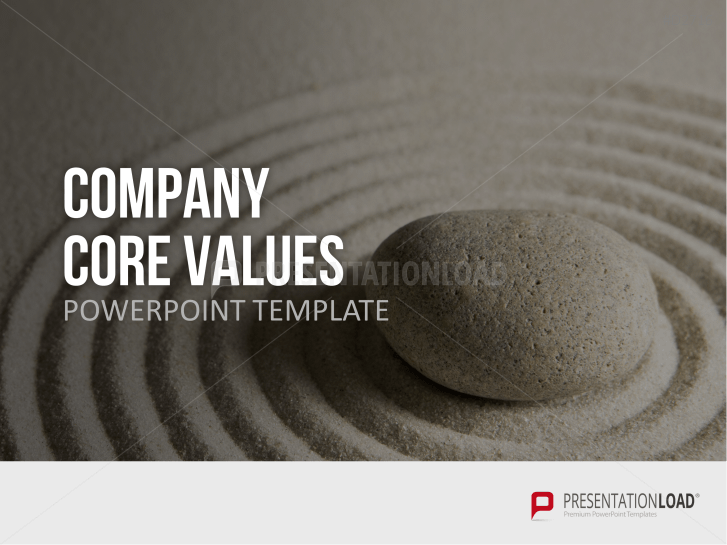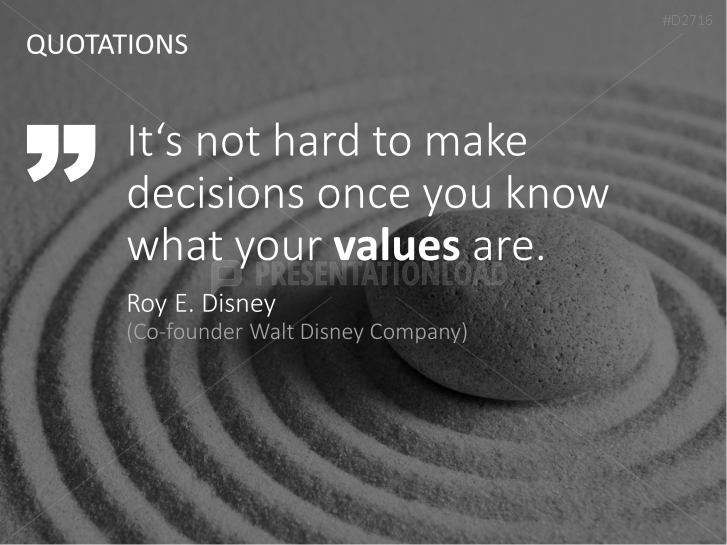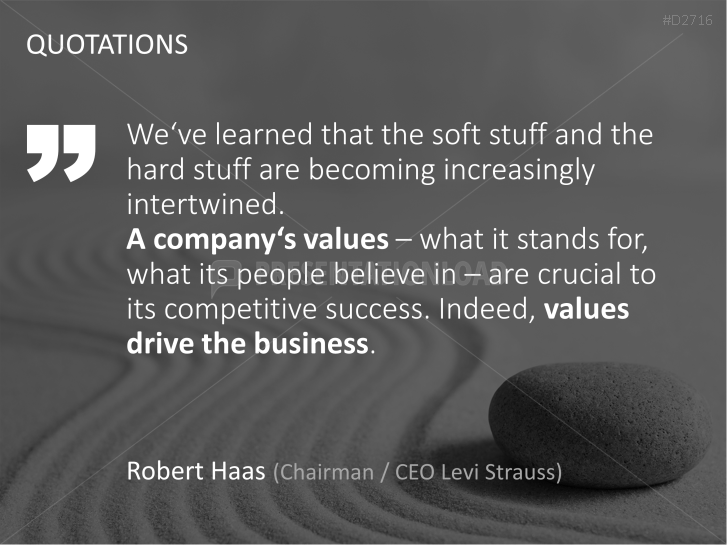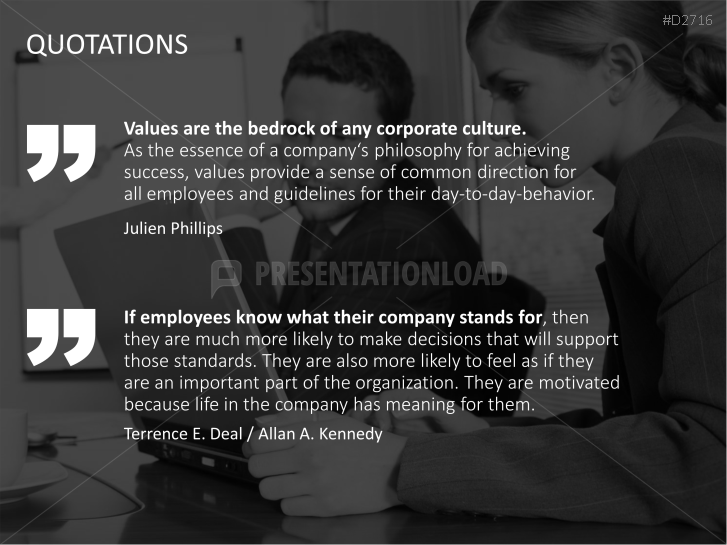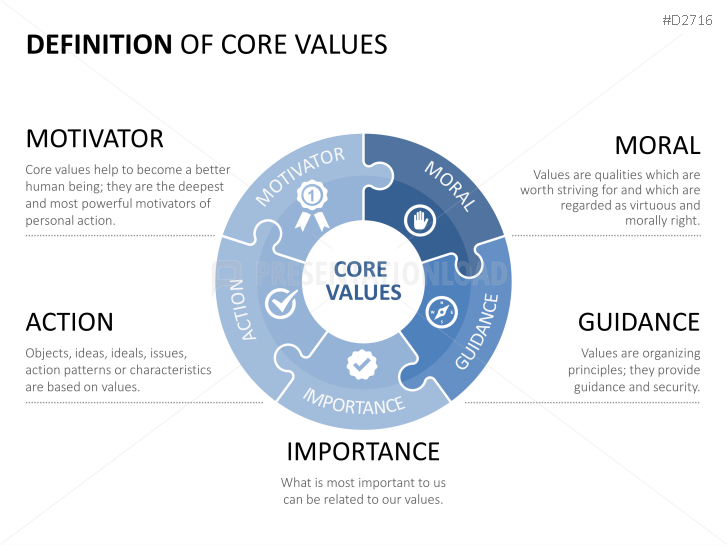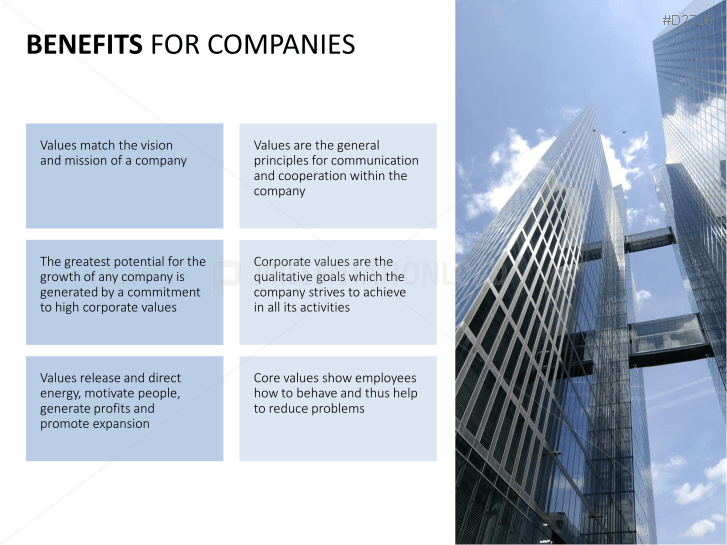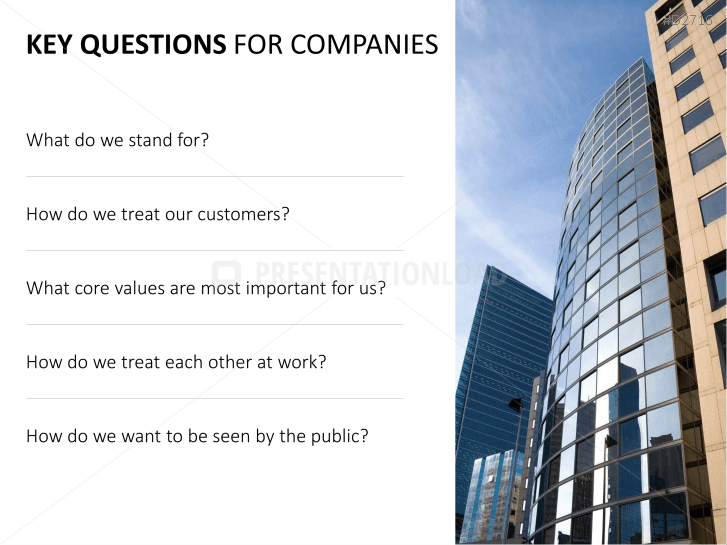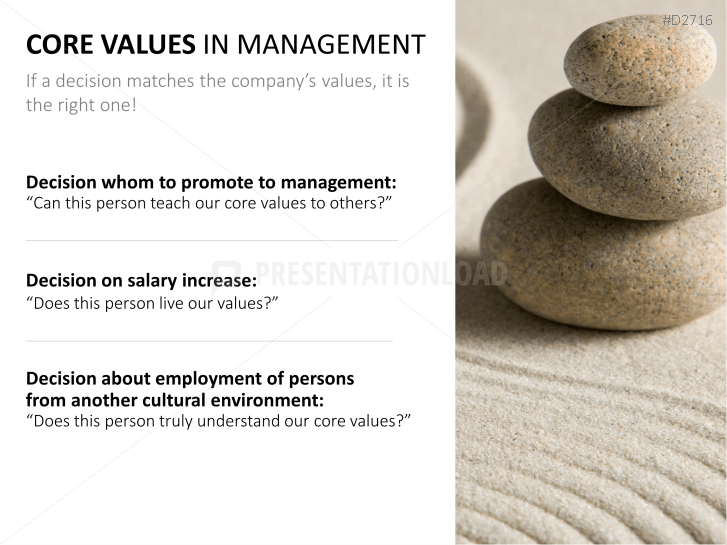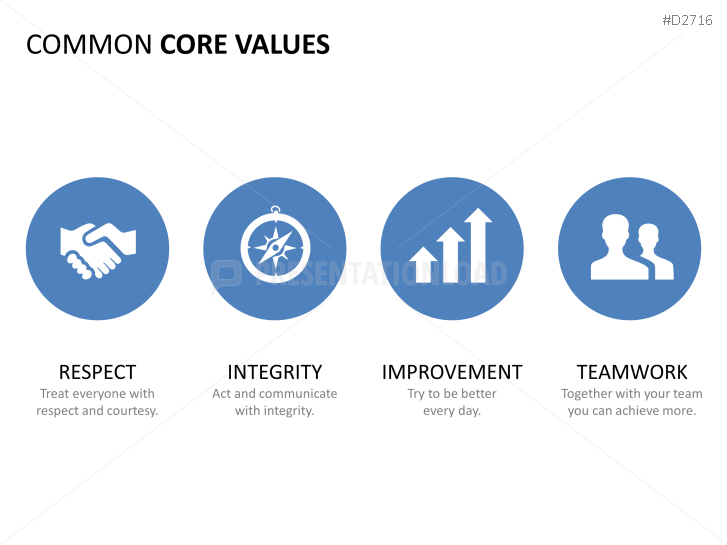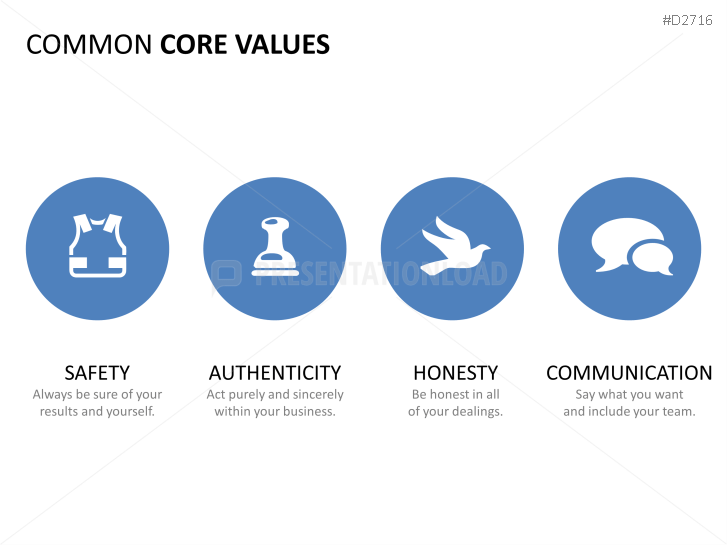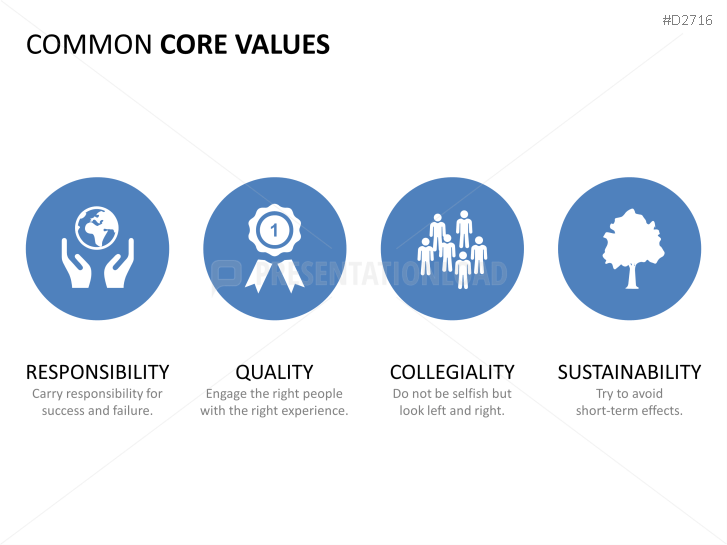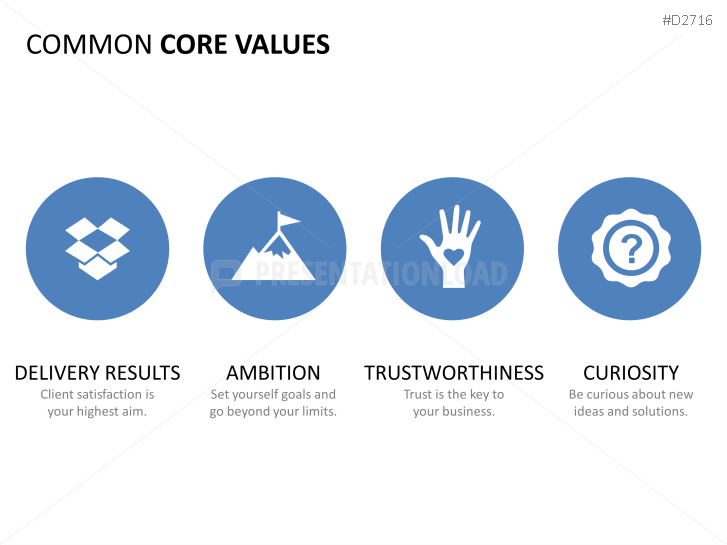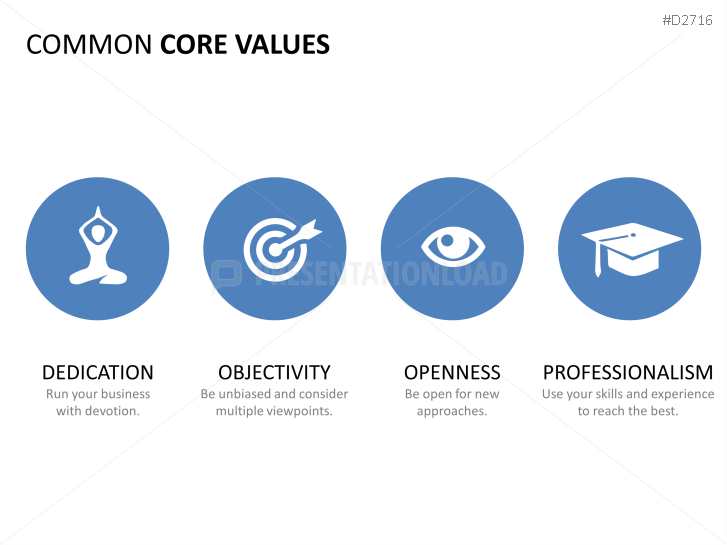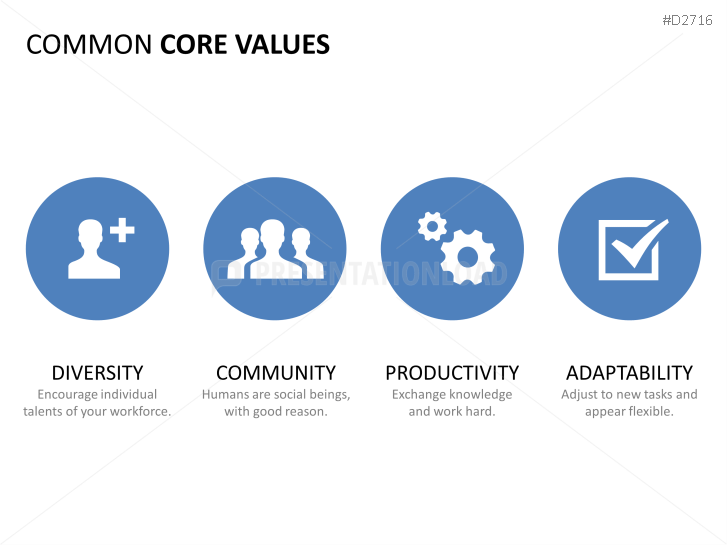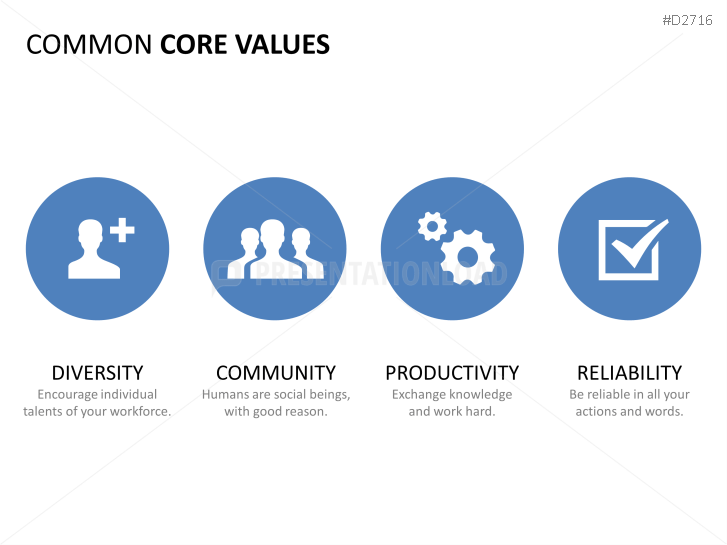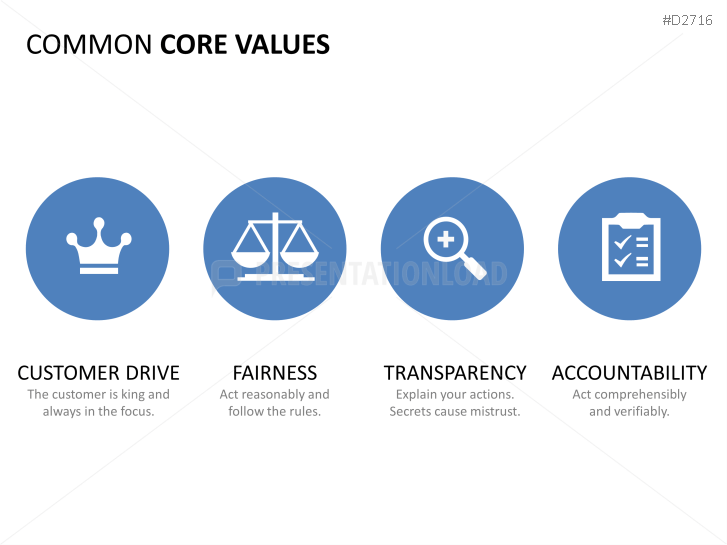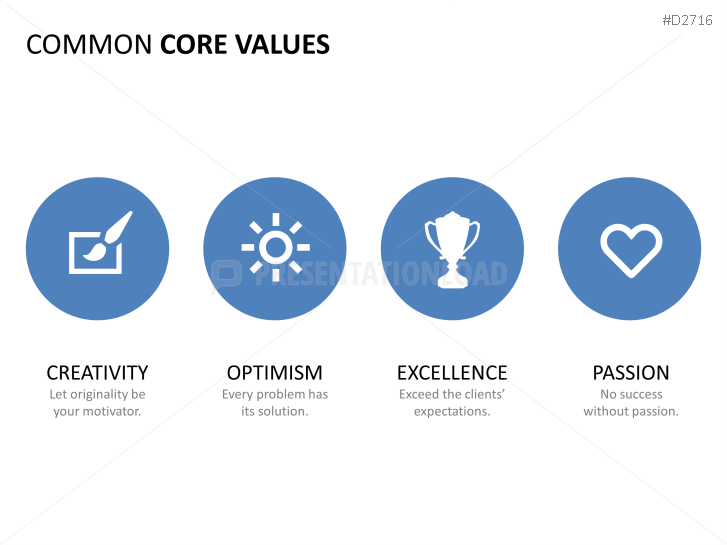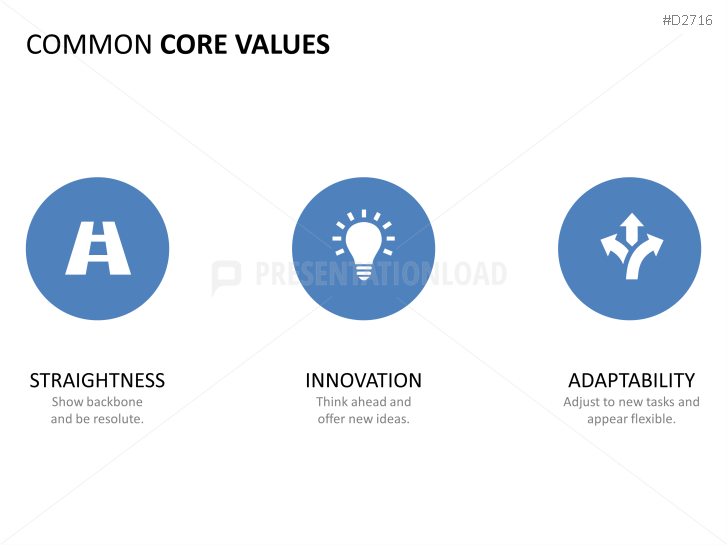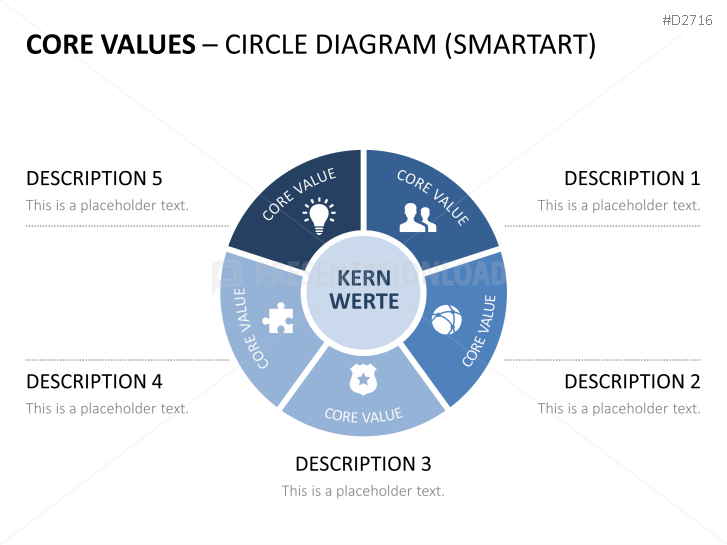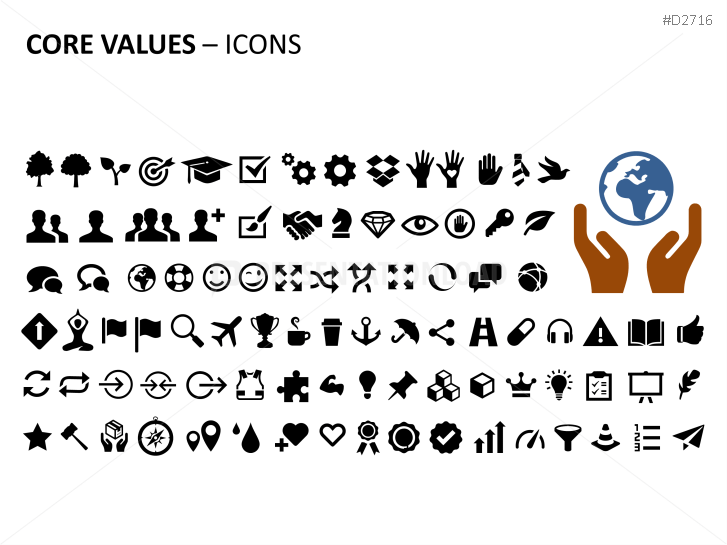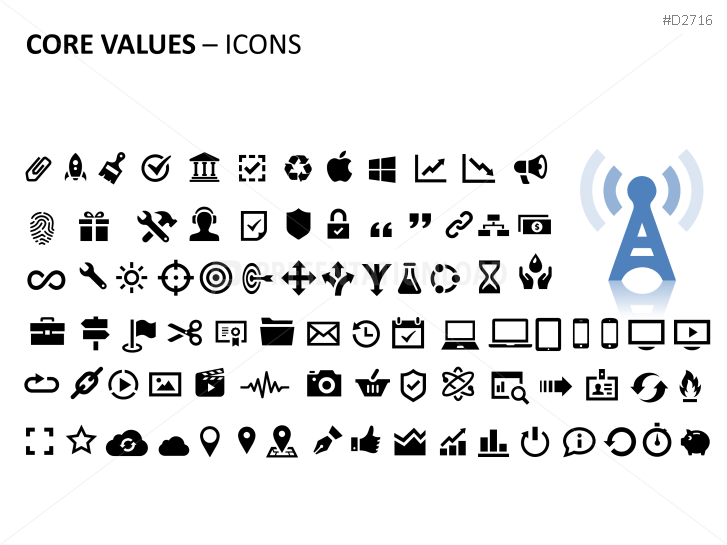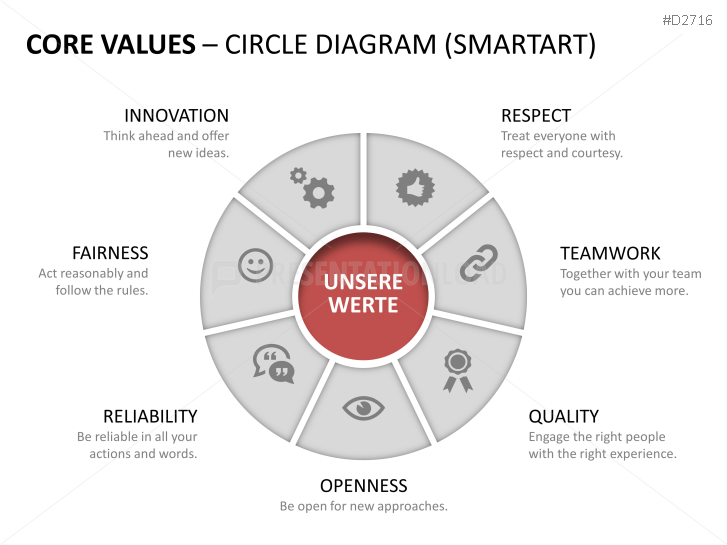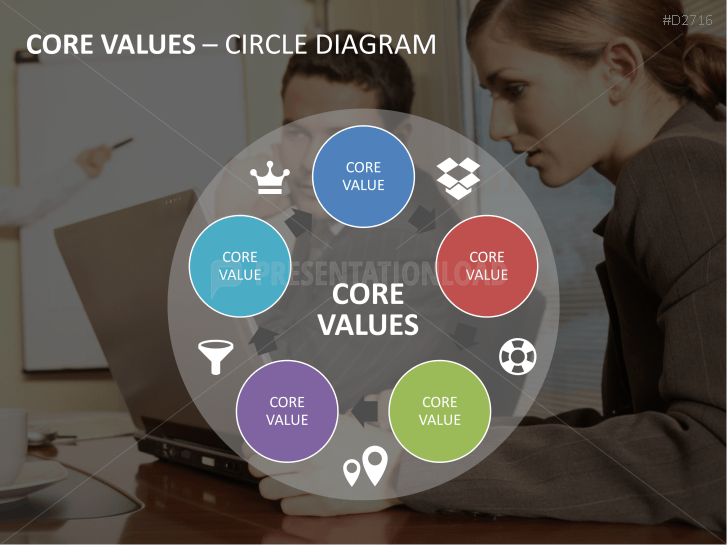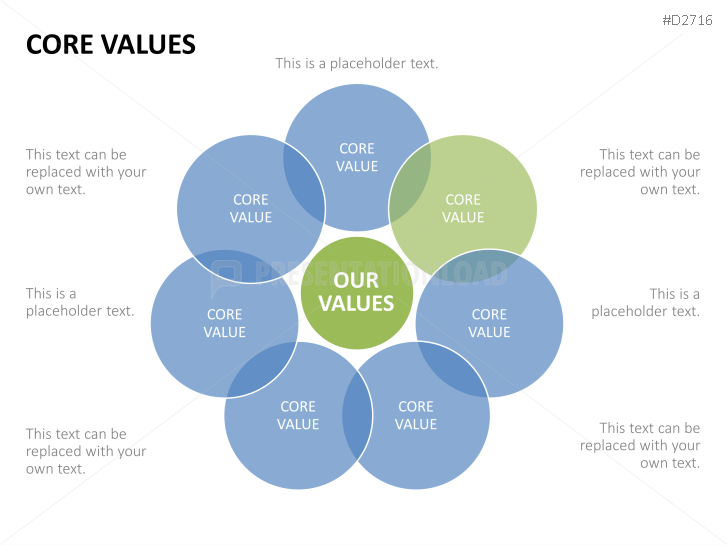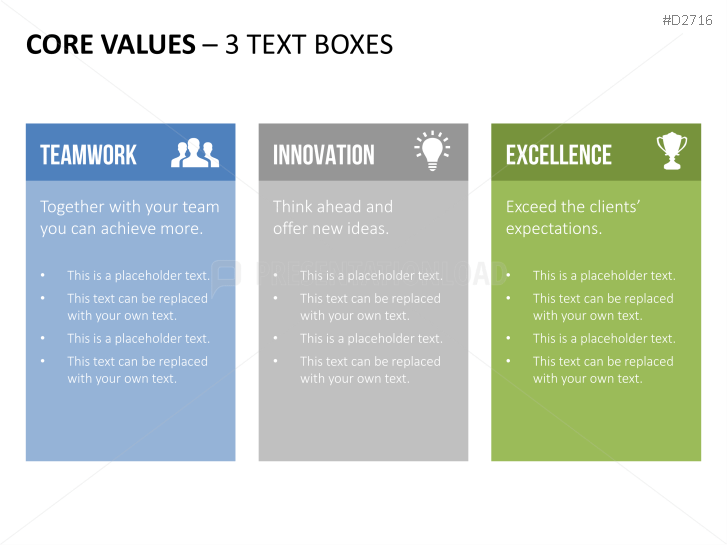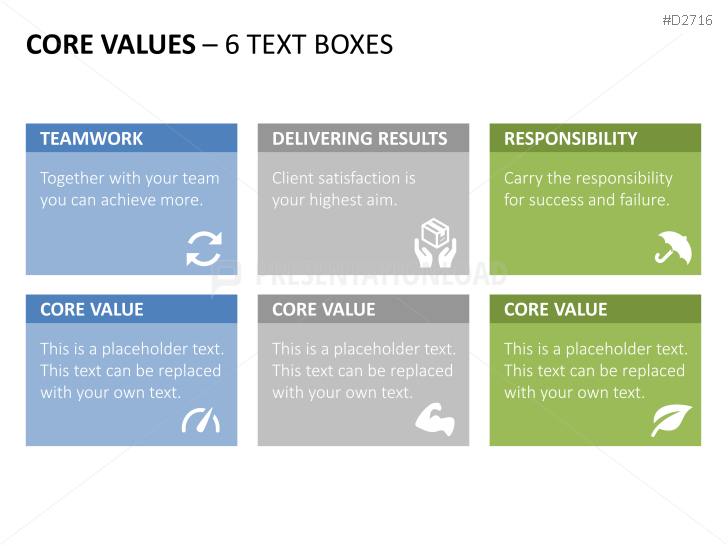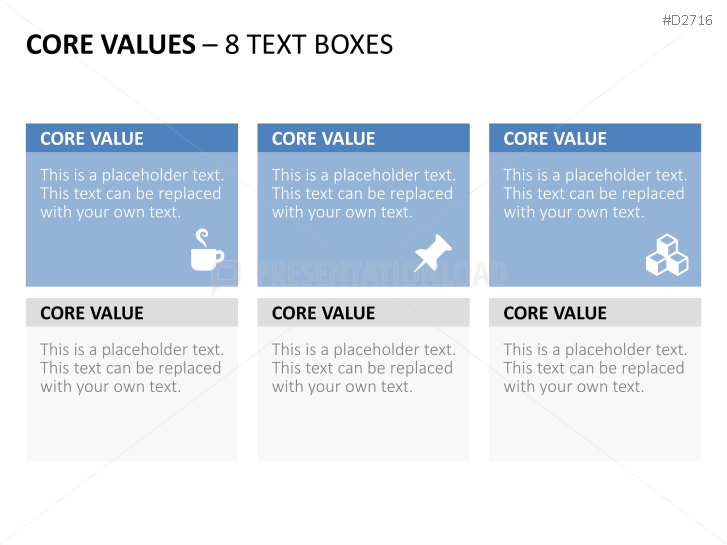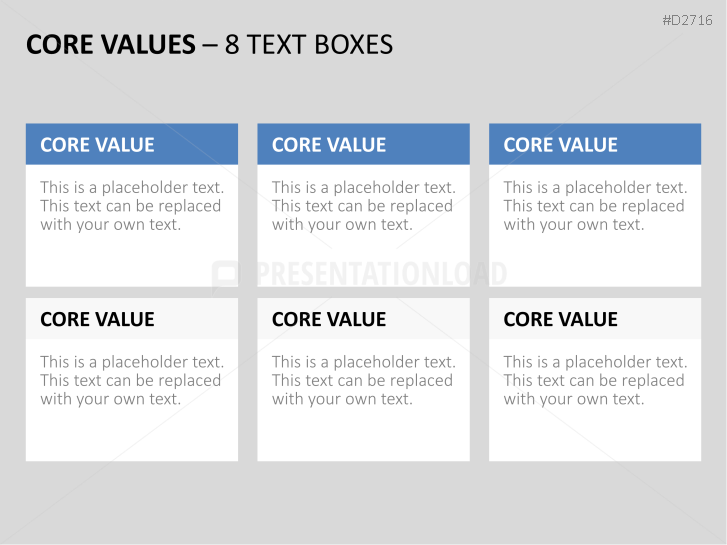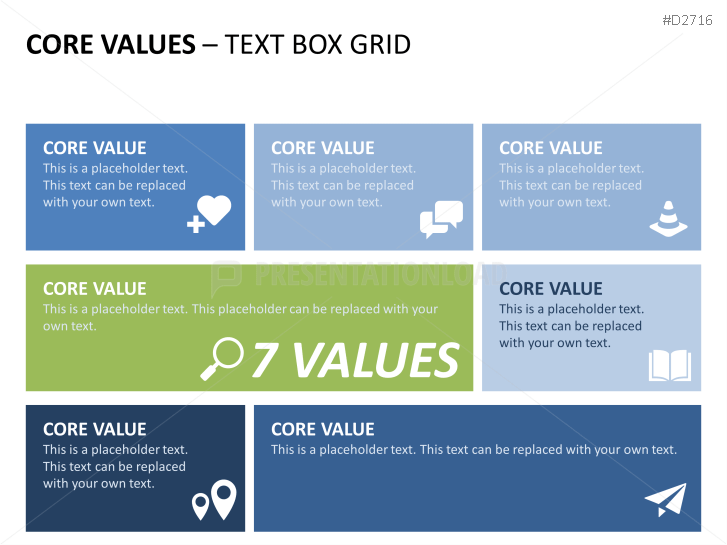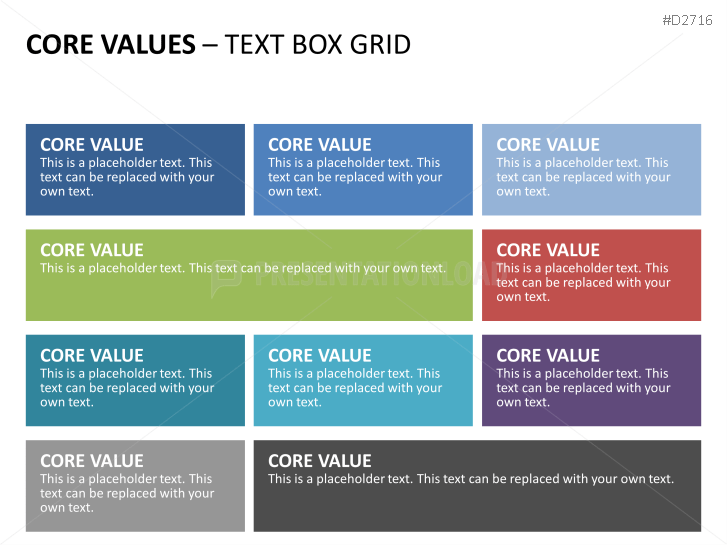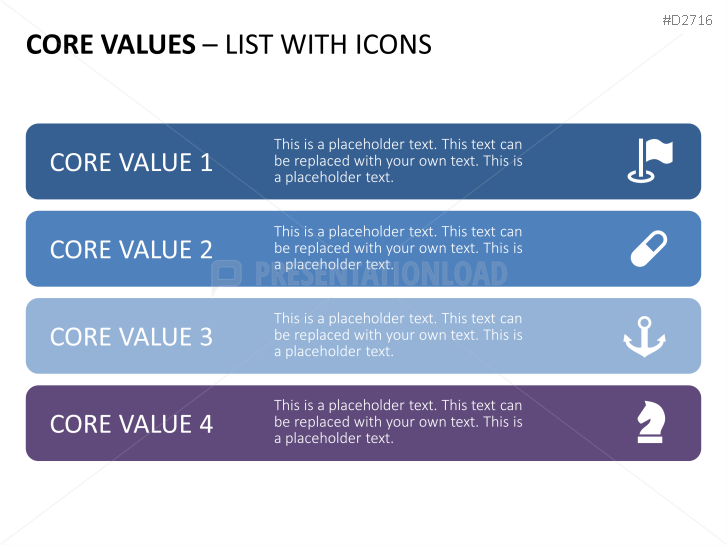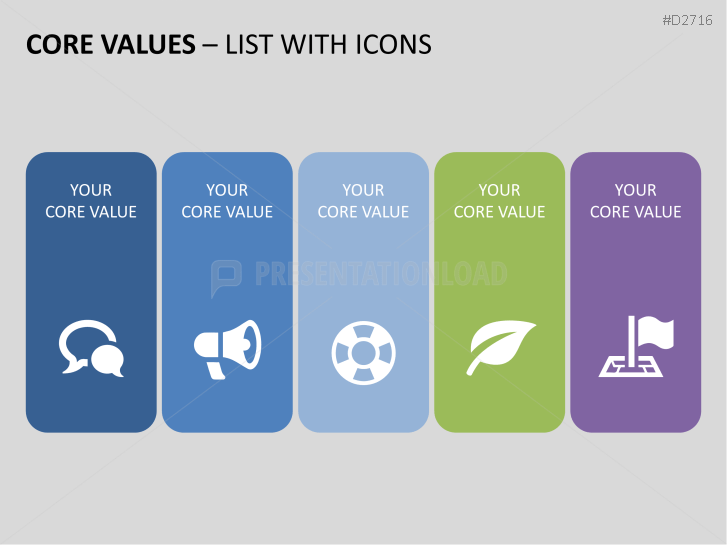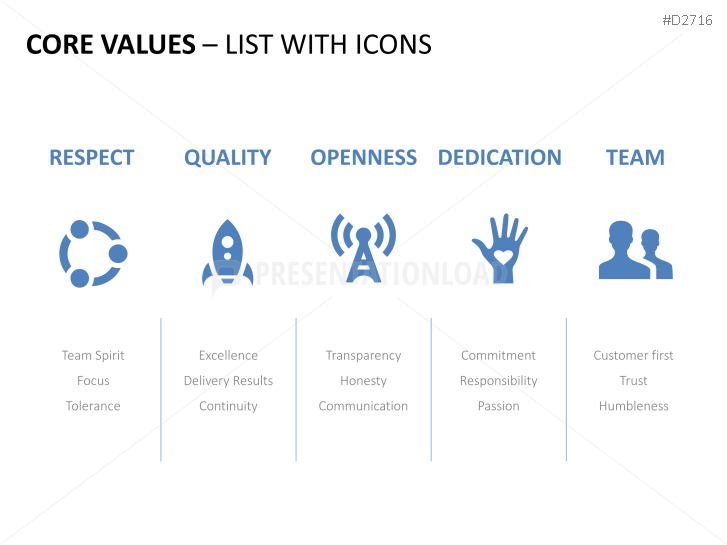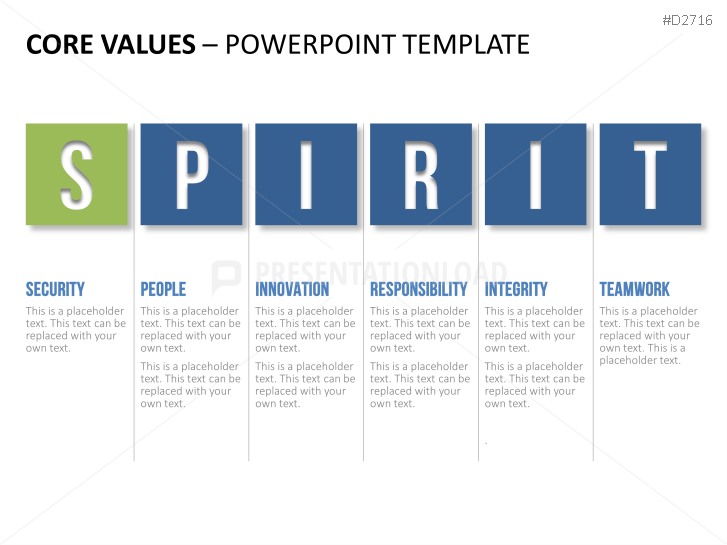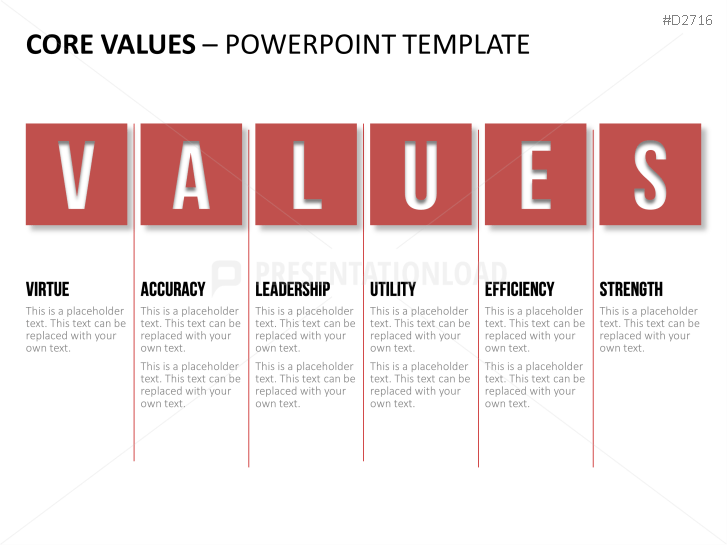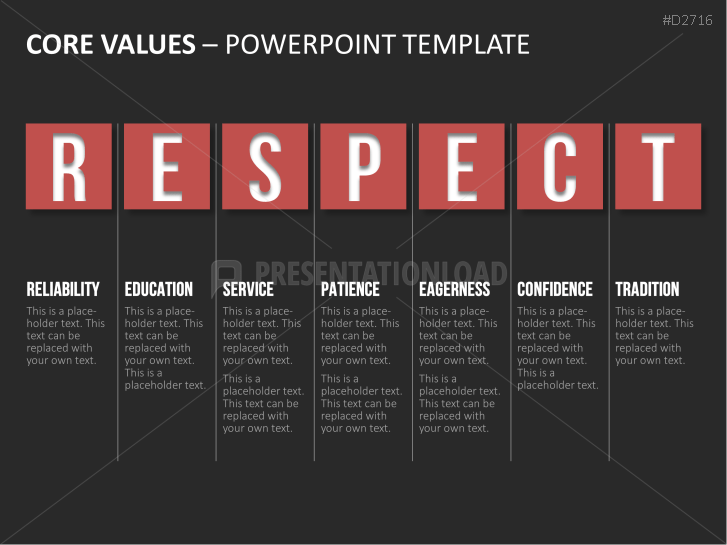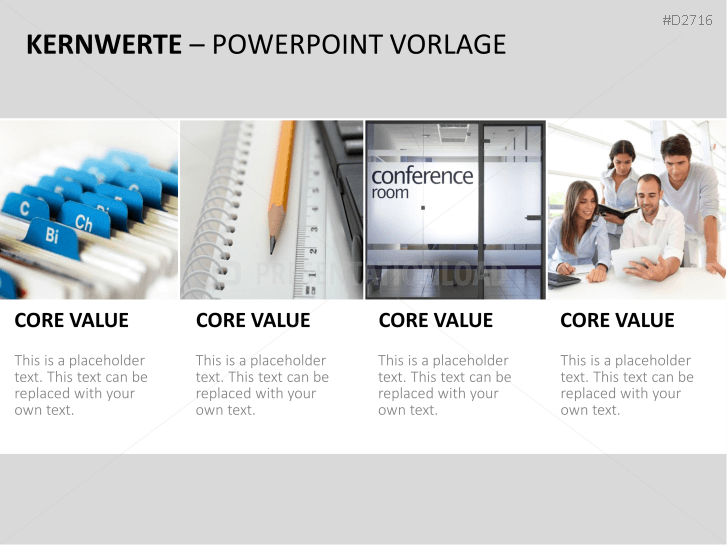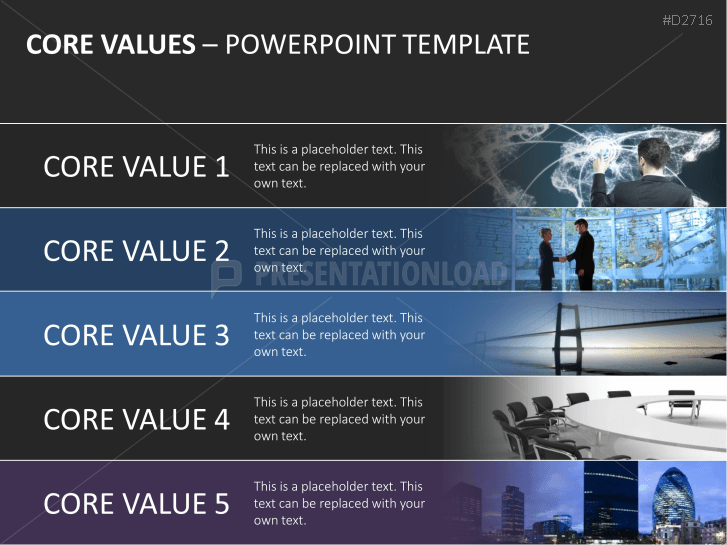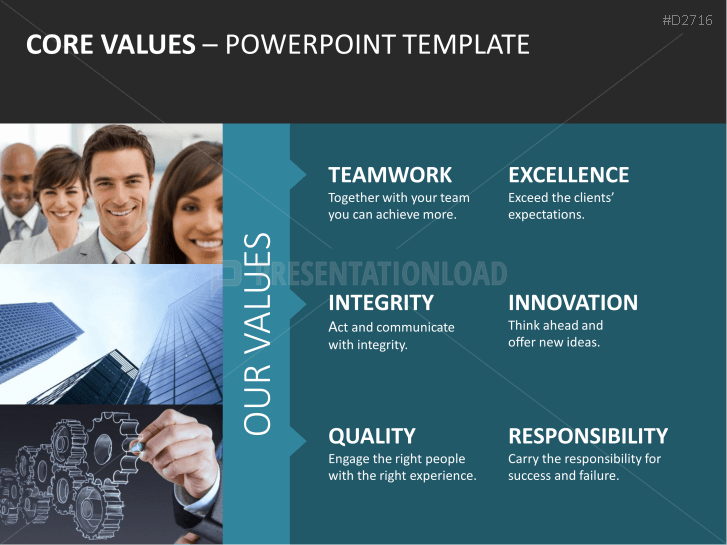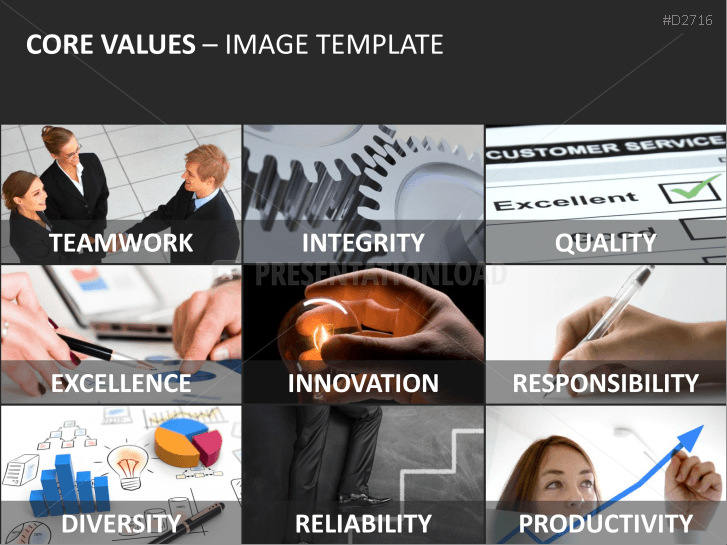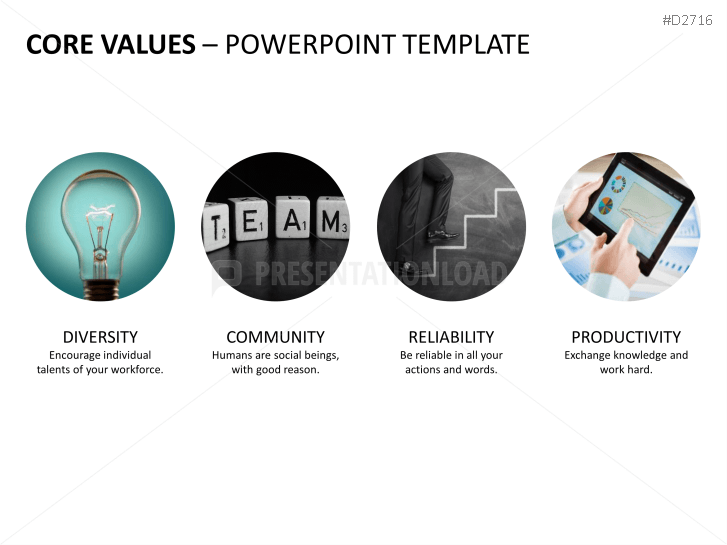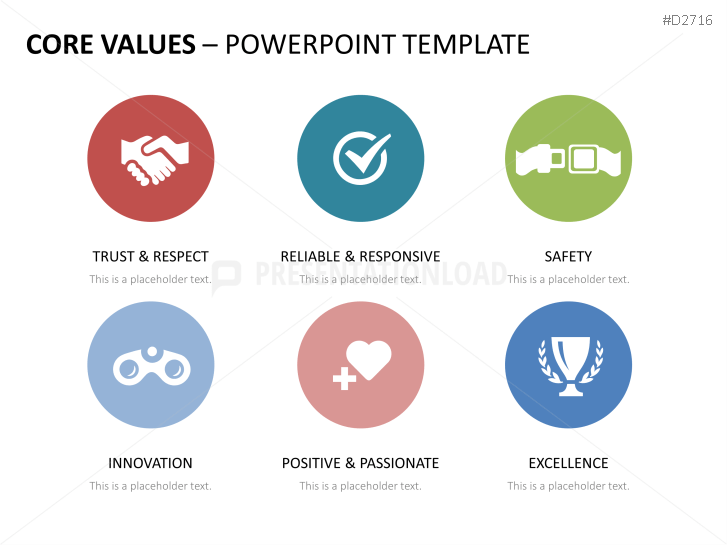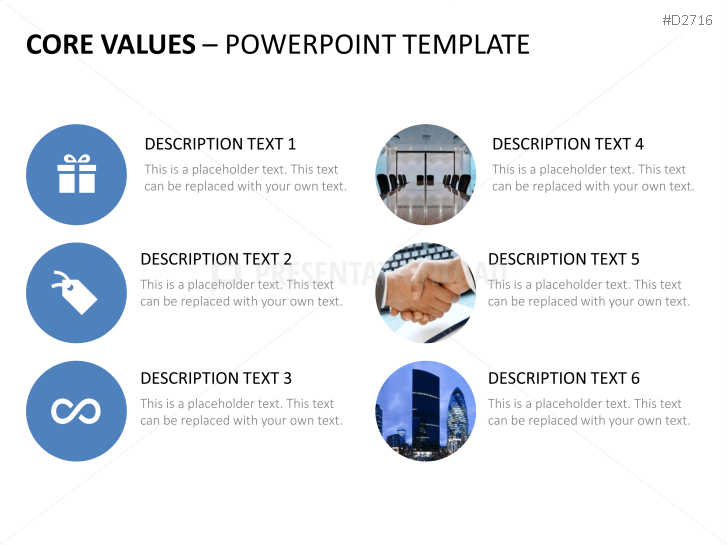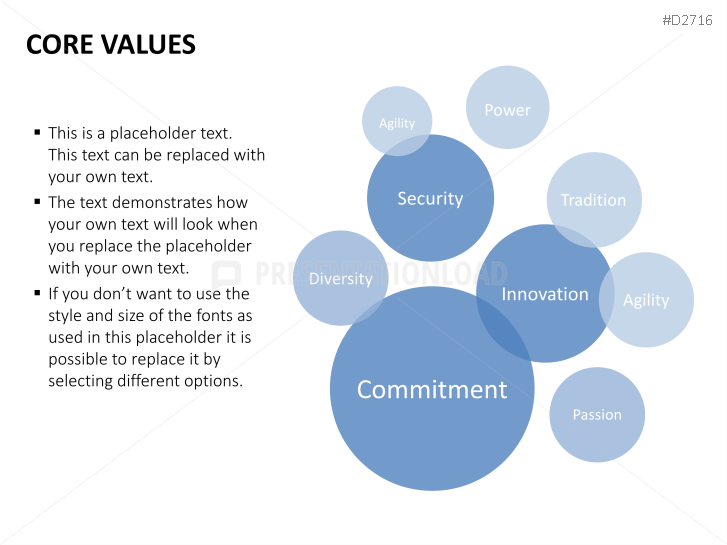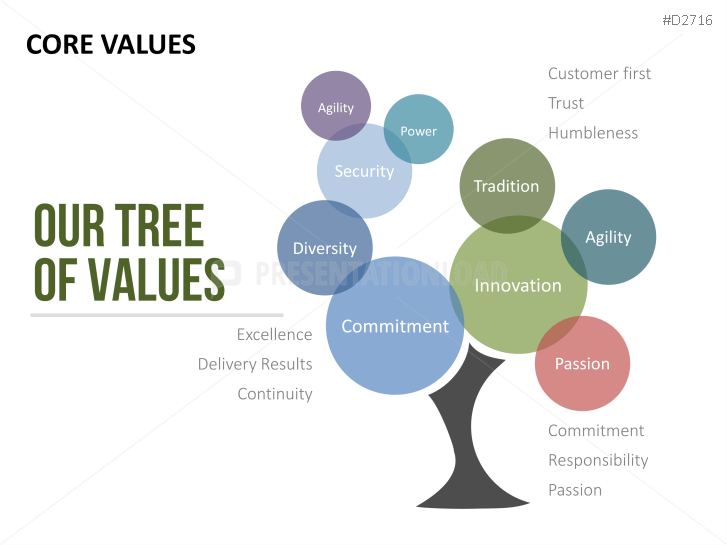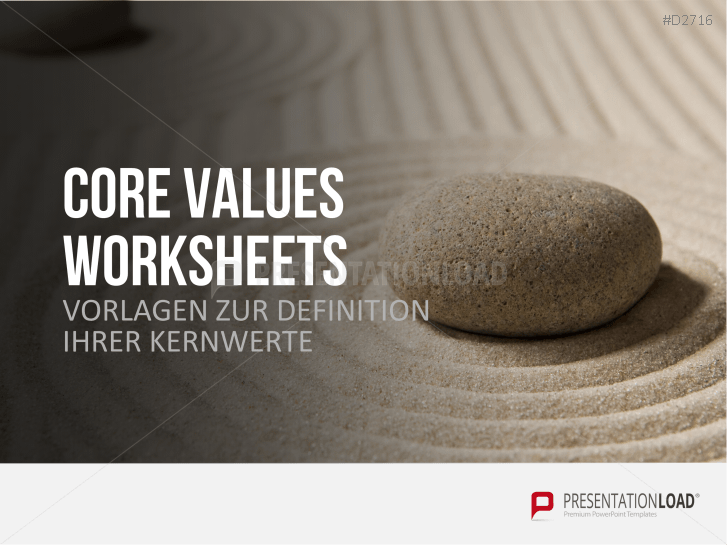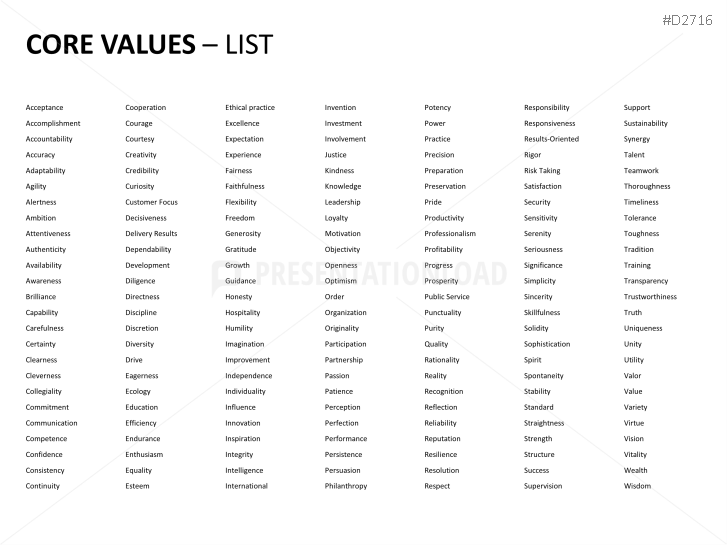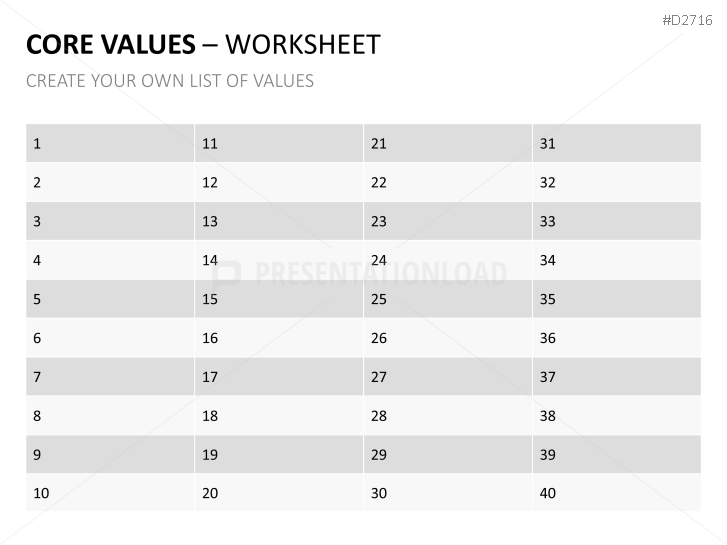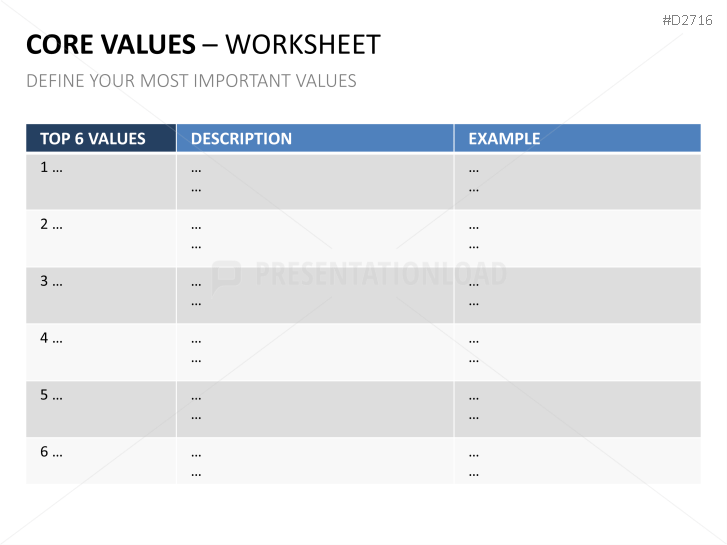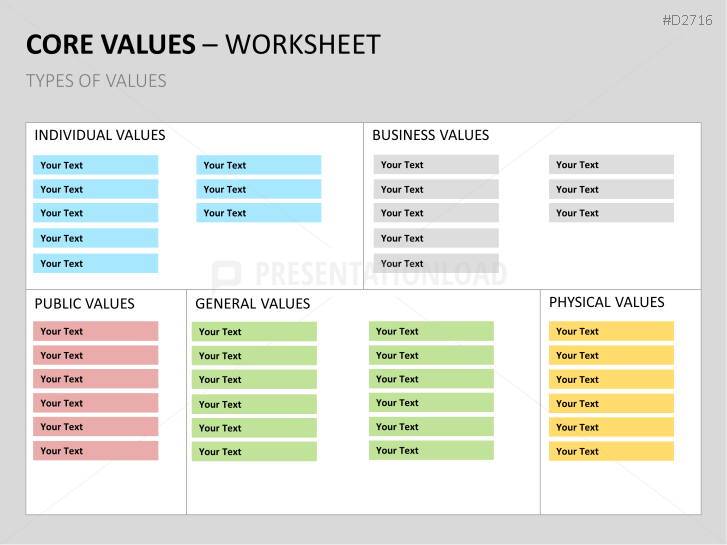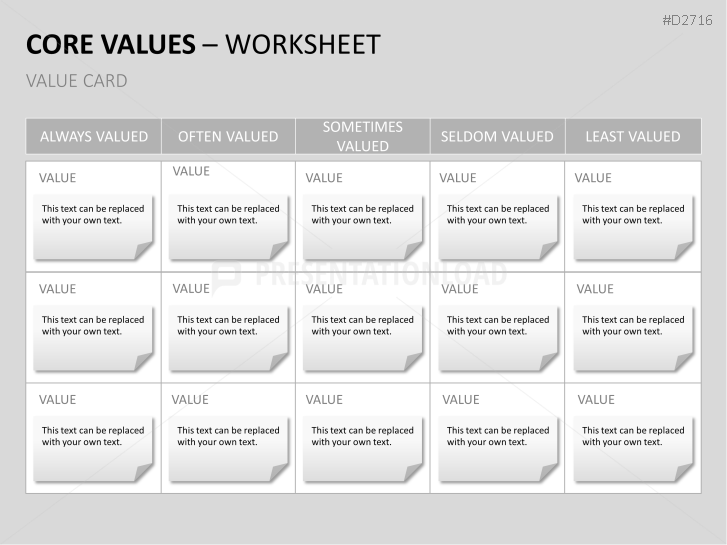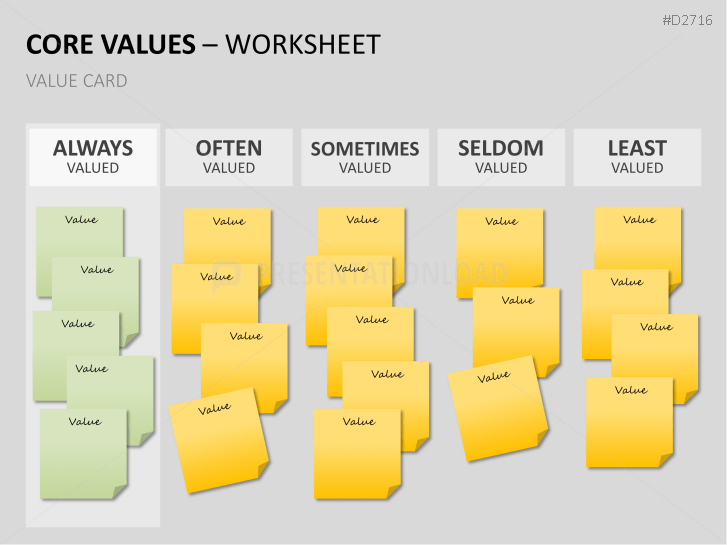 D2716 Company Core Values (52 Slides)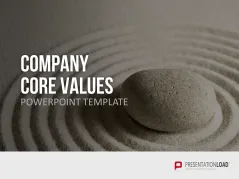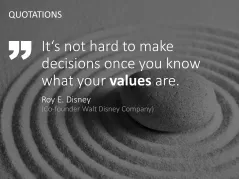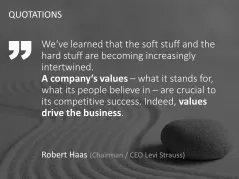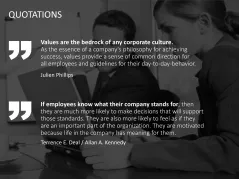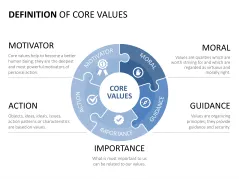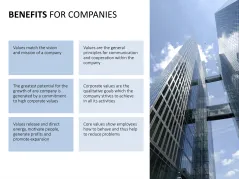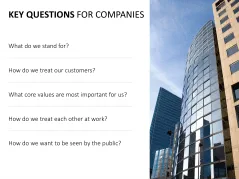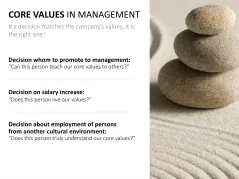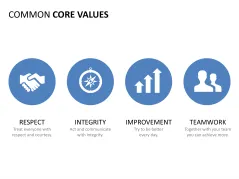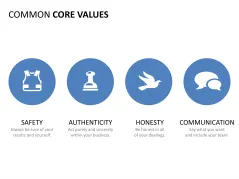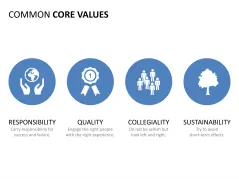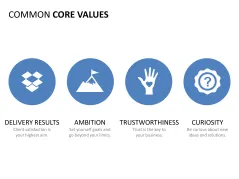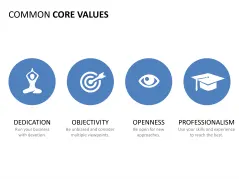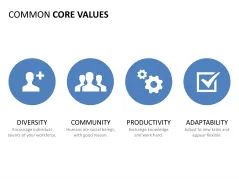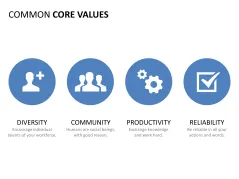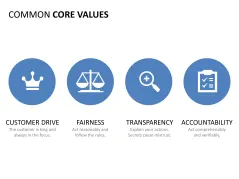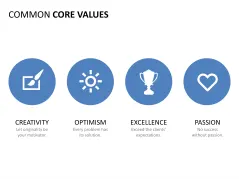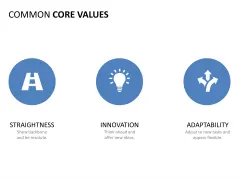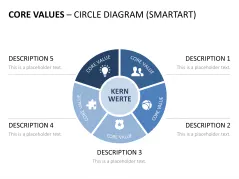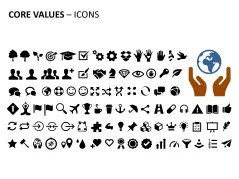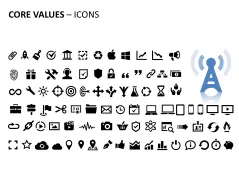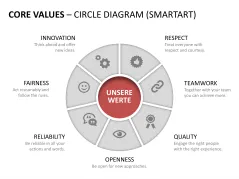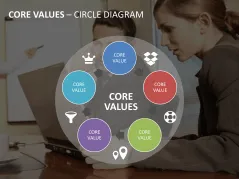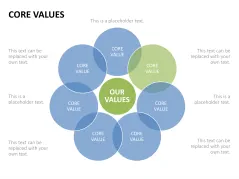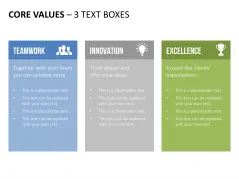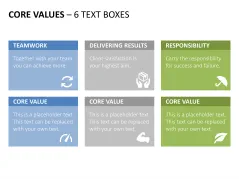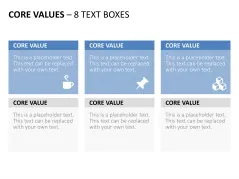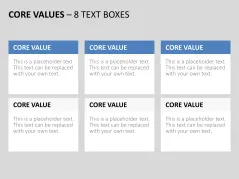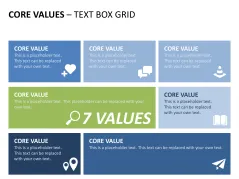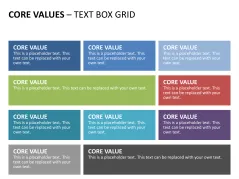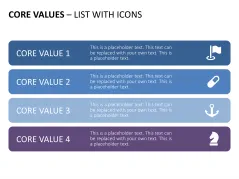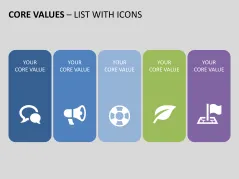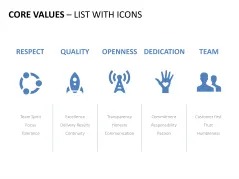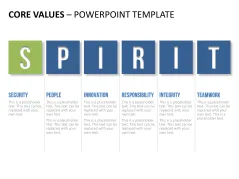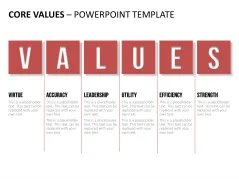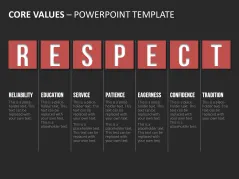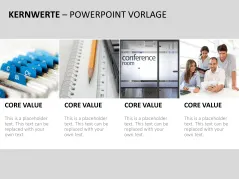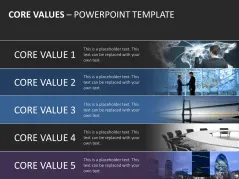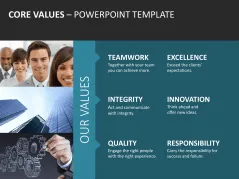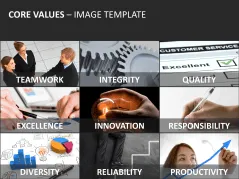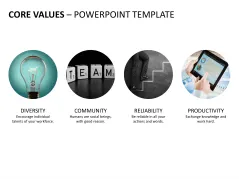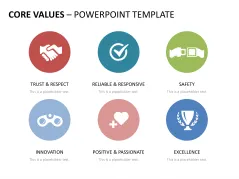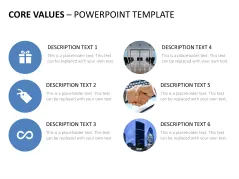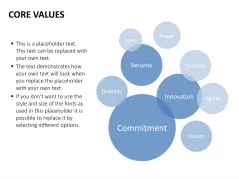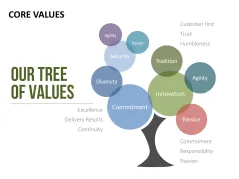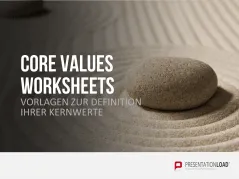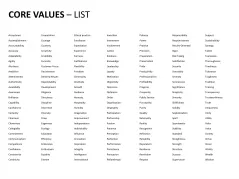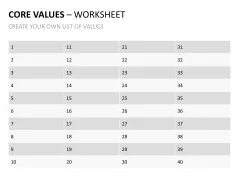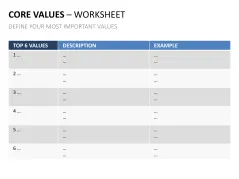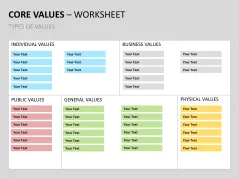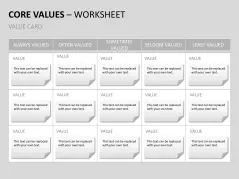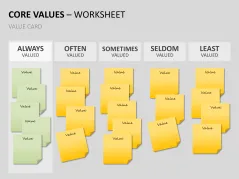 D2718 Vision & Mission Statements (32 Slides)