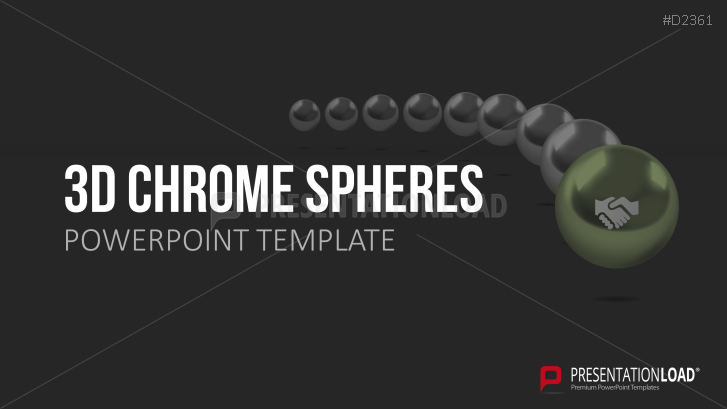 Integrate 3D Chrome Spheres as design elements for your PowerPoint presentations. Let your creativity run wild with our templates set which provides the necessary design elements.
Give Your Presentation the Final Touches
Our graphics of chrome spheres offer a variety of design elements for your PowerPoint slides. They can be arranged as desired to new structures, shaped as arrows or circular radial diagrams, or represent a spherical pendulum that catches the eye.
Sphere Representations
For example, spheres ascending in size that are arranged in a row can represent a procedure in several intermediate steps. Detached, contrasting spheres illustrate individual thoughts and ideas. These along with other similar symbolic representations can be conveyed with our sphere graphics in chrome design.
Our PowerPoint package offers a selection of different design templates, which can be used not only as finished slides, but also as design ideas. One of these ideas is a semicircular ramp, where one chrome sphere seemingly rolls down on more spheres. A toolbox with different colored sphere elements provides further options to customize and extend.
Spatially designed chrome sphere graphics give you the opportunity
to give your presentations a final touch
to illustrate metaphors and symbols with spheres
to implement creative ideas into action
PowerPoint Templates Include
spatial sphere graphics in chrome design
spheres that illustrate the representation of procedures
radial diagrams with chrome spheres
graphics of various sphere pendulums
chrome spheres which are arranged in the form of an arrow
toolbox with a selection of different colored sphere graphics