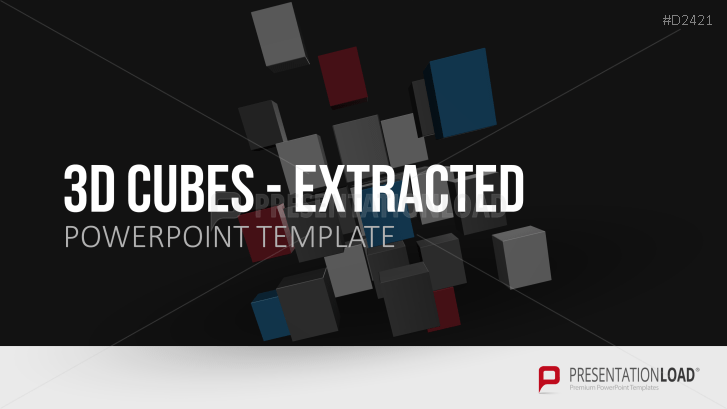 The 3D Cubes - Extracted collection contains 3D cubes of different combinations, which can be freely rotated in space and are divided according to different approaches.
Complex Corporate Structure Symbols
These cubes, which contain several individual cubes within, can visualize the complex superstructure of a company. Their overall system functions as an entity made up of many different individuals and processes together.
Filtering Out the Areas of Business and Responsibilities
Split cube structures offer the possibility to visually represent filtered parts of companies or areas of responsibility, in that they are represented by extracted single cubes. For business presentations, cubes in expressive 3D appearance highlight a visual that is particularly memorable to the audience.
Comprehensive 3D Cube Collection
This toolbox includes 3D cubes in different representations, divisions and perspectives. With the 3D features in PowerPoint, you can rotate the objects in space and supplement them by inserting pre-text placeholders containing notes and additional information.
With the 3D Cubes - Extracted Templates for PowerPoint, You Can
make complex correlations and illustrative structures
have a wide range of cube combinations in 3D optics

adjust the perspectives and cube divisions quickly and easily to your requirements

PowerPoint Templates Include
3D cubes with adjustable single cubes in different variations

different cube combinations (2x2, 3x3, 4x4)

open perspective orientation of the cubes by rotating function

text placeholders to insert your content