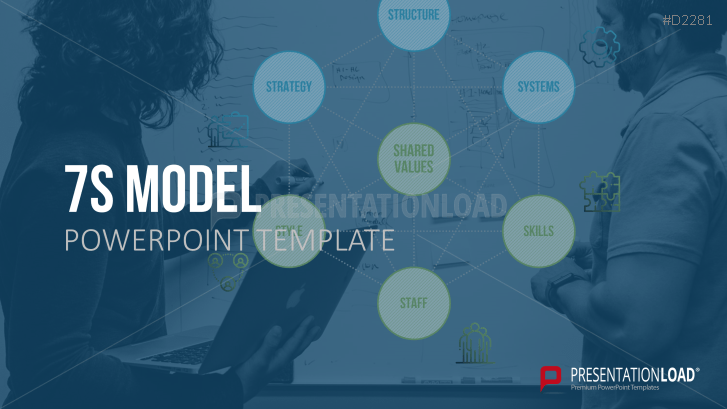 Balancing the relevant factors within your company
The 7S Model, developed by employees of the McKinsey management consultancy in the 1970s, focuses on the elements that characterize a company and interact to ensure its success. The model distinguishes between soft and hard factors: hard factors (strategy, structure, and systems) are those which, compared to soft factors (skills, style, staff, and shared values), are easier to quantify in concrete terms.
Whilst the soft factors are far more difficult to measure, they are just as important as the hard ones. Balancing all these factors is fundamental to the success of any company. So the 7S Model aims to comprehensively analyze all seven factors, and to work out an actual and target state for each factor in order to establish a balanced relationship between the factors and thereby optimize your business.
Analyzing your business model using the 7S Model
Use our professionally designed PowerPoint template to educate your team on the proven 7S model with its laser focus on the seven factors critical to business success. Start by analyzing your company's existing business model with the 5-step guide. You can then evaluate it using a practical system of thought-provoking questions, using slides enhanced with useful graphics, which show whether the factors which most affect your business are in balance. Synthesize your findings into a target system ideal for your business, and design an individual action plan to achieve this. Once it's up and running, you can easily check whether the factors contributing to your success are in optimal balance. Our PowerPoint template set includes detailed explanations of the individual elements of the 7S Model, and has a wide range of design variants and icons.
With our 7S Model PowerPoint Template Set You Can …
highlight the importance of analyzing the 7 core elements of your business model
evaluate the balance of these crucial factors within your business
develop an individual action plan based on the proven 7S method
This PowerPoint Template Set contains:
Definition of the 7S Model
Origins of the 7S Model
Quotations
Hard and soft factors
Checklist for hard/soft factors
Application of the 7S Model
Illustration of the process of application
7S in 5 steps
7S Model questionnaire
Numerous 7S design templates
Action plan
7S strategy matrix
Icons