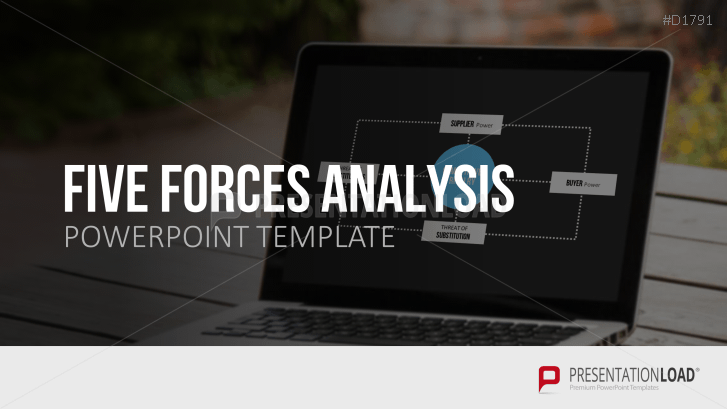 The Five Forces Analysis in this PowerPoint template set is used to determine a company's attractiveness in its specific industry.
The Structural Features of Each Specific Industry
The Five Forces Analysis, by Michael E. Porter is a model which bases specific industries on five factors. A company can use this model to develop strategies to enhance the attractiveness in their own industry. Moreover, they can use this analysis to assess opportunities and risks of expanding to other industries.
The model is based on the idea that every industry has five external forces which influence the attractiveness of each industry. These reflect the companies at the center of competitive rivalry, new company entrants, the negotiating tactics of customers and suppliers, and the risk of new vendors and replacement products. By analyzing all the factors, it is possible for the company to reach a deeper understanding of the structural features of their specific industry.
Templates that Successfully Implement the Five Forces Analysis
Use the templates meet with your team, evaluating and discussing the industry external factors (competitive rivalry, threats by new company entrants and of replacement products, and bargaining power of suppliers and of customers) in detail such as with expertise, cost savings, customer number, order volume, supplier number and size, power exchange, cost amendments, etc.
Recognize both risks and opportunities relating to the development of a new industry and learn to assess the company's future profitability in the current industry.
With the Five Forces Analysis templates, You Can Give
vivid representations of "force" webs

definitions and explanations of the five impact forces

professional assistance in your next analysis

PowerPoint Templates Include:
over 20 representations of the Five Forces

definitions and explanations of the Five Forces

Five Forces template plus image placeholders

different Five Forces designs such as in tables, cycles or as radial diagrams