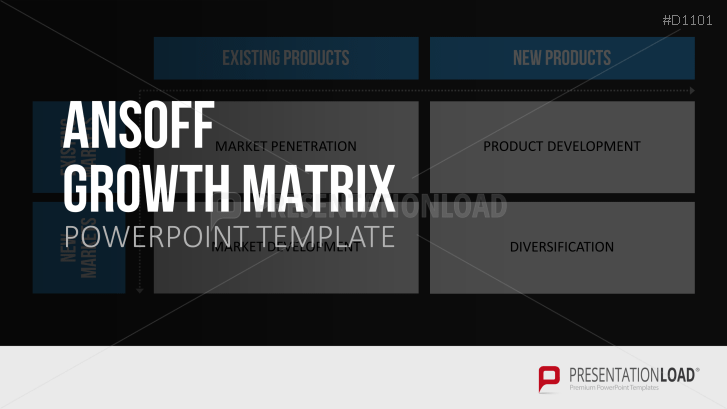 Ansoff Growth Matrix template set includes various designs, data-driven cockpit charts and many more illustration tools to increase profitability of your corporation.
Growth-Oriented Management Tool
The Ansoff Growth Matrix, which was developed by the American scientist Harry Igor Ansoff, is used by strategic management and includes four marketing strategies in order to enable economic growth. To reach such goals, companies whether increase market sales or will have to contest new markets.
The four forces that define marketing strategies are market penetration (increase of market sales), market development (create new market segments), product development and diversification (i.e., joint ventures). Each strategy includes varying growth potentials as well as risks which can be determined by using the Ansoff Growth Matrix.
Potential and Risk
Benefit from predefined PowerPoint templates and exemplify strategies and marketing plans with professional assistance. Explain growth factors in detail and outline action plans. Furthermore, you can give detailed information on various market and product types to illustrate market penetrations and interconnections.
Predefined charts and diagrams help you to process statistics and exemplify specific numbers. Thus, you will be able to disclose the right strategy for your business and to gather economic success as well as increase revenues.
Ansoff Growth Matrix Templates Include
detailed explanations and definitions

modern designs

various matrices

PowerPoint Templates Include
various Ansoff Growth Matrix design

overview on single strategies

cockpit charts

examples to develop strategies

overview on market and product types

comparison national vs. international Ansoff Growth Matrix