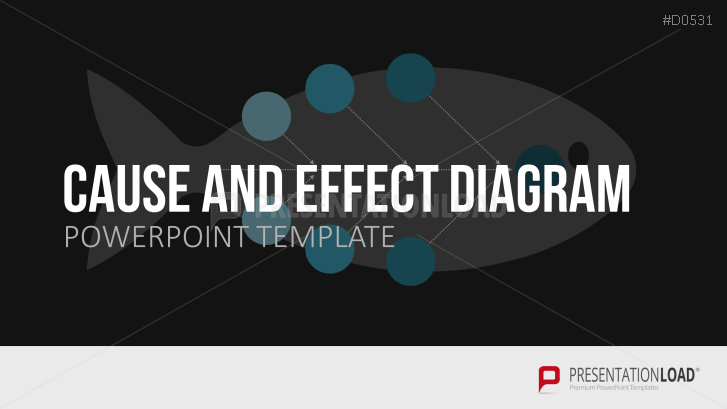 Use this collection of PowerPoint templates to analyze and present a problem and its causes by means of a cause-effect diagram (Ishikawa Diagram) or a fault tree analysis.
Show Which Influences Lead to Which Effects
An Ishikawa diagram illustrates the causes of a problem and their dependencies. The horizontal right arrow points to the consise problem. Along this axis are diagonal arrows that are labeled with the most relevant influences. Each influence can be refined with even smaller arrows depending on how complex it is, resembling a structure like that of a fishbone.
Tree Structure Problem Analysis
Another tool for assessing potential problems is the fault tree analysis. It is similar to the view of a fishbone diagram tilted by 90 degrees. In a fault tree, all possible problems are entered as points that can lead to failure of the entire process. This type of chart provides the ability to assign a probability of error to the individual nodes and link them with logical operators, therefore enabling a calculation of possible problems.
PowerPoint Set with Ishikawa Diagrams
This PowerPoint set includes a collection of Ishikawa diagrams of various shapes and designs. For better illustration, some of the diagrams are in the design of fish artwork. In addition, this template set offers fault tree analysis in a schematic representation.
Cause and Effect Diagrams
are used for the systematic and comprehensive analysis of problem causes
provide the bases for discussion of the graphic design for your team
consider many different approaches
PowerPoint Templates Include
Ishikawa or fishbone diagrams of various designs
cause-effect diagrams in the design of fish graphics
a schematic representation of a fault tree analysis
a selection of icons and symbols to illustrate