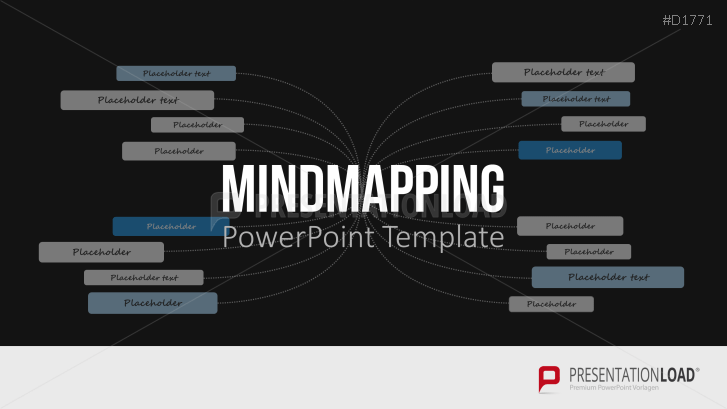 With the Mind Mapping templates for PowerPoint, ways of thinking can be visualized in different designs of all topics based on sixty mind map graphics.
Mind Mapping
Thoughts are often difficult to grasp or hold in their complexity. Therefore in the 1970s, psychologist Tony Buzan established the term "mind map." The basic principle begins with a central theme, from which sub-theme ramifications arise in various strengths.
Collect and Organize Thoughts
Whether for a concrete business plan or for an informal team brainstorming session, mind maps are ideally suited to hold and organize thoughts. Each keyword can be associated more freely and subsequent entries of individual points are possible at any time. Even planning and holding lectures immensely facilitate mind maps through their numerous links between different topics and the design of a connecting thread.
In addition, save time by only concentrating on keywords when creating and reading. Thus, the graphical representation of a mind map can quickly reveal gaps in a presented concept. Certain thoughts could already be well developed, while others, which are on the graph without further ramifications, could reveal potential expandability.

Visualizing Mind Maps

The Mind Map templates for PowerPoint offer numerous design possibilities to present ideas collected by you, your listeners or employees. Whether with a classical tree diagram or creative ramification circle, this collection offers the right mind map interpretation for your topic.

With The Mind Mapping Templates, You Can
facilitate thought collecting and ordering
visualize complex relationships clearly
use them by their extension for lengthy processes
PowerPoint Templates Include
64 Stock-based mind maps in different varieties: ramification circle, tree diagram, consequence speech bubble, etc.
graphics to introduce the theme "Mind Map"