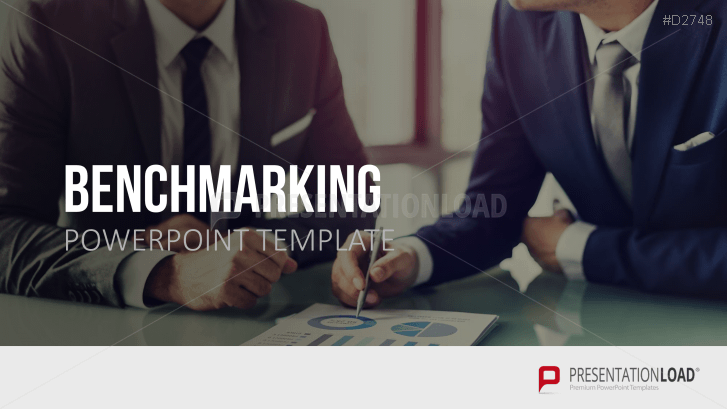 Convey the Benchmarking Method with the help of definitions, explanations, graphs etc. in one illustrative PowerPoint presentation. Use the information to find the right method for your business and implement comparative analysis.
Continuous Performance Improvement with a Focus on Top Companies
Benchmarking is defined as a continuous process of analysis, in which a company's products, services, and procedures are compared with those of its most competitive rivals. After establishing the comparison, weaknesses should be identified and replaced with better methods for improved performance. The targets of this process are to increase customer satisfaction through quality improvement and reduce costs through process optimization.
Communicating the Challenges of Benchmarking
There are different types of benchmarking, which are differentiated primarily between internal and external comparative analysis. In the first method, comparisons are not carried out with the strongest competitors, but only within a company and its various departments. Clearly convey to your employees this principle of "comparing and contrasting," by linking together different targets, measures, advantages and disadvantages with the help of definitions and diagrams in your PowerPoint presentation.
Comprehensive Set of Definitions, Infographics and Explanations
This product includes professionally designed slides that define benchmarking, pros and cons, explanations of the different basic types, differentiation of internal and external benchmarking and information on implementing the analysis. The slides are provided with graphical representations such as graphs, tables and charts, so that you can comprehensively convey this complex system of comparative methods.
With the Benchmarking Templates for PowerPoint, You Can
inform your employees about the opportunities and challenges of benchmarking

choose from several graphs explaining the term, "benchmarking"

have tools to assist in implementing benchmarking in your company

This PowerPoint Template Includes:
the benchmarking definition

pros and cons of benchmarking

presentation of the benchmarking types (process, product, strategy, performance)

the distinction between external and internal benchmarking

representation of various benchmarking organizational forms

information on the implementation (objective analysis-flow etc.)

graphical representations (success pyramid, benchmarking circle, action plan diagrams, etc.)

professionally designed slide layouts and sample graphics