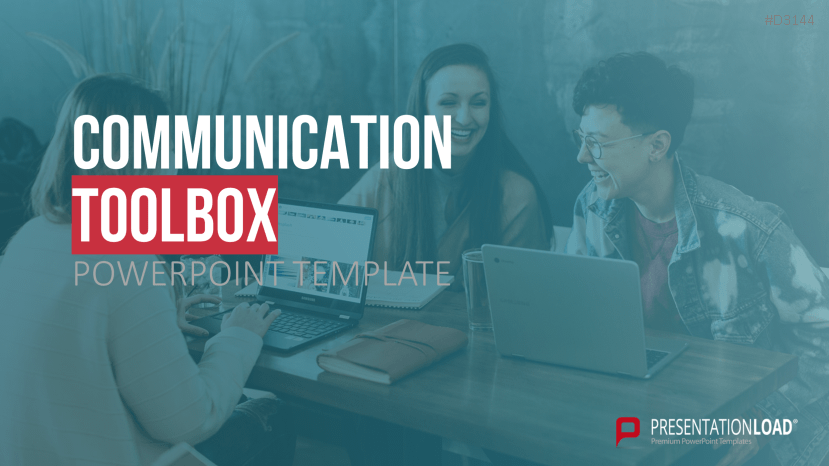 Why it's important to optimize how we communicate.
We communicate every day. This happens in a wide variety of ways and through diverse channels – verbally, nonverbally, face-to-face, on the phone or in video conferences. Now that face-to-face contact is limited, digital solutions are especially popular. Being able to facilitate a conversation without misunderstandings not only reduces unnecessary stress, but also enables information to be exchanged purposefully and successfully.
How do we communicate with each other?
As a rule, there is always a sender and a receiver. How precisely and with what intention messages are sent has an influence on how the recipient receives and processes them. There are various ways of optimizing messages to ensure that the desired information is accurately understood by the recipient. In this PowerPoint template, you'll discover relevant models for improving team and customer communication in your company and to effectively prevent conflicts.
Different situations require different techniques.
Whether your team is brainstorming a new strategy or you need to prepare for an interview, this template provides you with targeted advice on how to handle different communication situations. Learn about the different types of listeners, the role of disagreement, and the optimal way to deliver criticism. Find the right methods for you and enjoy a comprehensive toolbox of models and approaches compiled in a practical overview complete with an easy-to-navigate list of links.
With the Communication Toolbox for PowerPoint, you can
master successful team communication
learn how your company can reach its stakeholders
learn which forms of communication are relevant to you
This PowerPoint Template includes:
Four-Sides model
Communication square
Virtual team communication
Iceberg model
Shannon-Weaver model
Vicious Cycle of Communication model
Schramm model
7 C's of Communication
Betari Box
Berlo's model
Merrill's Social Styles
Johari Window
Gerbner's Communication model
Albert Mehrabian's communication model
David Grove's Clean Language
Ladder of Abstraction
Transactional analysis
Uncertainty Reduction theory
Elaboration Likelihood model
Lasswell's Model
Agenda Setting
Cultivation theory
Spiral of Silence
Brainstorming
Moderation process
Interview
Coaching
Types of listening
Analytical listening
Conflict management
Negotiation management
The Five Canons of Rhetoric
Aristotle's model of communication
Minto pyramid
KISS principle
Public relations control loop
PR process cycle
Corporate communication framework
Issues management process
Phases of a crisis life cycle
Organizational network analysis
Szpekman's communication framework
Communication Plan
Golden Triangle of Teamwork
Belbin's team roles
Dialogue mapping
SMART method
Intervision
Rose of Leary
SPIKES model
CEDAR model
DESC model
Feedforward
Monroe's Motivated Sequence
AIDA elevator pitch
Persuasion techniques
Storytelling principle
Narrative arc
Story pyramid
Storytelling guide