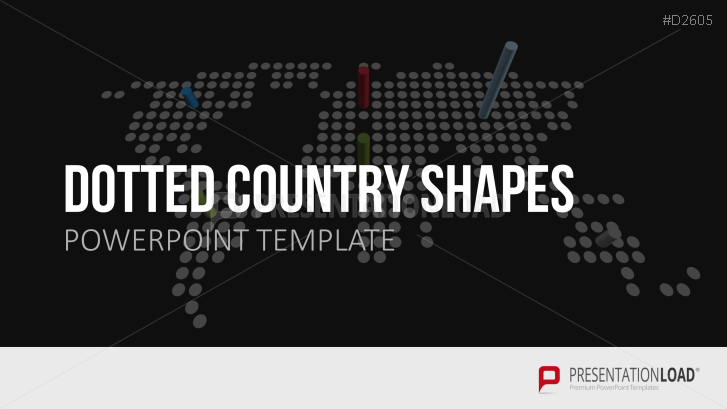 Illustrate the borders of Germany, the US, Britain, France and other countries in the dotted design to present specific country information.
In a Nutshell
The borders of many countries have such a distinctive shape that their silhouettes alone are clearly visible. Our PowerPoint templates take advantage of that by presenting the silhouettes of these countries in the design of many small dots. The result is an abstract depiction of the actual borders that can be commented on arbitrarily.
Think Global
Give your audience the most important information about concepts and objectives of individual countries by using our PowerPoint templates. Each country has different silhouette variations to choose from: the dotted design, the design of many small hexagons or modeled after the colors of the national flag. Depending on your needs, country-specific information can also be added along with comments and highlights.
Dotted Country Shapes allow you
to clearly show your listeners to which state your remarks are related
to illustrate global concepts and ideas
to provide country-specific information

PowerPoint Templates Include
Silhouettes of the geographical maps of the following countries:
Australia
Brazil
China
Denmark
Germany
France
Greece
Great Britain
Italy
Japan
Canada
Austria
Poland
Russia
Sweden
Switzerland
Spain
Turkey
USA
United Arab Emirates