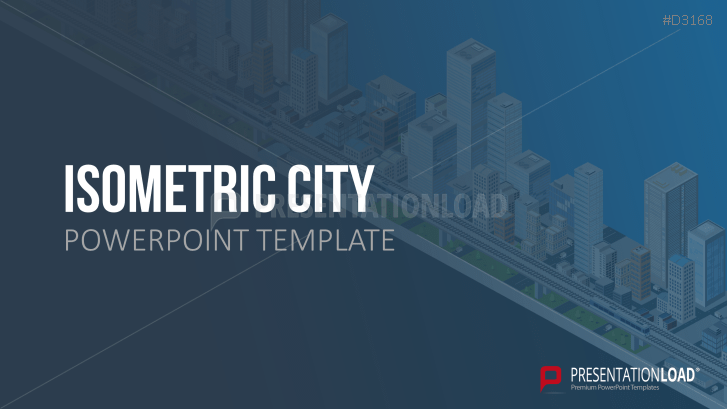 What's special about isometric designs?
Unlike flat designs, isometric designs offer you the option of using three-dimensional visuals. What's unique about these graphics is their simplified, minimal, yet three-dimensional format. Complex special effects and intricate shading have been replaced by eye-catching and easy-to-understand illustrations with depth. Instead of the classic vanishing point, isometric designs use the isometric grid. The graphics are viewed from above, which creates a vivid but not too realistic appearance. This is a design that inspires an audience without distracting them.
Isometric City template: Countless possibilities
Use our Isometric City template to present topics such as urban mobility, urban logistics, smart cities or any other city-related topic in a captivating and visually engaging way. Present modern topics in a modern design to highlight your expertise. Our professionally designed templates allow you to add your own content or get creative and create your own slides using a variety of graphic elements.
Forget long-standing designs and create outstanding presentations
Break away from the old and frequently used design variations, such as flat design, and create exciting and interesting presentations. An isometric design adds more detail and meaning to your presentations. It maximizes the impact of your content and helps you engage your audience. Give your audience food for thought and something for the eye.
With the Isometric City set for PowerPoint, you can
present city-related topics
get ready-to-use templates and numerous icons in an isometric design
create a presentation in the latest design trend
This PowerPoint template contains isometric templates for:
Urban mobility
Smart cities
Urban logistics
Isometric city graphics and icons