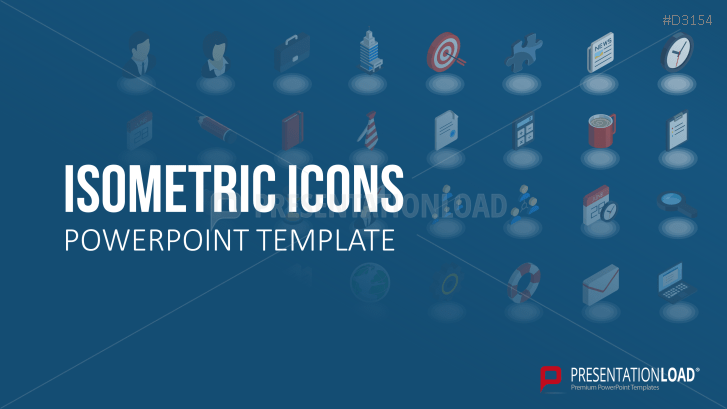 Icons and isometrics: Two design trends in one
Isometric PowerPoint icons combine two top design trends for presentations. Successful presenters have long relied on icons to give infographics and charts a unique design that is universally understood. Now, in isometric 3D design, these icons are even more interesting and appealing. Their three-dimensional format provides a higher level of detail, giving you even more flexibility to tailor them to your needs and topic.
Bullet points are a thing of the past: Icons are the perfect alternative
Say goodbye to bullet points in your presentations! They are slowly becoming passé and no longer suited to a modern presentation design. Icons offer a simple, practical and visually very appealing alternative to bullet point lists and provide visual accents to your presentation.
Isometric design: What's so special about it?
The beauty of isometric design is that it doesn't mimic reality. Unlike more hyper-realistic trends, such as skeuomorphic design, isometric design lines don't converge as they move away from the viewer. Instead, they align with the isometric grid. Three-dimensional, yes – but without being overly realistic. This is the recipe for appealing and modern graphics that are simplistic yet detailed. And that's why isometric graphics are taking the Internet by storm and are also becoming increasingly popular in presentations.
With the Isometric Icons PowerPoint template, you can
enjoy a wide range of isometric icons for various topics to use in your presentations
create impressive, professionally designed presentations with minimal effort
take your presentation design to a new level and stand out from the flat-design presentation crowd
This PowerPoint template includes:
Numerous design templates that can be customized with personalized content and all icons from this set
A large collection of isometric icons that can be used in a variety of ways, such as lists, infographics, charts and much more
Infographic templates with isometric icons
Isometric icons for different topics and industries:
Business
Finance
Contact us
Social media
Justice
Technology
Marketing
Shopping
Electronics
Logistics
Health care
Travel
Weather
Environment
Education and sience
Culture and art
Sports
People
Real estate
Construction
Transportation
Arrows
Objects
Isometric icon outlines