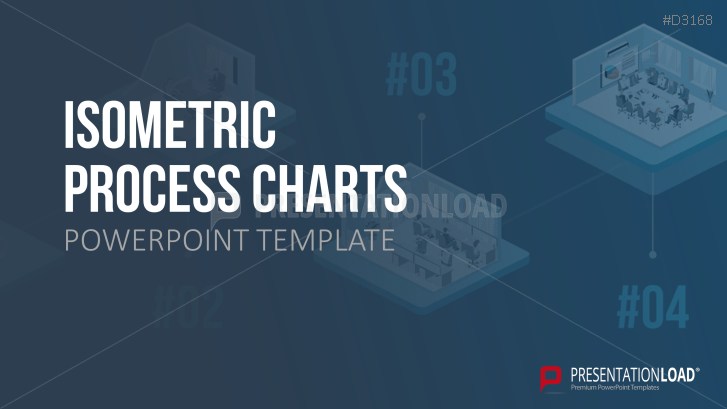 What makes an isometric design?
Isometric design's distinctive feature is its three-dimensional aspect in a rather simplistic design. Because the image is viewed from a bird's eye angle, perspective is crucial. Isometric design uses an isometric grid as a guide, avoiding parallel lines that converge and meet at a vanishing point. The result are graphics that are both modern and clean, yet still very attractive and detailed. Because they convey messages so clearly, isometric graphics are becoming a popular design choice – even in PowerPoint presentations.
Illustrate your processes in a modern design
Wow your audience with isometric design, an already established trend in branding and marketing. Because they don't distract from the essentials, isometric graphics are ideal for visualizing processes and enhancing content in a modern and appealing way.
Add individual visual accents with the Isometric Process Charts template
This PowerPoint template provides you with graphics of the most common processes, but lets you easily add your own content as needed. You can use this PowerPoint template for any purpose and give each of your processes a contemporary and attractive design for a successful presentation.
With the Isometric Process Chart PowerPoint template, you can
present your processes in a modern, isometric design
enjoy a wide range of presentation options to meet your individual needs
take advantage of isometric designs that can be fully customized to your processes and content
This PowerPoint template includes:
Numerous slides to illustrate your processes, which can be customized with your own content
A collection of versatile isometric designs
Templates with isometric graphics for different topics and industries, such as:
Business
Logistics
Health care
Development processes
IT processes
Timelines, roadmaps and more for successful process planning