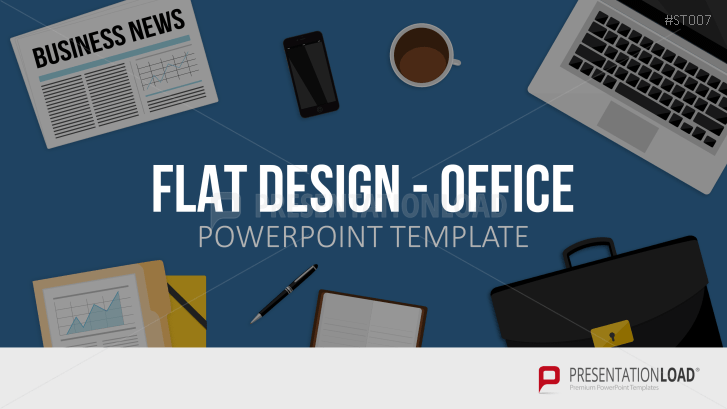 The Flat Design Office Set for PowerPoint provides graphics for the office theme, from individual items, such as desks and computers, to fully equipped workplaces in a minimalist flat style.
Office Equipment as the Basis
Writing Tools, which we use to hold our thoughts, and desk lamps, which we use to work in the dark, are nowadays taken for granted, of course. However, it should not be forgotten that office furnishings and equipment form the basis for a pleasant working environment, which in turn help to inspire work processes.
Visualize Your Work
Graphics for office furnishings are an ideal visual support in presentations on workplace equipment, organization and setup. These can serve, for example, to concretely educate office staff on necessary equipment for the home office, or to take on issues of attaining certain items. These can also be used for more general issues such as a representation of a typical work day.
Office Graphics
With this set, you can customize your PowerPoint presentation by inserting office themed graphics (vector-based) with one to one proportion or adjusting the shape and size. Its flat design ensures a minimalist view with intense color scheme.
With the Flat Design Office templates, you can
make your presentation with office graphics in modern flat design
have a wide selection of icons of all common office supplies
model your workplace by putting together individual office graphics according to your ideas
PowerPoint Template Include:
60 PowerPoint slides in flat design with office graphics of workstations and utensils:
monitors
desk lamps
notebooks
pins
calendar
desks, etc.
text placeholders for inserting content