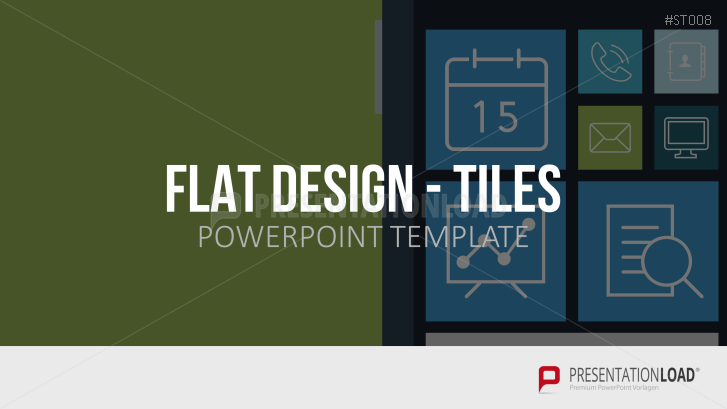 With the Flat Design Tiles set for PowerPoint, you can create your presentation in vivid colors and with tiles which are arranged differently and can be filled with your personal content in a minimalist flat style.
Flat Design Trend
Flat design is widespread, and compatible with Microsoft's Windows 8 as well as Apple's iOS 7. The reduced design style uses simple 2D appearance and dispenses realistic representations of shadows and textures, however not with an intense color scheme.
Simple and Clear
The typical Windows 8 start screen consists of different color tiles with minimalist design symbols. Users turn their attention to the main functions by the simple and clear design, making the tile-style attractive for presentations. This also allows third parties to focus on the core content in the simply arranged tiles.
Presentation Tiles
This set allows you to make your PowerPoint presentations with different color tiles in flat design and add your own text and data in the pre-positioned placeholder. Due to freely themed tiles, different content can be presented together on one slide. For example, the weather information, share value, trend chart and date can all be on the same surface and yet each still have the advantage of their respective tiles marked by intense colors.
With Flat Design Tiles Templates, You Can
make your presentations with tiles in a modern flat design
arrange your content through tiles in different and bright colors
connect several tiles at will to one illustrative overall view
PowerPoint Templates Include:
64 slides with tiles in flat design in bright colors on different backgrounds and in different arrangements
tiles with weather, mail, globe and many other icons
business themed background photos
text placeholders for inserting content