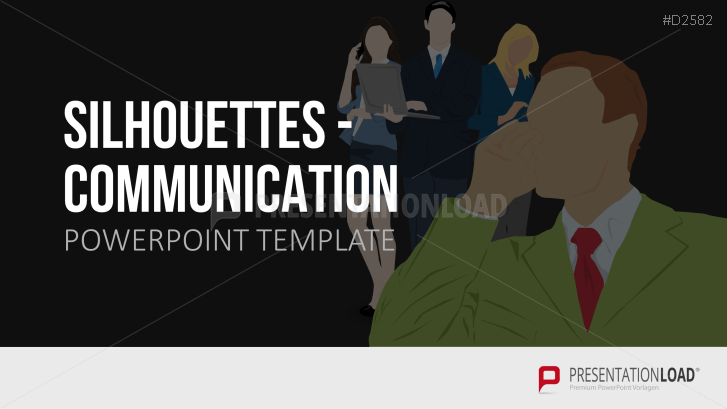 Appealing PowerPoint people silhouettes to illustrate customer service, networking, communication and unlimited global business
Pre-defined business people silhouettes to professionally illustrate service situations, focusing on topics like customer service, service in general or communication. Also to be used for illustrating international cooperations and global networking.
This set of 24 templates contains multicoloured silhouettes of male and female business people communicating with each other. They either talk to each other directly or communicate via smartphone, tablet, notebook, headset or even use a megaphone . Thanks to the vast choice of communication examples these templates can be used for PowerPoint presentations about almost every business branch.
Facts and figures about communication are displayed by using premium 2-D vector graphs. They can be used for presentations about marketing, sales, management or service in general. These slides are also valuable for presentations about training or personal development.
Use our design samples and placeholders and your PowerPoint presentation will be a piece of cake. It just takes a few minutes to insert your own contents into the pre-defined text fields. As our people silhouettes are linked to the PowerPoint colour range you could easily adapt them to your corporate design.
Your benefits:

immediate product download, no delays
easy, inuitive handling
slides are directly edited in PowerPoint
premium people silhouettes as 2D-vector graphics
more than 30 different people silhouettes
easily editable
pre-defined text placeholders
interlinked to PowerPoint colour range
just one mouse click to drag and drop grouped graphics or to its change colour and size
Save loads of time by using our premium PPT templates