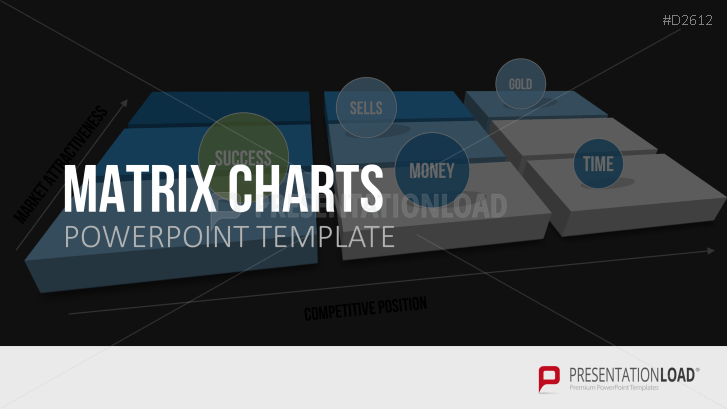 The Matrix Charts Toolbox provides decision matrices, Ansoff Growth matrices, evaluation triangles, BCG matrix, SWOT analysis templates, risk matrices and many other matrix templates to utilize in your business presentation.
Matrix Charts
By using these charts, two or more pieces of data can be visualized and compared or correlated. There are various display options. The most common use is by arranging the values in rectangles which form the grid area of a chart, but another way is by distributing them in triangular and circular shapes.
Tools of Strategic Management
Companies use matrix charts for analysis as part of strategic management, such as using the SWOT analysis to develop a marketing plan, the Ansoff Growth Matrix to implement a growth strategy or the BCG matrix to show market analysis. The graphic representation of the data along with the matrices brings out third complex relationships and illustrates all of them on one web page.
Extensive Toolbox
The Matrix Charts Toolbox offers a wide range of matrices with different system arrangements and several input fields for entering at least two values. Important tools of strategic business planning are included in the professional designs as well as placeholders to quickly input your descriptions and additional information.
With the Matrix Charts Toolbox, You Can
have a variety of matrices for all applications
quickly visualize your management strategy
provide clear correlations to complex datasets

PowerPoint Templates Include
BCG Matrix
Ansoff Growth Matrix
text box matrix
decision matrix
SWOT Analysis Matrix
positioning matrix
evaluation triangles, etc.
various grid types (3x3, 2x2, 3x4, etc.)
matrices in 3D