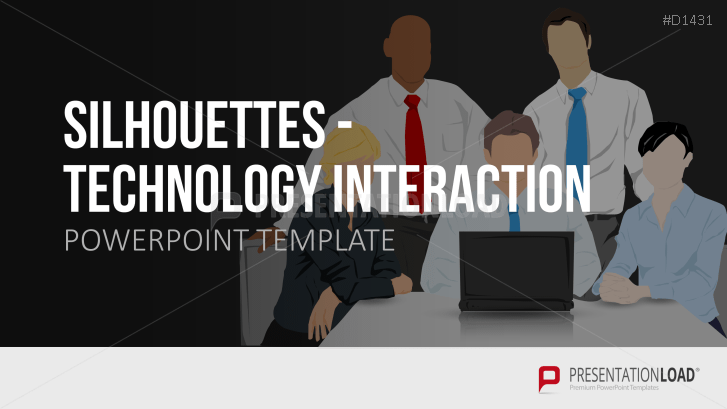 PowerPoint people silhouettes to illustrate technical know-how, technical facilities and interaction with communication tools.
Pre-definded PowerPoint person silhouettes for the appealing illustration of your technical knowledge or to present the latest technological equipment of your company. Could also be used to demonstrate a person's interaction with technical devices like flat screen, notebook, tablet PC, desktop PC and/or digital picture frame.
This set contains a total of 24 PowerPoint templates with 2-D vector graphics of different people silhouettes. This product offers you diverse silhouettes of male and female business people using technical devices. These silhouettes can be applied to illustrate trainings and professional development as well as teamwork situations.
Easy handling of the PowerPoint slides through design samples and placeholders for texts and images. As these illustrations are grouped it just takes one mouse click to drag them into the area required. Just one mouse click to also modify colour and size. As these silhouettes are interlinked with the PowerPoint colour range they could also modified to your corporate design.
Your benefits:

immediate product download
easy, intuitive handling
direct slide editing in PowerPoint
state-of-the-art people silhouettes as 2-D vector graphics
more than 40 different people silhouettes
to be amended easily
pre-formatted text placeholder
interlinked to the PowerPoint colour range